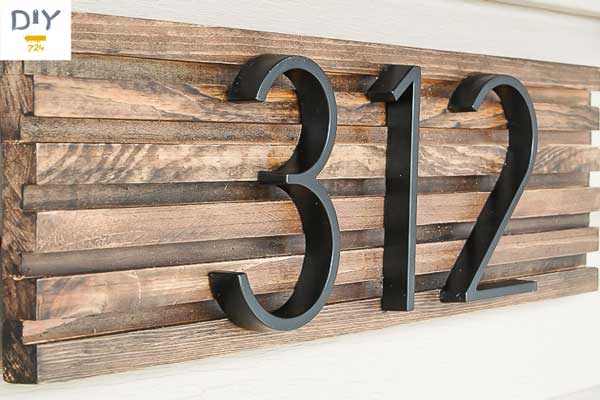 Diy house numbers : All home lovers take it seriously to create a unique personality and identity in their home! Therefore, even though we have to show the house's identity, we always use the house number signs, mainly displayed on the main entrance door and the exterior wall next to it. stay with us on DIY724
House numbers (diy house numbers)
If house numbers come with a stylish look, can help make your house entrance look exceptional and mesmerizing. In addition, you can also search for the particular house number signs as they help add unique curb appeal and create a brilliant first impression of the exterior of your home.
So, if you find it expensive to buy personalized house numbers, house number display signs, and house number plaques, try some unique and attractive diy house numbers. Use the usual household materials at home and, of course, your creativity!
How to diy house numbers?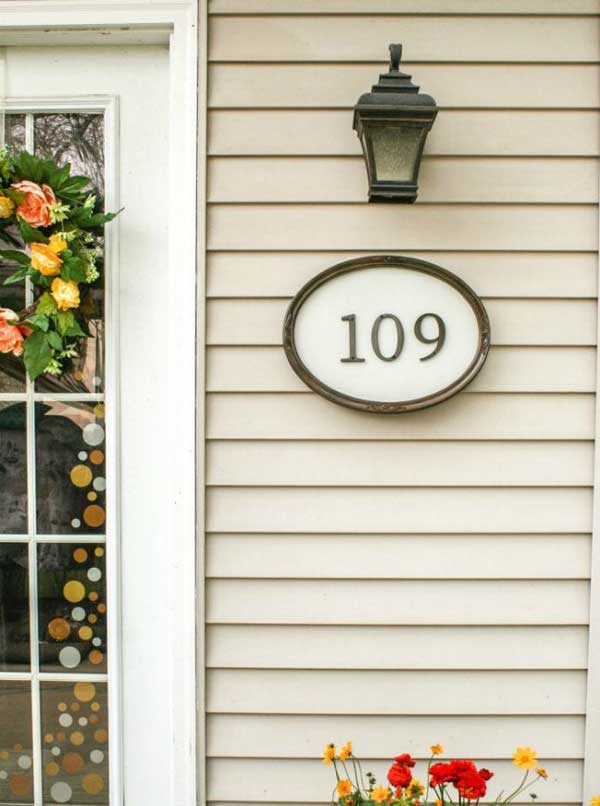 Add your diy house numbers on a rustic wood piece, top it off with a mason jar flower vase, and make brilliant-looking house number signs! Impress new guests and visitors by displaying house numbers in their planter boxes placed on the inside of your front door! Also, use cardboard alphabets and wooden letters to make house address number monograms.
And will also be fascinating and decorate the entrance of your house by mounting the mosaic house number letters. And you can make from the house numbers of MDF that can be embellished by gluing gemstones, glass tiles, crystals, and beads, as well as personalized charms.
Check out some excellently beautiful Diy house numbers below that are all handmade! Make the dot tiered planter house number display that will have a more significant impact on the beauty of your home's exterior and also create the rustic house number signs to hang on the wall using the lumber! Scrap and paint sticks! Get inspired by some fabulous samples below and experiment with different colors and paint numbers!
1. Diy house numbers plaque from a slice of wood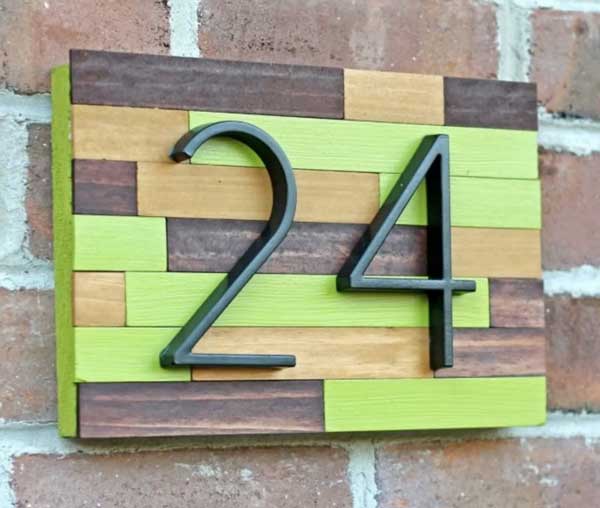 Add a beautiful edge to your home and tons of rustic yet modern charm with this particular house number plaque made from upcycled items.
Here all you need is a slice of rustic wood with bark, a glass jar, a hose clamp, and a few numbers to make this attractive house number plaque. Display your personalized house numbers on the wood slice, and then add the glass jar filled with cut flowers on the wood slice with a hose clamp, and it will hang like a cool vase in there! An excellent house number project to do at home!
2. DIY wooden planter with a house number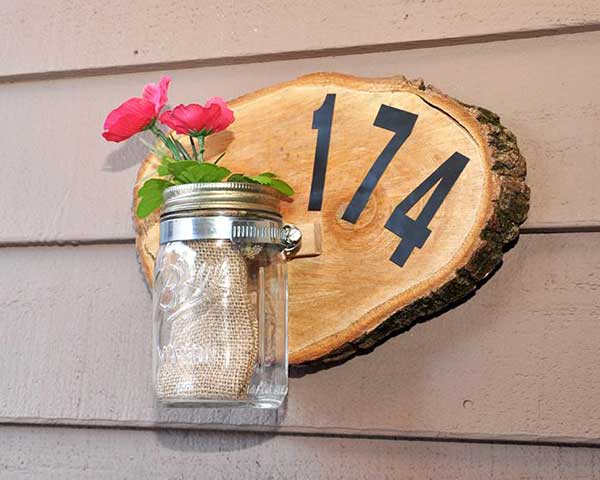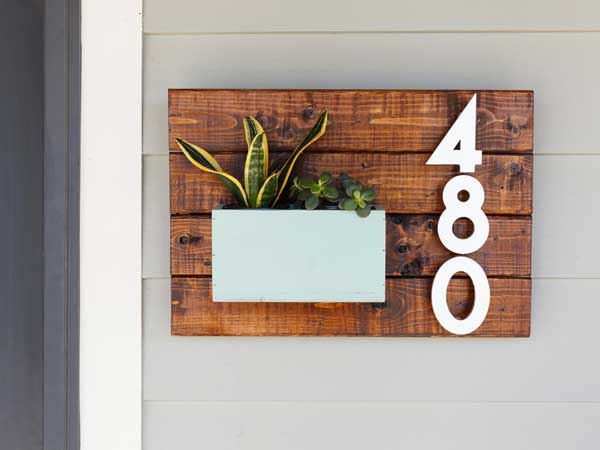 Here is another brilliant hack for displaying house numbers smartly! Just add custom metallic numerals showing your house number on a porch planter that has been placed there for a beautiful curb appeal, and that's it! You can also paint your farmer in the desired color and choose the custom numerals you like a lot! read more about diy plant pots
3. Adorable DIY House Address Number Monogram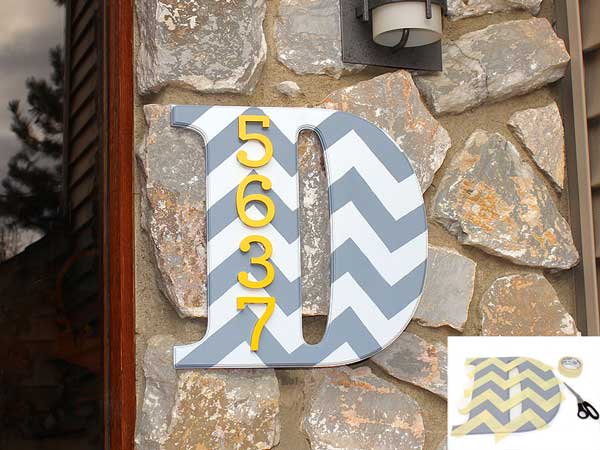 This Monogram is what you need for unforgettable first impressions of your home on viewers! And This is an adorable-looking house address number monogram that is purely handmade!
Here's everything you need, address number, monogram kit, and paint to duplicate this lovely-looking monogram house number! Take your MDF letter monogram and paint it to chevron stripes using masking tape, then add your diy house numbers! Hang it in the decided location using picture hangers, and voila!
4. Make your mosaic diy house numbers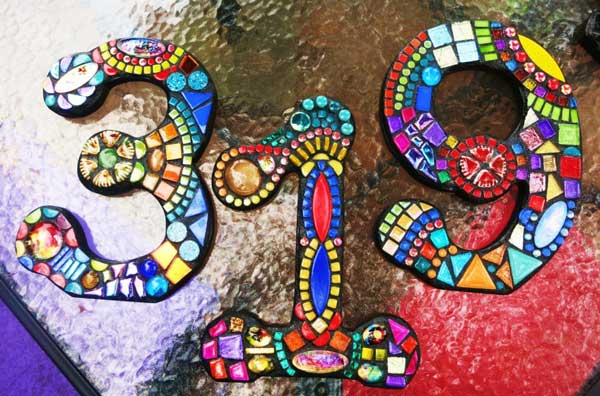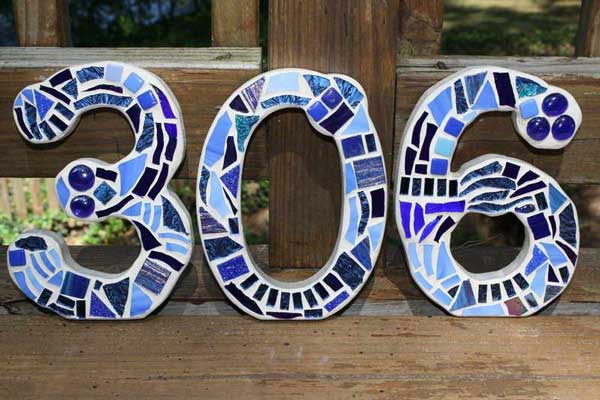 Check out these most excellent-looking house numbers that will add fantastic curb appeal to your home! Make the unique mosaic house numbers that will help get a stunning look to your home exterior, along with a significant collection of your home address! Take a look at these sample mosaic house numbers made with MDF letters that have been covered by gluing the tiles, glass cube beads, padlock and heart charms, and other decoration items.
5. DIY Polka Dot Tiered Planters House Number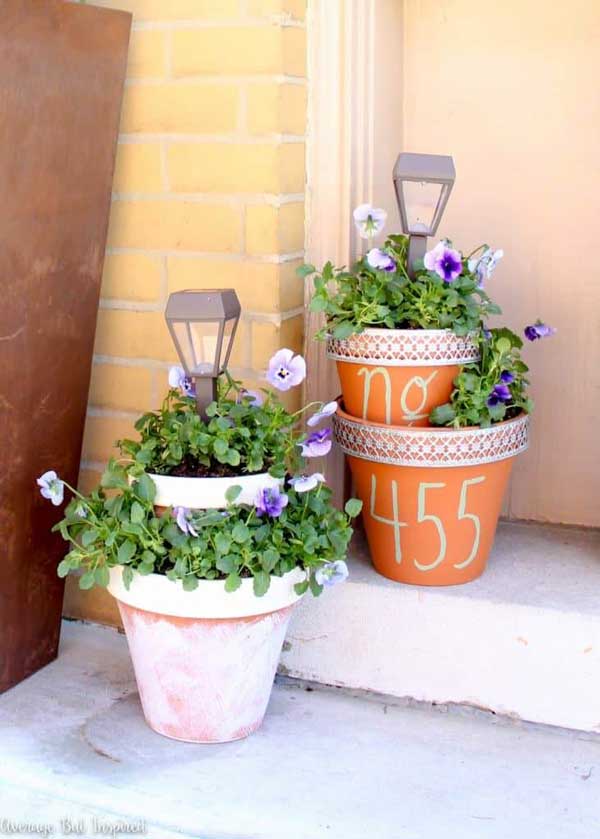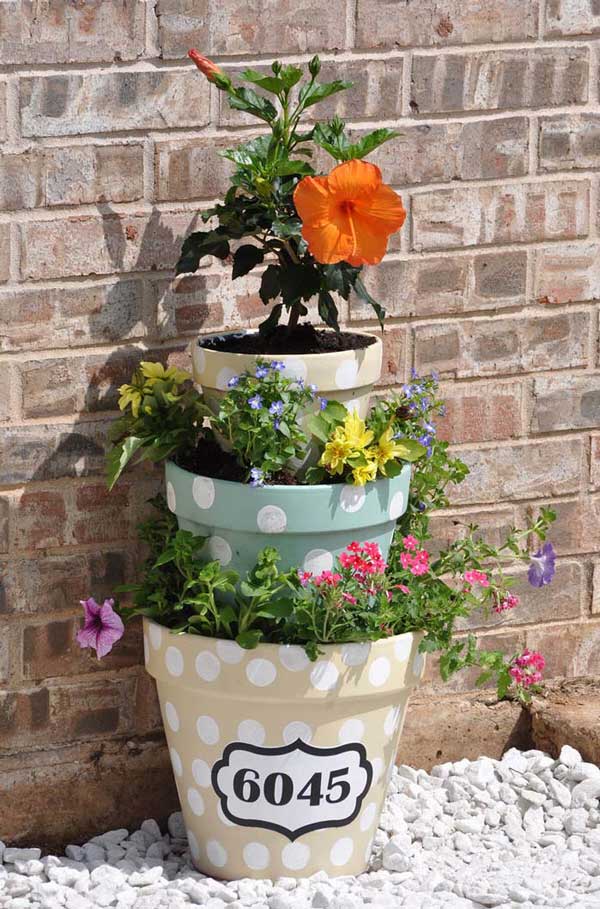 Do you intend to give a warm welcome to your friends and every new entry to your home? If yes, you should plan out some primary ways to display your diy house numbers address! A fantastic idea to show your house address numbers would be through tiered exterior planters! Just Check out here the sample polka-dotted tiered planters that display the house address numbers beautifully and bring a great charm to the entire home exterior!
Lovely DIY House Numbers Sign Tutorial
Let your guests and friends praise your entrance by placing some excellent-looking house number signs there! Take a look at this rustic wooden sign that will create a mesmerizing look to your home's exterior and is something you'll love to look at twice! video from BYOT
This rustic wooden number board is made from a plywood board on which paint sticks have been glued and packaged well. Finally, the house numbers have been published for an attractive look and a metallic touch!
Stain or paint your wood plank your way to match your exterior decor!
Easy DIY House Number Plaque
Here is another fantastic diy house numbers plaque on TwoFeetFirst, that has been made for inspiration, and it does look awesome! Here all you need are a few paint sticks and a wooden board to make this beautiful house number plaque that has been made to amaze and inspire.
Cover your wooden board with paint sticks like a puzzle game, paint your sticks to make a colorful background with your house numbers, and then stick on your house numbers!
6. Modern stainless steel house numbers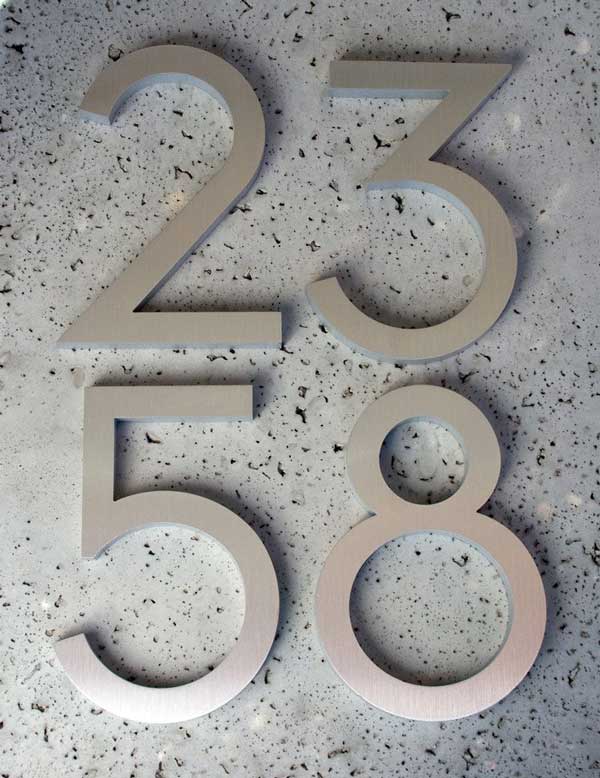 Let all the onlookers and guests praise your home entrance. The idea is to add some hypnotic type of home address numbers and if you are not having any, then make some outstanding ones at home! Have a look at these stainless steel home numbers that have been done to inspire!
Here all you need is a big wooden plank that can come with drilled holes according to traced outnumber design pattern, and the final step would befit the stainless steel screws in the gaps making even 3D house numbers!
7. Excellent DIY House Number Sign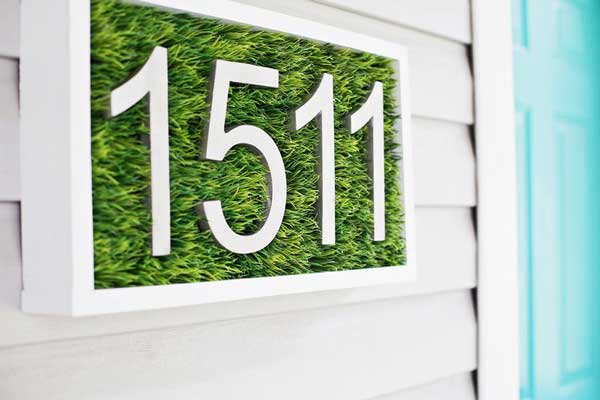 Also, use cutting boards to make extra beautiful house number plaques with just a drop of the hat! Here hardware metal numbers have been screwed into the wooden chopping board, and thus a great diy house numbers sign has been made, which looks fantastic and praiseworthy. Making this number sign is only a matter of seconds, and you can also use custom paint colors and other embellishments to make it look extra big and beautiful!
8. Building House Number Post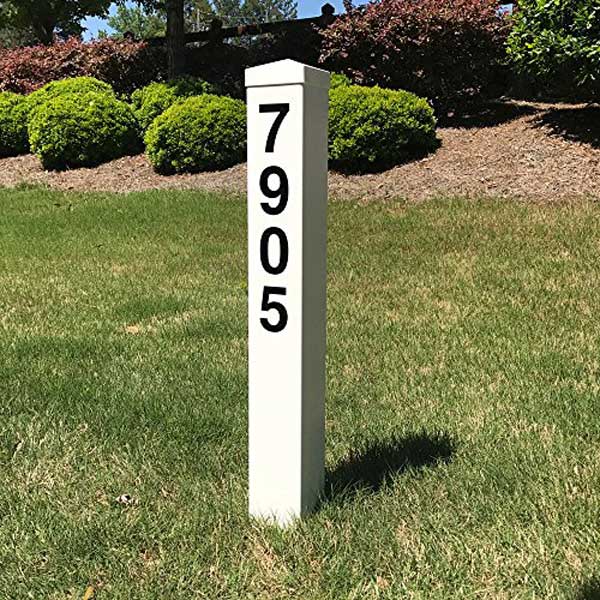 Bring tons of focal stimulation to the outside of your home by making adorable diy house numbers signs at home! You can also duplicate this lovely-looking house number post that is handcrafted and sure to add some great curb appeal to your home!
Here making this house number post is pretty straightforward, and all you need is a wooden post, a white jacket for the post, your house numbers, and a solar light post cap to duplicate this house number post.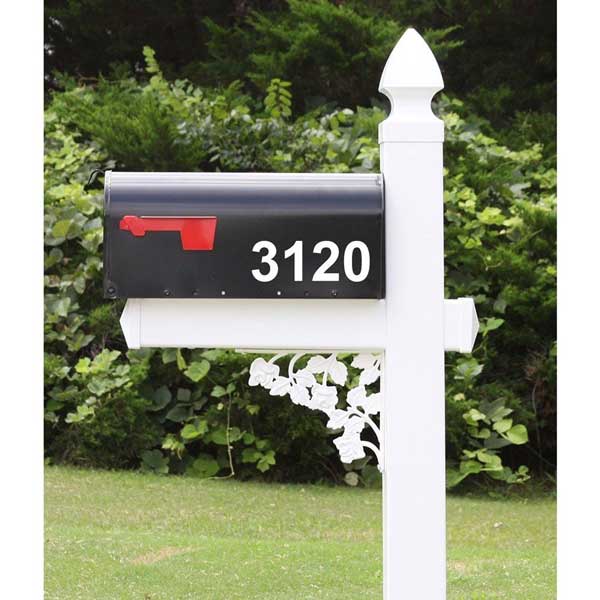 In this article, we have given examples of making a house license plate and diy house numbers, we hope it has been helpful for you.