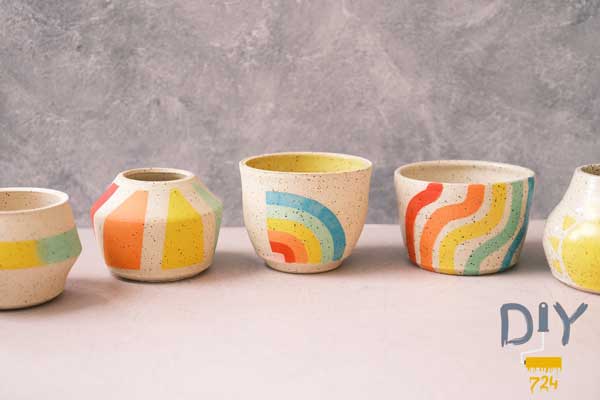 handmade pottery ideas help you to shaped amazing clay into mugs, vases, jewelry, and beautiful pieces of art. In this article of DIY724, we will give you 20 handmade pottery ideas. You can shape the clay into anything you want. Although making pottery like a pro needs a kiln, you can start making pottery at home. It doesn't matter if you are a experienced person or a beginner, you'll find something you'll like in our handmade pottery ideas.
Different usage of pottery
As the advantages to pottery are numerous, there are a large number of ways to use pottery:
Functional ware
Sculpting
relief sculpture
Large Vessels
Tiles
After being fired pottery will outlast metal and wood by a long shot. In addition, It's fairly easy to keep it pliable. All you need to do is wrap it in plastic or put it in a bag.
 start an exciting creative journey with DIY724.
What can I make with pottery? handmade pottery ideas
You can get inspiration from lots of sources with handmade pottery ideas. There is lots of helpful online tutorials on YouTube. Here are some ideas with beautiful images can encourage you to DIY pottery at your home. If you're looking for a few simple clay pot crafts to make, you've come to the right place.
Pottery Mug

Ceramic Jewelry


DIY clay gift tags
Marbled clay ring dish
Clay monogram keychains
Faceted clay tea light holders
Pottery Stamps
DIY clay stud earrings
Wallpackets
Spoons
plates


Bowls
vases



Coasters
A toothbrush holder



A spoon holder
Phone amplifier
Lettering
A caricature Mask
teapot
---
making things out of mud can be very exciting. in this article, we looked at some of the handmade pottery ideas that will help you on your journey as a new potter. On the other hand, we answered some useful questions that will help you find your way around pottery for beginners.
As the pottery clay needs to be fired once you've finished working on it, you can try to find a local potter or pottery supplier who has a pottery firing service. Plus, you can use air dry clay that doesn't need to be heated. If you have any useful experience, please share it in comments.