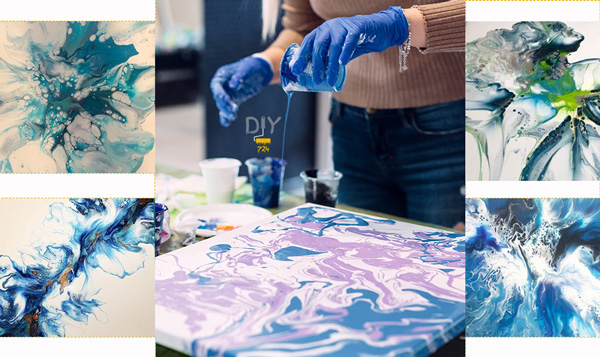 DIY Crafts
pouring paint on canvas in 9 easy steps + Ideas
Many people spend more time at home during the coronavirus pandemic. One of the best entertainments is tackling some DIY crafts. That's why we've teamed up with great ideas for poring paint on canvas to bring you some fantastic and easy DIY home projects you can do and transform your home in a couple of days or even less. To spruce up your space, check out this article on DIY724.
What paint do you use to pour on canvas?
The best choice for pouring paint on canvas is "acrylic paints". Besides, you need to mix "pouring medium" with acrylic to make the paint flow better. The pouring medium for painting on canvas can be many things. Such as Mod Podge (Glossy), dish soap, PVA Glue, Acrylic Flow Improver and more.
Can you do pour painting on canvas?
Although there are many methods to apply the paint to the canvas, the acrylic Paint Pouring technique is more simple and is better for beginners – others are a bit more technical!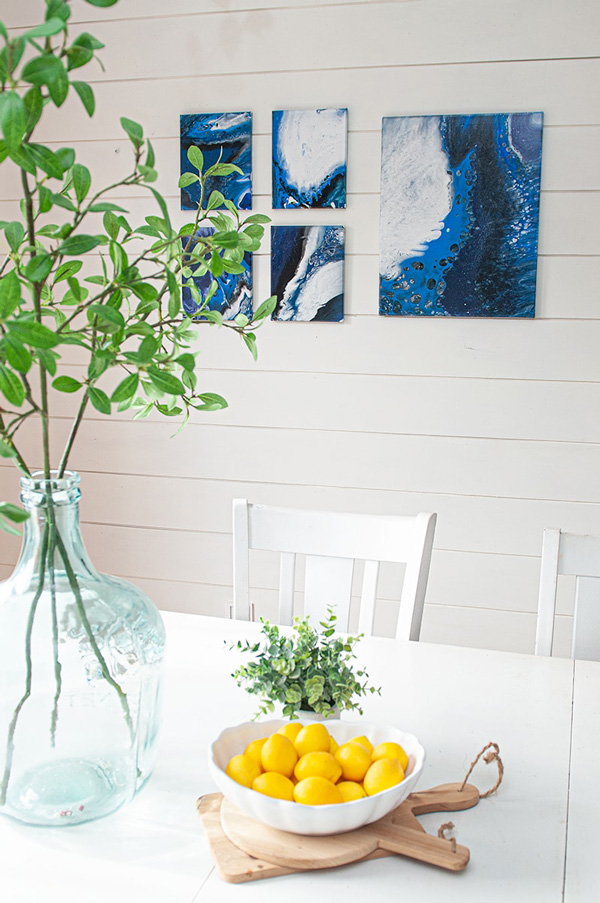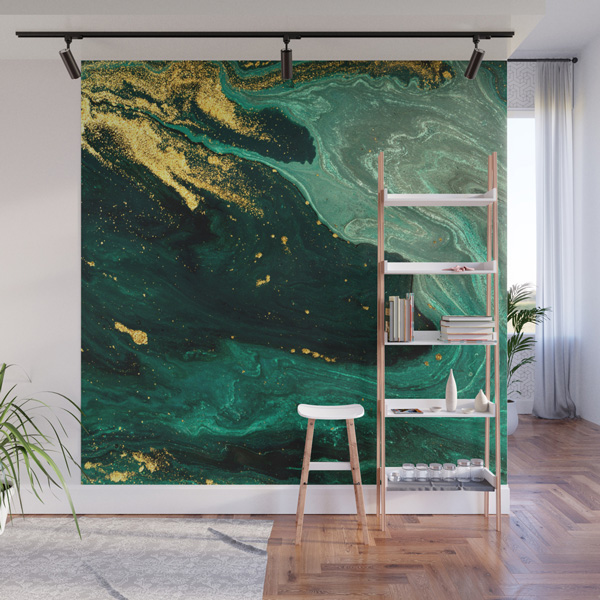 How do you do an acrylic canvas pour? What do I need for paint pouring?
The Ideas Are Endlessness! Pouring paint on canvas is various, and we're going to be learning all about paint pouring. We have all the tips and tricks, and secrets to get you through this process. we are going to make a big mess with pouring paint on canvas. Are you Ready? For pouring paint on canvas, You will need:
– pre-mixed pouring paints
– cups
– canvas
– drop cloth
– foam
– Brush
– varnish
– Gloves
– a popsicle stick
– Tweezers
– a heat gun
– talcum powder
9 Easy steps for pouring paint on canvas
1. This is a messy project, and you definitely don't want to skip that part, so go ahead cover all of your surfaces
you might even want to put an apron on or make sure that your floor is covered as well.
To start with, you'll need a blank canvas. You can find a variety of different shapes and sizes. This is all about your preference.
2. place a few thumbtacks along the back of my canvas. If you don't have thumbtacks, you can also use cups, and you can use those to prop your canvas up so that it has somewhere so that the paint has somewhere to go.
3. You want to keep a few things in mind while you're working with these paints. If you wish for a stunning finish with pretty tiny bubbles, use a silicon-based additive or add just rubbing alcohol into
your colours. You can decide which way you prefer.
4. if you don't have color pour already, you can use any acrylic paint at home; something to keep in mind is that acrylic paint is pretty thick, so you will need to add a pouring medium into your paint.
Then add your paint into cups, use your popsicle stick, and spin it around until it's wholly dispersed. Make sure to shake your paint before using it.
Put your gloves on because this gets pretty messy. there are a few different techniques to pour canvas that you can use, and this is the most fun part:
you can pour it directly
some people like to put their canvas on top and then flip it
—–> There's not really a right or wrong way to do this. it's just all about your preference.

---
If you really don't like the color green, you probably don't want to use blue and yellow because they will run together. So, there could be some muddling of colors. Keep that in mind just something to think about while you're choosing the colors you want to use.
We recommend you start with the darkest color then add lighter colors to that. In this tutorial, we like to do a base layer of white on canvas. The reason is it just helps everything spread.
---
Some people like to keep a clean edge on canvas. If you want your edges to remain white, you can just put some masking tape around the edges or painters tape. In this way, you have a nice clean white finish.
---
5. The next step, go around with your finger and just remove any of the drips that might be on the sides. That way, you don't get a buildup of paint underneath.
6. In this step, you can add glitter and foil flakes into the project.
7. let it dry completely.
8. Finally, you need to do a few finishing touches. You can use talc powder to absorb all of the silicone. Just shake a little bit of talcum powder onto your canvas, and then you're just going to brush it around and absorb any of that silicone. Brush it off thoroughly.
9. once you've gotten rid of all of the talcum powder, you can go ahead and add your varnish. Use a new foam brush to swirl it around. Now, you're going to let this dry for 24 hours and then hang it on your wall.
canvas painting pour painting ideas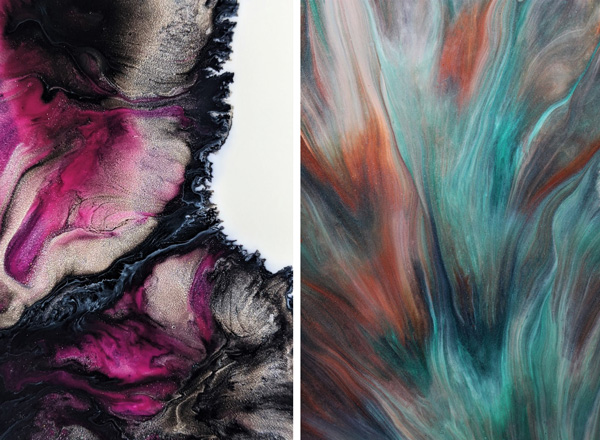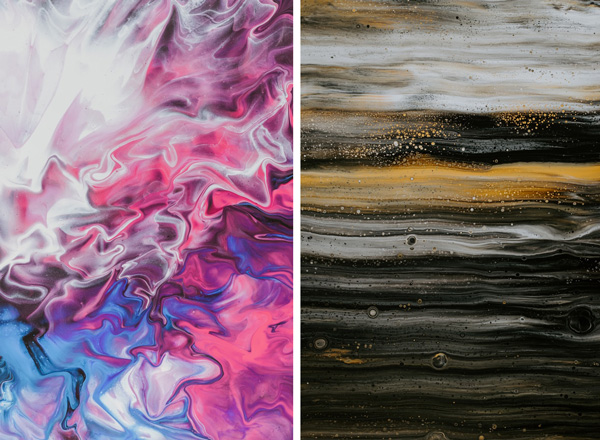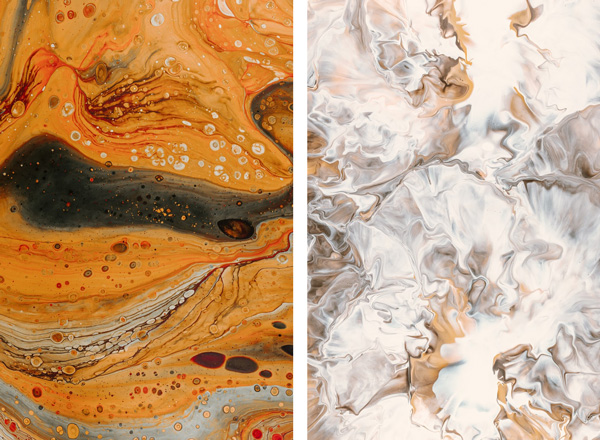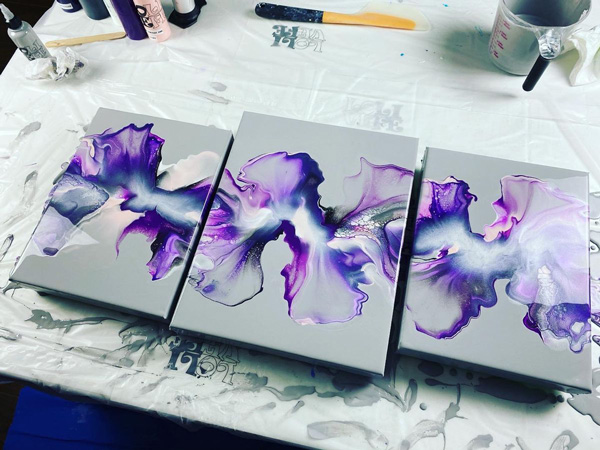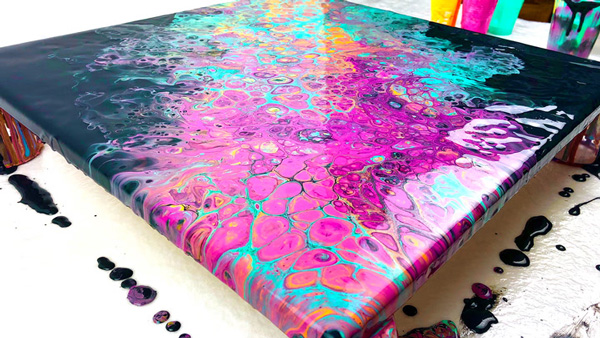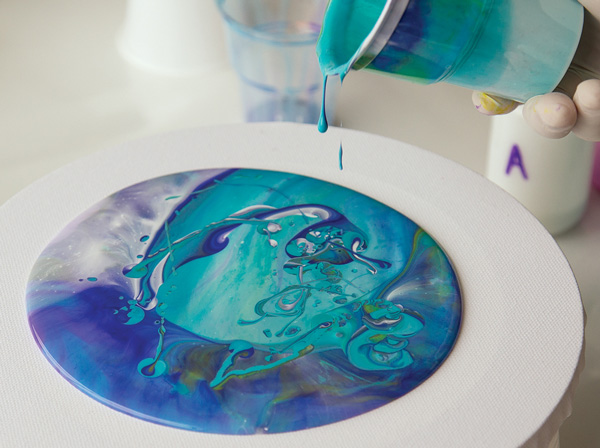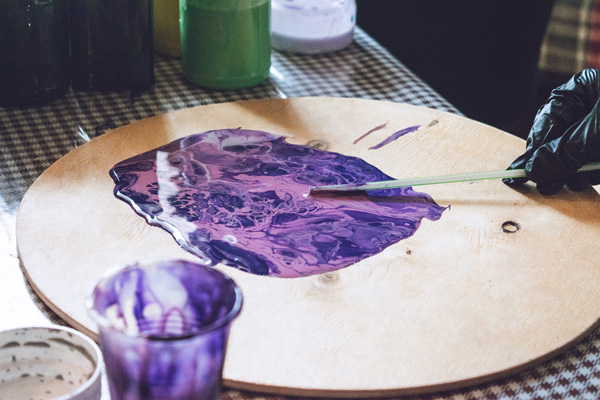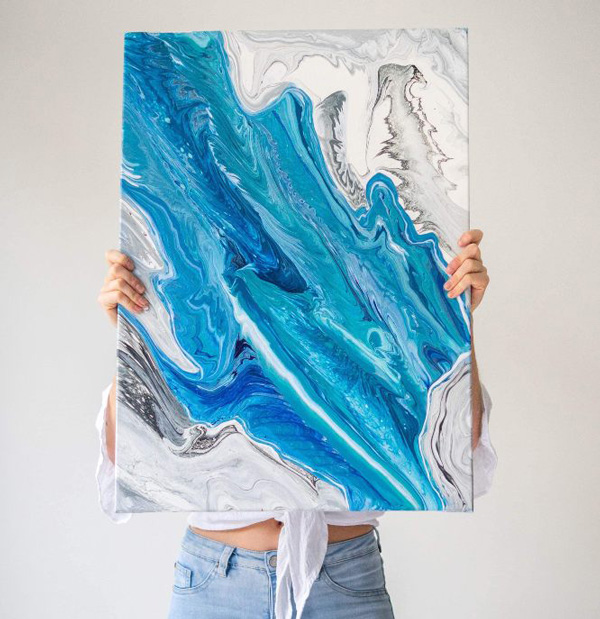 This easy pouring paint on canvas isn't just decorative—it's incredibly practical, too. With some materials, a brush, a stick, gloves, a canvas, and some paint, you'll be able to create your artistic painting.
If you enjoyed pouring paint on canvas tutorial and ideas on DIY724, go ahead and leave a comment. Also, if you have any questions, write them to us. We will get back to you as soon as possible.