House colour designs | DIY Home Paint Projects idea
house colour design are one of the main elements in interior design and home layout. As you know, the colors in the house have the most significant impact on our daily mood. So we need to know which colors make you feel better and which one is suitable for each part of the house according to your taste.
Choosing the right house colour design is somehow tricky.
What can help us in this choice is science. According to psychologists and experts, knowing what color increases emotions is very useful while selecting the best home color and interior decoration. 
You can create a unique atmosphere by adding some ideas for house colour designs: Painting the walls, furniture, or even with the color of pillows, blankets, plants, or a picture on the wall.  Stay with us until the end of the article.
What have psychologists said about c
haracteristics

of 

house colour design?
Red: Patience, activity, excitement, leadership, self-confidence, ambition, power
Pink: love, respect, warmth, sensitive
Purple: Creative, Deep, Motivational, Reliable, Dreamy
Green: Balance, Growth, Open Hands, Security, Shelter, Transparent
Blue: Spirit, happy, ambitious, saving, controlling
Orange: Warm, Positive, Free, Motivated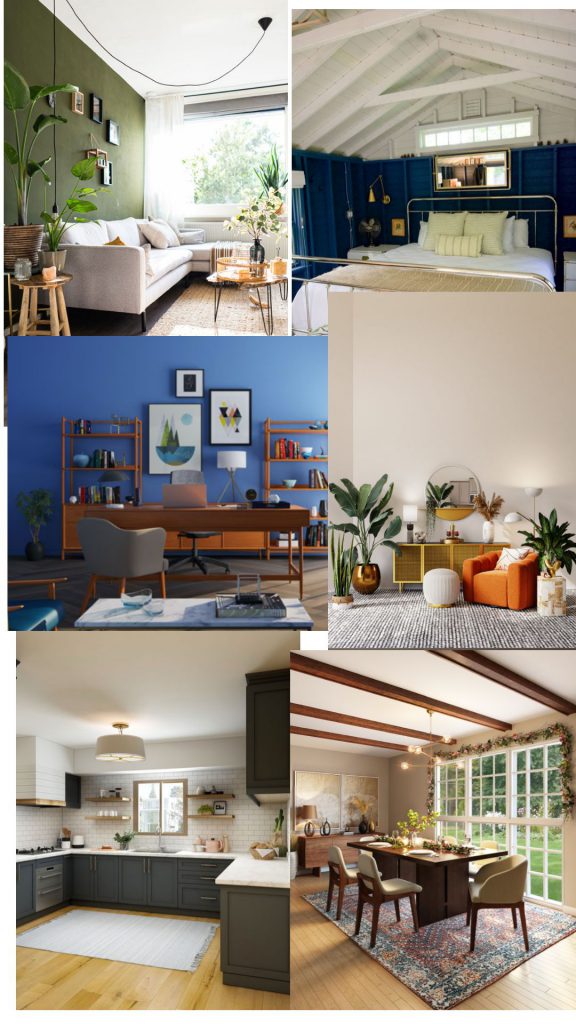 How to choose the right home color in 7 steps | house interior color schemes
How do I choose interior colors for my house?
Choosing the right color for the whole house is one of the most time-consuming things in interior design. These 7 steps will make your job much easier, and the result will be very satisfying.
 Step 1: Identify the color of the fixed elements.
 Before you start choosing the house colour design, you need to identify the consistent colors in your home. Fixed element colors will automatically become part of your home color palette. They include cabinets, counters, openings, floors, and wall tiles.
Please make a list of all the fixed elements of the house and their colors right now. then write the sub-spectrum of each one in front of it.
Step 2: Choose the correct color pattern for your home 
Most people copy the color pattern without considering their home elements. For example, people may see a picture of a house on the Internet and like its color pattern. But this color pattern may not be applicable in their home. So we do not recommend you surfing on the Net and checking different images and landscapes to inspire various ideas and implement them in your home without considering your home elements.
Our goal is to help you quickly create a suitable color scheme for your home with ideas of house painting designs and colors. So ask yourself these questions: What would you like the atmosphere of your home to be like? What is your Favorite Color? 
 Step 3: Choose neutral colors 
Neutral colors are one of the most critical components of your color palette in house colour design. In this step, you must select white color and dominant neutral color.  
 Step 4: Add a bold and dramatic color to your home color scheme. 
Color is relative. But this color, which we call "bold-color," is supposed to be the most colorful and impressive color of your house. That is, either the darkest or the screaming color in your home color palette.
 

 

Step 5

: Choose a friend for your bold color palette. 
Now in house colour design, we have to go to the fourth color of the house palette. This color is close to your bold color.
 Step 6: Choose an indicator color 
So far, we have chosen four colors: white, neutral, scream or bold, and its friend with house colour design. Now we need to specify an index color for the fifth color. We use this color for interior decoration. You will use this color more than other colors in the house. You can either specify this color in the following ways or choose a neutral color that contrasts with the neutral color you selected in step four. 
 Step 7: Expand your color palette. 
 We should have five colors so far: white, neutral, screaming, screaming friend, and indicator colors. The law of colors also says that to design interior decoration, we should not have more than five colors in the appropriate color palette of the house. 
 But that doesn't mean you should only use five colors in house colour design. According to the following points, you can develop the right color palette for your home: 
– Use dark and light tones of the colors you have chosen.
– Use neutral colors that match below your original neutral color spectrum. 
---
Lets watch a video that found on Decor Puzzle
This video is about top 100 house colour design ideas | Interior wall decorating ideas
 Tips painting a Room In 1 Hour | DIY How To Paint Walls Fast
This video is about a man that painting a room by himself, and the tips he says.
Tips on how to Paint a Room
write your to-do list
Choose your color
Determine how much paint you'll need
Buy an Extra Bucket or Two
Prep the walls and the room
Cover Furniture
Use Canvas Drop Cloths
Take Off Those Electric Plates
Sand Away Flaws
Mix your paint
Pick your painting techniques
Finish One Wall Before Starting Another
Don't forget ventilation
Clean up
What color should we use in the house with
 house colour design
? 
Now it's time to know which color to use in the house with house colour design? 
 Walls, plastering, frames, additional decorations, ceilings. Paint all of these elements or the elements you want to whiten with white color. Always keep some of this paint somewhere to use in repairs.
 This color connects all the spaces of the house. Frames, doors, ceiling decorations, small decorations, furniture, and wooden accessories should be your primary neutral color to maintain harmony throughout the home. 
Use this color to create elements that you want to draw attention to in house colour design. Use this color more in separate and closed spaces, like bedrooms and dining rooms or study rooms. Predict the effect of this color in any area, depending on whether it is warm or cold.
 In house colour design, You can use this color in any room, whether open or closed. To balance the colors, you can use it in places where your bold color is also present.
 You can use this color freely and abundantly in home spaces with house colour design. You can paint paintings, index walls, tables, and all kinds of home decorations in this color. You can also decorate part of the ceiling with the indicator color. But also pay attention to the following points: 
  – If your color pattern consists of complementary colors, you should use its indicator color carefully. It is better to use complementary colors of the index color next to it.
 -If the correct color pattern for your home is a monochrome or analog pattern, you are free to use the indicator color anywhere in the house. 
  – If your index color is neutral, you should use it next to the primary neutral color to see the contrast. 
 You can use other colors that you have used to expand your color palette freely anywhere in house colour design. 
 Essential points for house colour design  | How to choose paint colors for your home interior in any part of the house 
Each part of the house can be different according to your taste and the house's application. It depends on what style of interior decoration you are interested in. Apply the appropriate colors of that interior decoration in different parts of the house.
 In each part of this article with house colour design , we have introduced the appropriate color scheme of that part. And we have given a few small examples of the right colors for that part of the house. 
 Bedroom color 
 Do you believe in the color of the bedroom psychologically? 
 Typically, a person is the last environment where their eyes are closed, and they fall asleep, and the first place they see after waking up is in the whole space of the house and, in a more detailed way, the bedroom's environment. check Bedroom wall painting designs for more bedroom color. also you can paint your bedroom wall with bedroom wall mural ideas.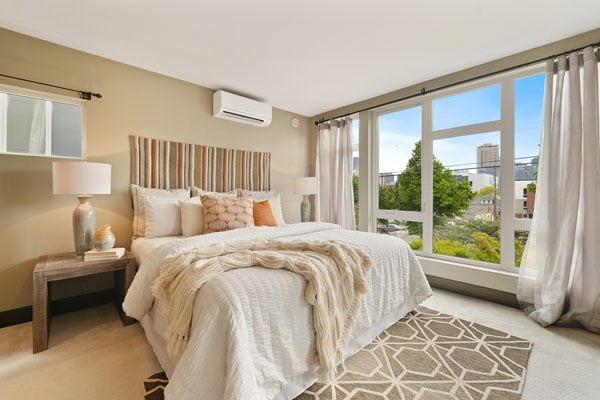 Green can be a good choice for the bedroom and depending on the individual taste. You can make it darker or lighter. Adolescents may need lemon green energy, while adults may prefer a soothing and balanced forest green color. There are all kinds of green in nature, so you can't go wrong. check green color for bedroom walls for more green color bedroom ideas.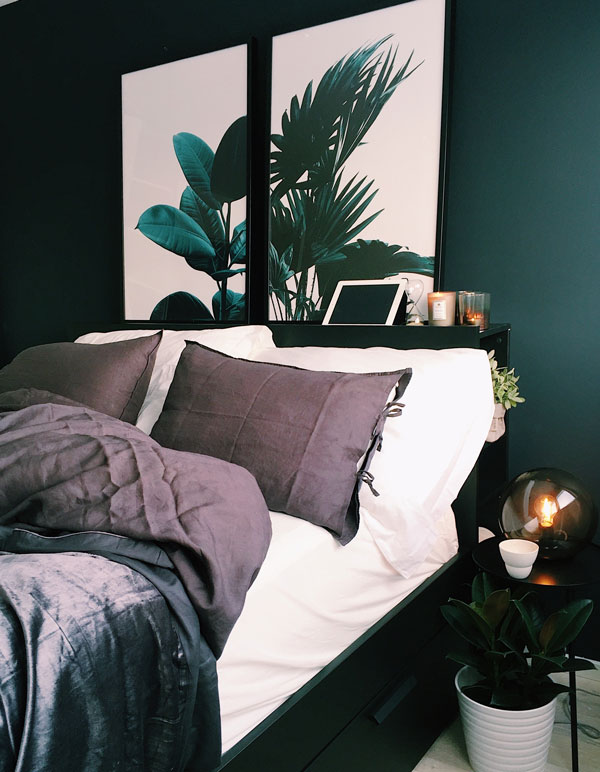 Blue bedroom ideas in house colour design is one of the most popular bedroom colors because it is soothing and expresses confidence and strength.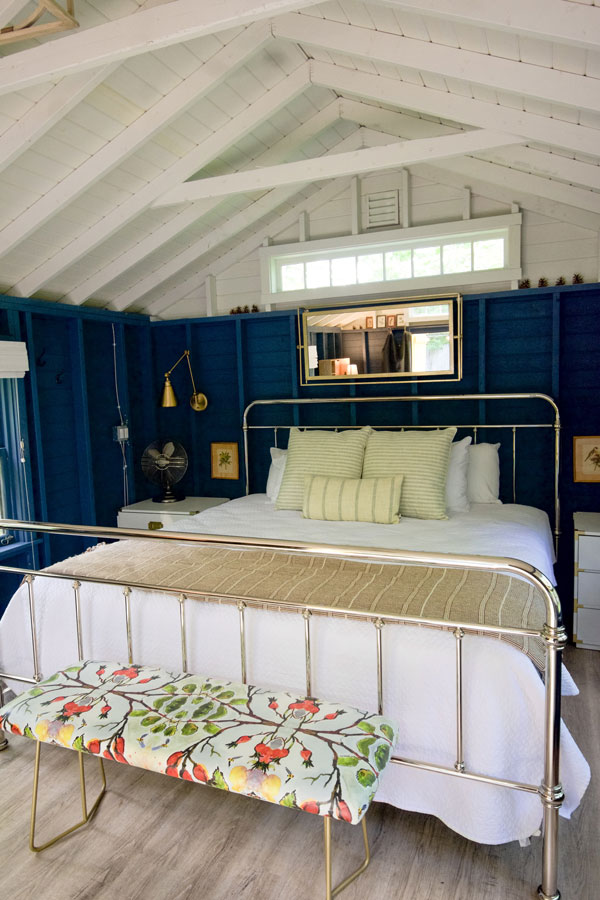 Pale purple (lavender): calms the nerves, strengthens calm, and is the most popular color. According to the Maryland Medical Center, the plant treats various ailments, including insomnia, anxiety, depression, and fatigue. Research has confirmed that the lavender scent is soothing when inhaled.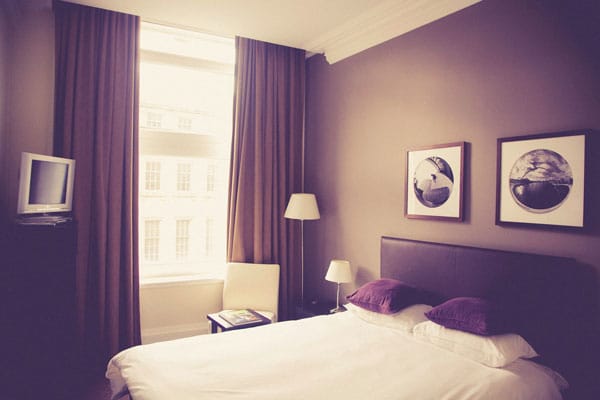 check yellow bedroom ideas and gray wall bedroom for more bedroom color
 Office room color 
 The office room should have special features, one of the most important of which is the color of the office room. From a psychological perspective, color can significantly affect people's mood and boredom, affecting learning while studying.
For this reason, if you have a study room in your home, it is better to be very careful in choosing its color with house colour design. a Home office is a place where everyone's personality is expressed to grow and excel.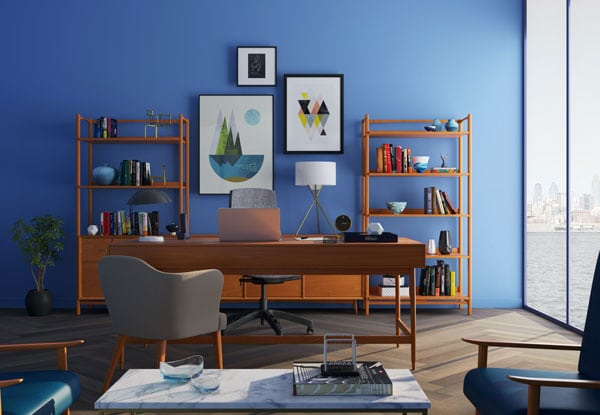 To this end, it has features that can enhance the value of the person who uses it. The output of the users of this room are people who, if they are relaxed, give the results of their studies to other people properly, and if they leave the place unsatisfied, they may even be discouraged by such spaces.
An essential thing in this room is to create a sense of focus, which has the most significant impact on the efficiency of the room. The Home office color is influential in the appropriateness or inappropriateness of the study room. 
In painting house interior ideas, The color of the study room is a color that firstly does not distract the person and secondly causes calmness and avoidance of environmental stresses. 
Colors that can use in such an environment do not impose any restrictions on you, but the nature of some colors prevents the formation of the primary purpose, which is to create a space of concentration. Colors like red or pink are among these colors, even yellow. Although it is happy, it creates tension and anxiety after a while. Among the colors of house colour design, the appropriate color for the study room includes neutral and cool spectrums; Because they have a calming effect and multiply people's inner energy.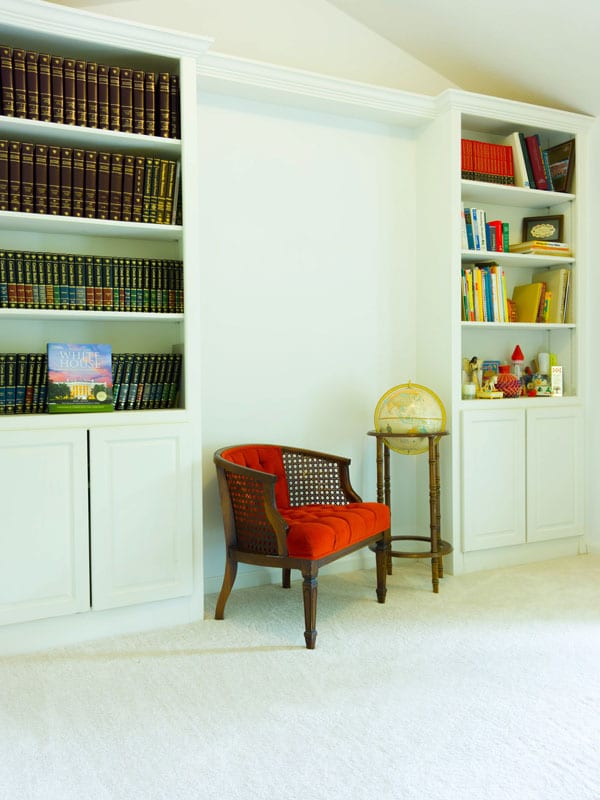 Kitchen color 
Decorating experts say that the right color of house colour design for the kitchen are warm and neutral colors. Bright and cheerful colors are the best colors for the kitchen. These colors make family members feel comfortable in the kitchen.
In painting house interior ideas, The rules for choosing the right kitchen paint colors always warn that dark and neutral colors, and all cool colors like blue and green, and other families of cool and neutral colors, such as gray, prevent the feeling of hunger. Therefore, these colors are used in the kitchen to prevent people from overeating.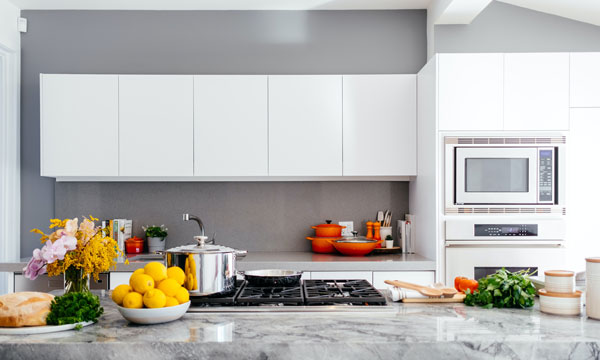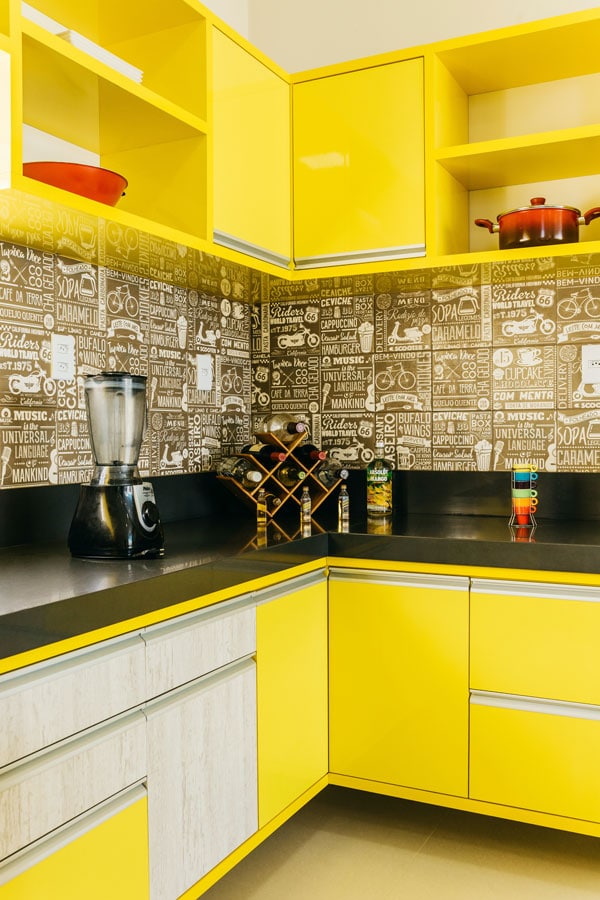 Yellow: A good color for the kitchen and cheerful, energizes people in a good way, and can help increase metabolism. When you think of yellow, it reminds you of warm sunshine and happiness.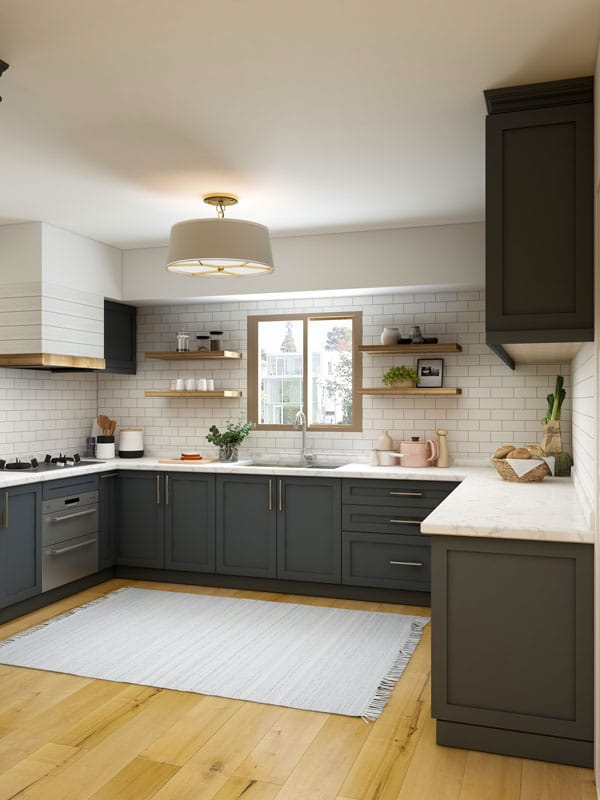 Gray: Since it is a warm color, not a cool gray, it is an excellent choice because it is simple and comes in any other color. If you paint your kitchen gray, be sure to highlight it with other warm colors.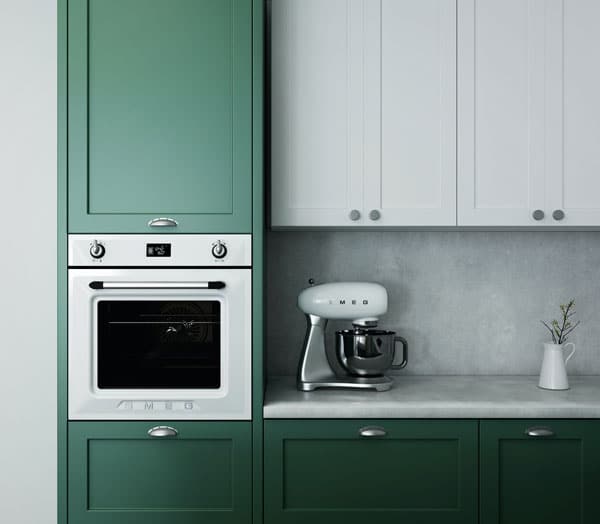 Green: A popular color for snack bars and cafes is GREEN! So it makes sense to use it in your kitchen as well. As mentioned above, this is the color of nature and can make you feel relaxed, and naturally energized. Painting kitchen cabinets is an effective way to transfer your home new.
Nursery painting
One of the most important parts of your home is your baby bedroom. Especially id you're waiting for a little one! You need some great ideas for your blank boring walls, so add wall art. You can do it yourself (easy and fun DIY nursery painting projects) and decorate walls if you follow step by step tutorials.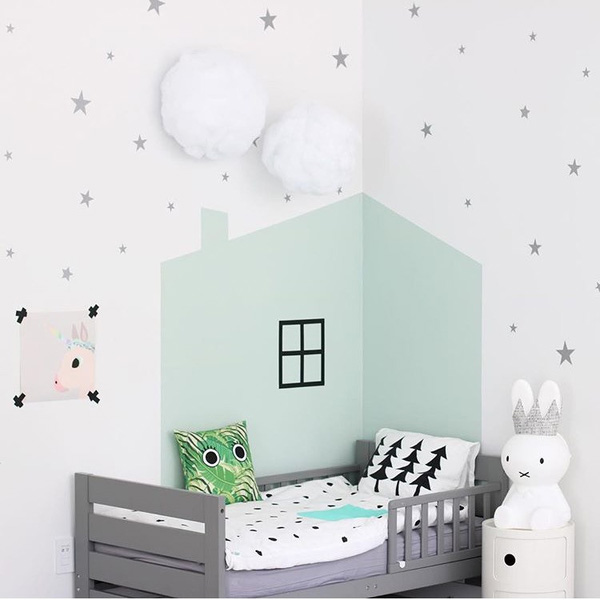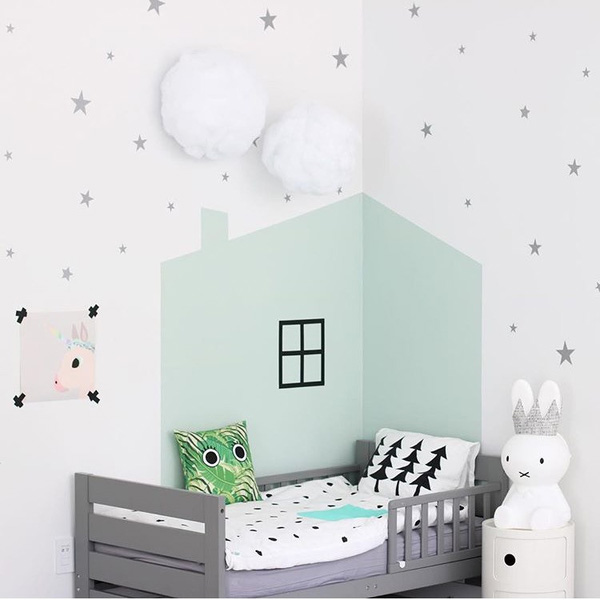 Living room color 
Living room paint colors: What color do you suggest for the living room and house colour design? Undoubtedly, one of the most critical parts of any home is its living room. The living room is generally used for formal meetings and parties and is therefore of great importance. 
The color of the living room is very different from the color of other rooms, and therefore, with house colour design, paying attention to the color of the living room has a significant effect on the layout of the room. For example, if you design and paint the space in a dark color, you can easily use light-colored furniture and vice versa.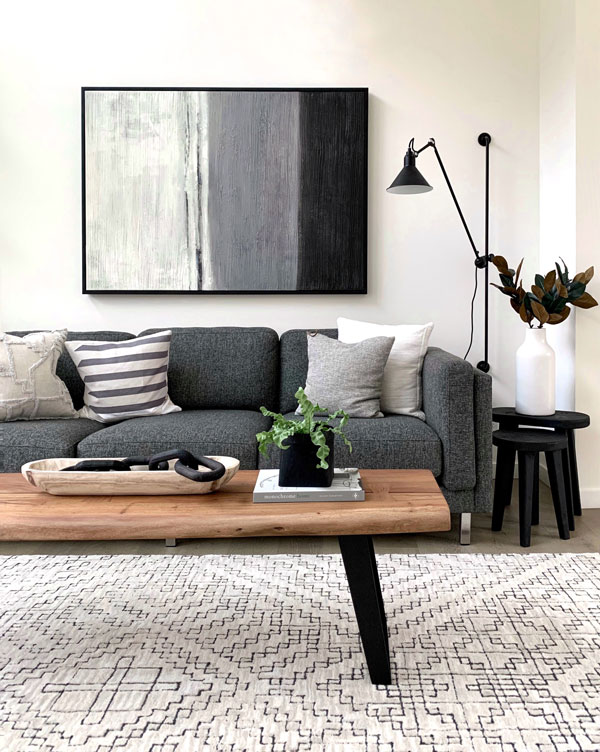 What living room Colors are trending?
1.Gray and green.
2.Sage green.
3.Green foliage.
4.Bluish green.
5.Gray and white or beige.
6.Gray and orange.
7.Gray and red.
8.Gray and yellow
On the other hand, you can achieve this by combining colors and colored wallpaper. Ideation about painting the living room is a matter of taste. You can easily choose and change this color according to the type of layout and style you have chosen from among the various interior decoration styles of the house.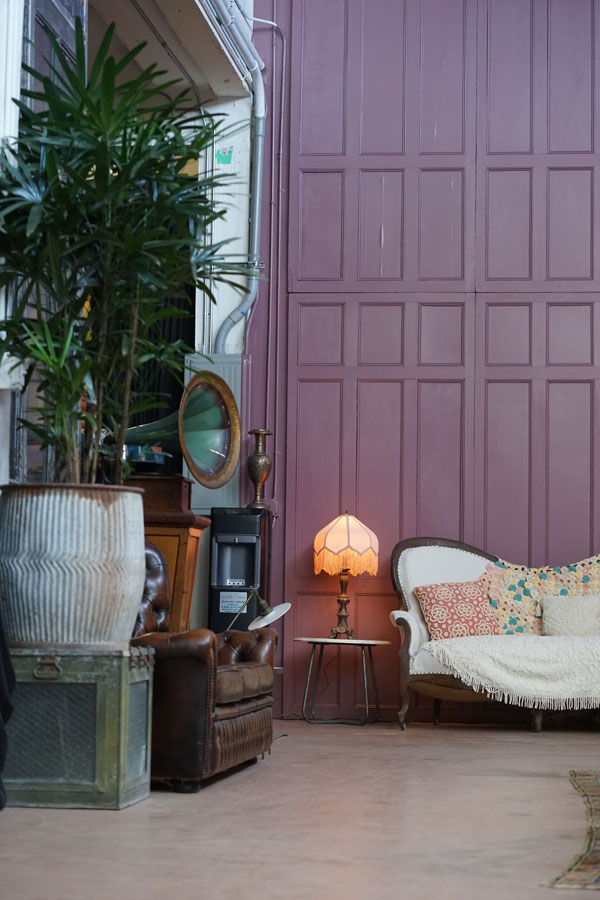 Pale purple: It is a beautiful and soft shade of purple, so it is very suitable for the living room. At the same time, darker purple is more stimulating. Pale purple and lilac enhance reflection and calmness. Try adding a few darker objects, such as paintings, cushions.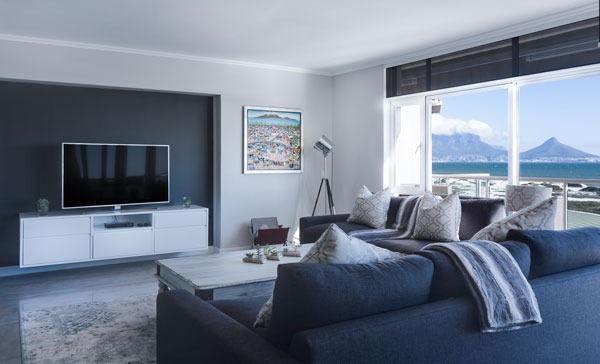 Blue: This color is soothing and relaxed, much like the sky on a beautiful spring day or the frozen ocean. Due to its tendency to promote a colder environment, unlike hot weather, choosing a lighter blue or darker blue is appropriate.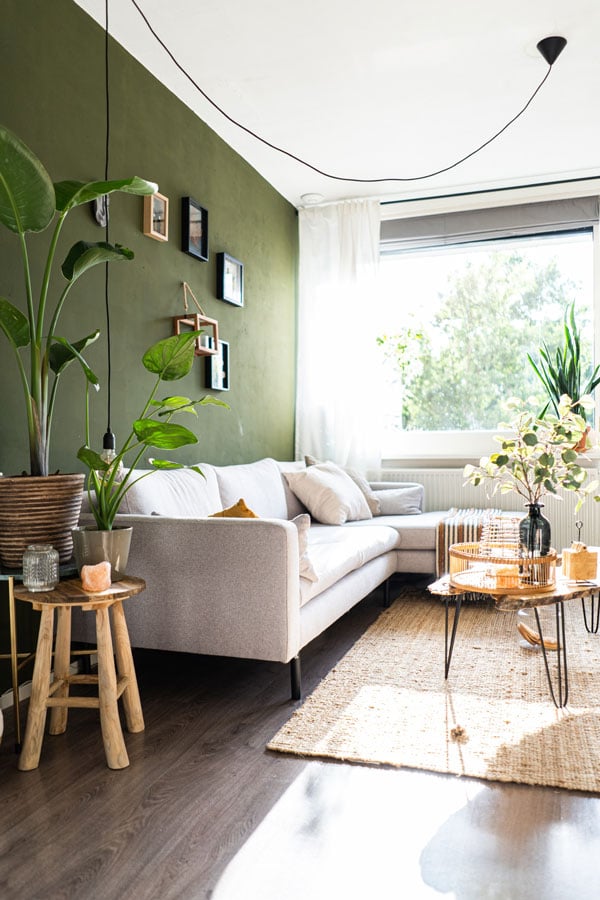 Green: with house colour design, Green can also work well in the living room, as long as it is dark Green with other light fixtures such as curtains. 
dining room color 
The dining area is where the guests and the host eat, so with the best house colour design it should be suitable for the dining atmosphere and stimulate the appetites, At the same time, it should be a relaxing and stress-free environment for everyone. check dining room colors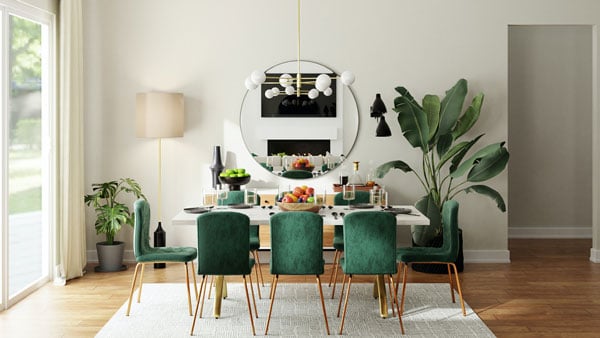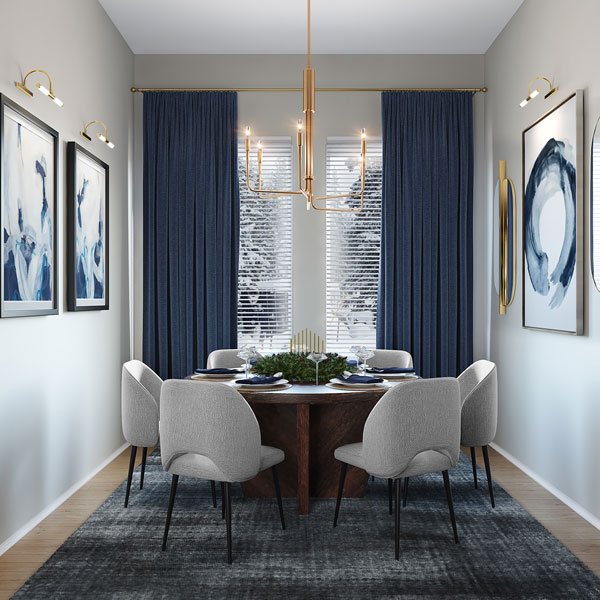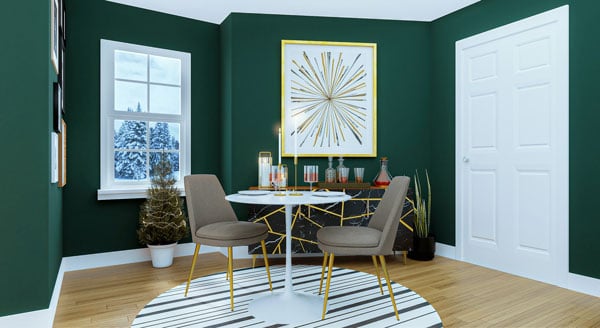 All the tips that we have provided for you in house colour design and house interior color schemes can help you choose the right color for your home and will significantly illuminate the way forward for you in this regard.
What other points do you think should be considered in house painting ideas when choosing the right color for the house?
Thank you for reading our article to the end. We look forward to hearing from you.