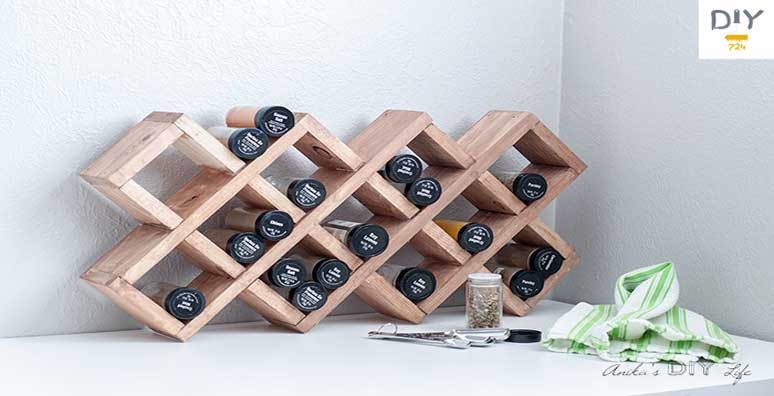 Home DIY & Ideas
Cheap DIY spice rack ideas + Diys
Spice rack ideas for small spaces
Diy spice rack: Spices are one of the most important and widely used seasonings and flavouring additives in cooking, and their presence in the kitchen has a significant role. 
The variety of spices is comprehensive. Each of which has valuable and hearty taste, aroma, color and properties that you can add to food; Easily give all these features to the desired food and bring delicious and fragrant food to the table. 
For this reason, it is always emphasized to store the spices carefully. So that its properties and aroma are not lost, a spice rack is one of the usual solutions in this regard. In this article of DIY724, we will lead you to diy spice rack. 
How do you make a spice rack step by step?
Video from MissDebbieDIY
3 Best Space Saving Spice Racks Ideas From Cardboards For Your Small Kitchen
How can I make my own spice rack?
Video from Penelope Paradise.
DIY simple spice rack with pallet wood
All kinds of diy spice rack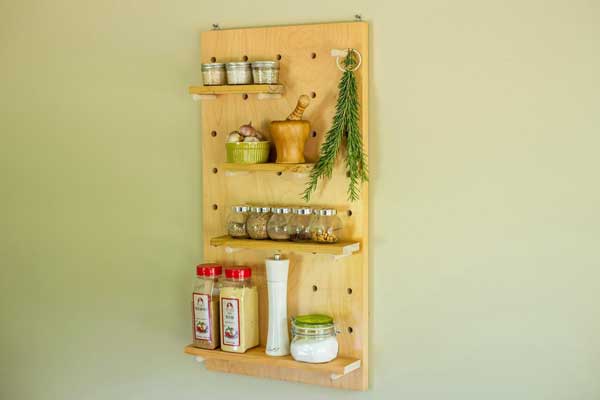 Spice is one of the most consumed and widely available goods in every kitchen. You can use the following ideas to arrange the spices and diy spice rack: 
1. Drawer for spices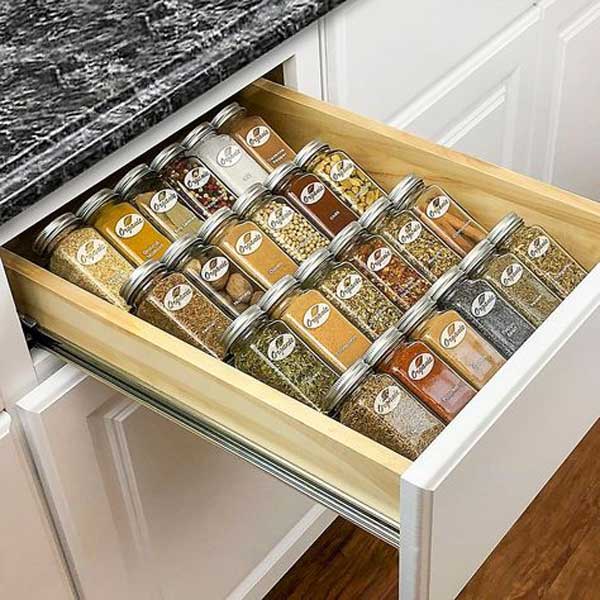 Instead of putting a bunch of spice containers in the drawer, I suggest the idea of using rods to create shelves for spice containers. As in the picture, installing two bars in the cabinet drawer will make it easier, more orderly and more beautiful to place and arrange the spice containers. 
The spice drawer is a kitchen utensil made of plastic that fits in a spacious kitchen drawer. It has parallel rows that are slightly angled upwards so that your spice containers are easily accessible. And it is a bigger and more inflexible version of the shelf system. Use the spices you have to put in each drawer. 
You can carefully cut the spice drawer with scissors to make sure it fits in your drawer. Just remember, if you cut diy spice rack, it will not return to its original shape, so choose a large drawer to hold all your spices and have room for the future if you think you can add more zest to your list? 
When using a spice drawer, you may use an alphabetical system. In other words, sort your spices by name, starting with the herbs beginning with "A" from the top left, then moving in rows and moving on to the next row after filling. 
2. Rotating rack for spices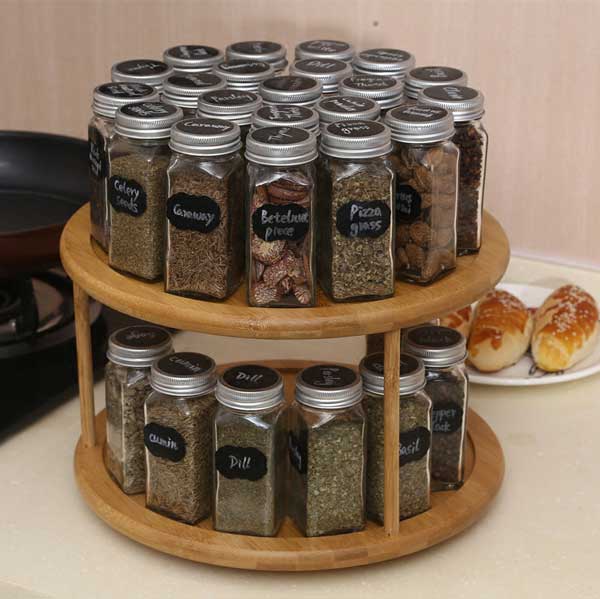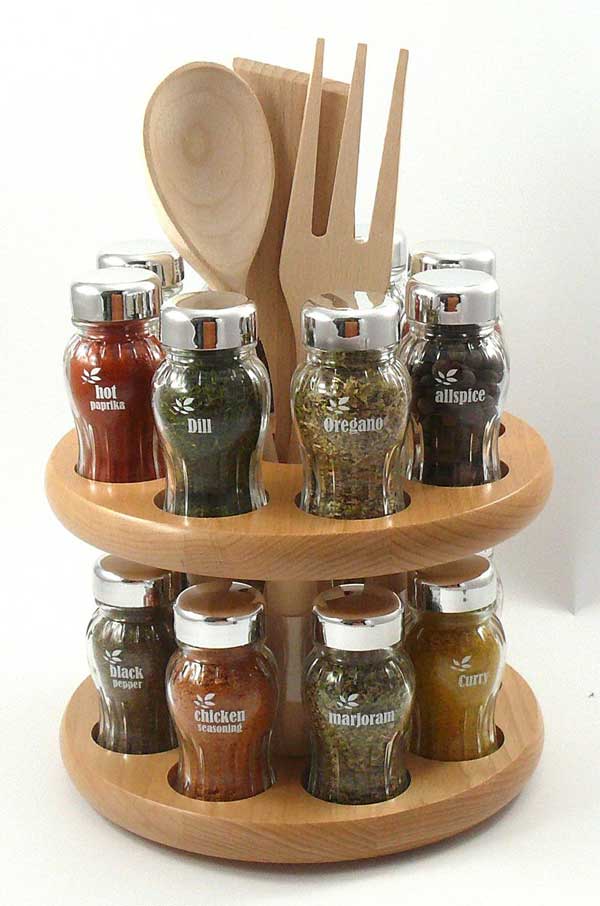 Do you have a troublesome corner that you want to use? Swivels are a great way to get the most out of awkward corners. If you do not want to install shelves in the shape of rotating plates, turn the existing frames into rotate shape for diy spice rack. 
3. Floating shelf for spices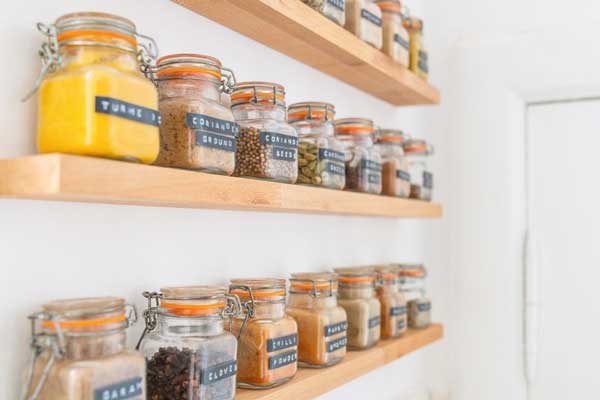 Install a long floating shelf on the wall behind the kitchen cabinet. This shelf can be made of any wood that you prefer. With this diy spice rack, not only have you given a new look to the kitchen wall, but you have also provided excellent and very accessible storage space for spices. 
4. Spice sliding cabinet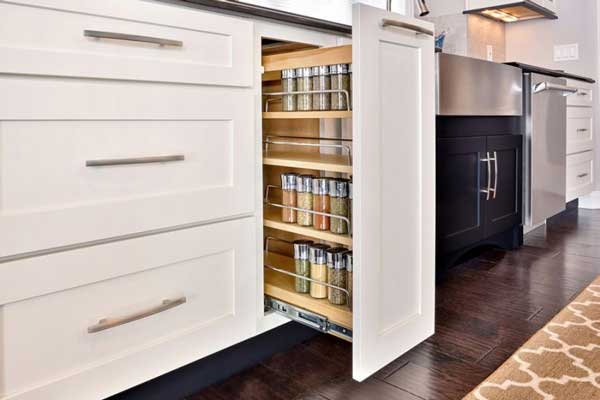 There are sliding spice cabinets in many kitchens. To set your spices with this storage method, you need to determine the number of shelves. Depending on the number of frames, you can organize your spices differently. You can use one of the two standard methods of the organization (expiration date and frequency of use). 
In addition, assuming you have only two shelves and a more important place for cooking oil or other essential ingredients below. You can put very spicy spices on the bottom shelf and mild spices (basil, coriander, celery seeds) on the top of the frame. 
5. Pallets of spices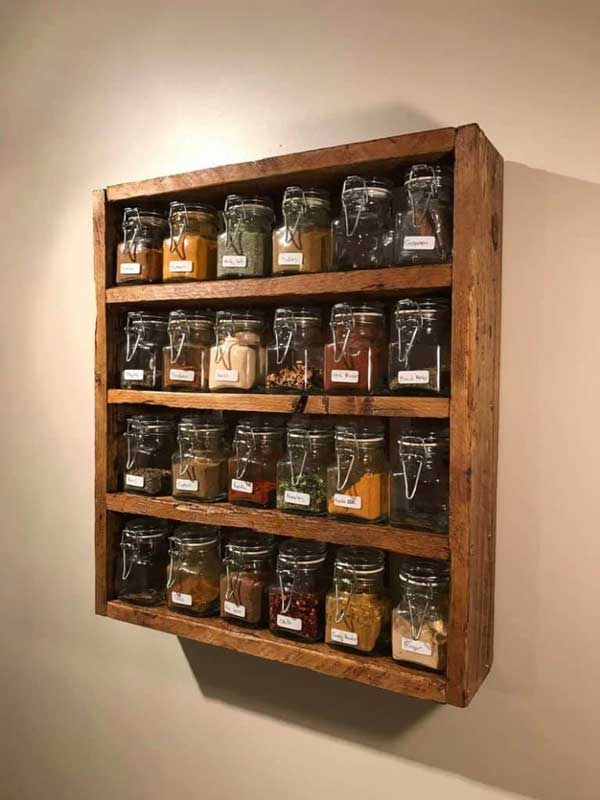 For making diy spice rack With the help of unusable wooden pallets, you can create a wooden shelf in a part of the kitchen wall and place small spice jars on it.
6. A spice hanger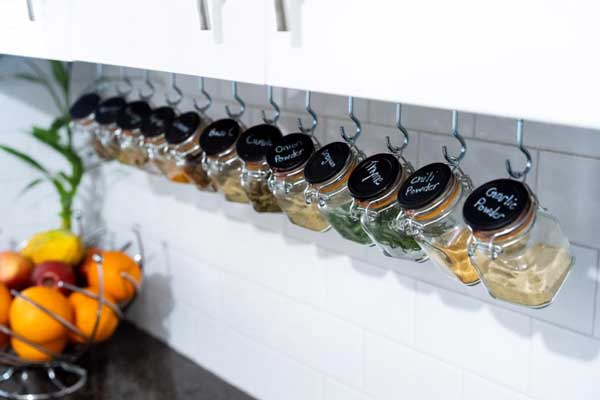 The best part of the diy spice rack is that the beautiful colors and their freshness give a special effect to the kitchen. Therefore, they can be used as a decorative element. The last idea I came up with is a simple idea that only needs a few hooks and wires. 
Required accessories for hanger diy spice rack
 Spice jar (with desired size and model) 

 Thin wire 

 Chinese wire 

 Wall hook 
Steps of construction: The method is that after selecting your favorite glass containers, determine the height of the wire to hang and, like the pictures above, roll it to connect around the glass opening. Then attach it tightly around the glass. To make the diy spice rack more beautiful and uniform, you can also paint their lids. Then determine where to hang them and attach the hooks to the wall. Then turn each glass on its theme. 
---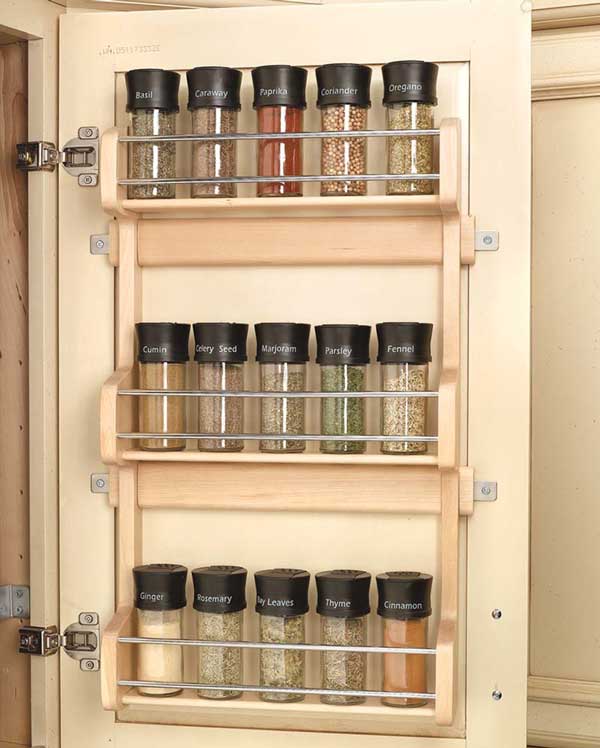 Shopping is fun. But sometimes, making simple tools that we can do ourselves is more fun than buying. Be sure to try making your diy spice rack.
We hope that the training provided methods for making spice jars will be considered practical. Using the space available at the bottom of the cabinets as a diy spice rack and building a drawer divider as a spice rack can be another idea that you can use.