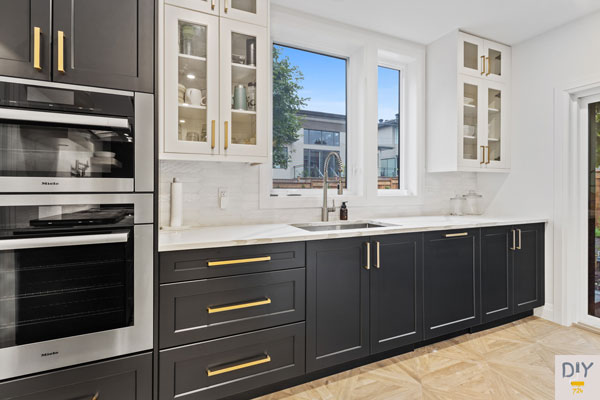 diy kitchen cabinets, like any other job, require sufficient knowledge and expertise and have several steps. If these steps are done carefully enough, a lovely and stylish cabinet can be made to fit the conditions of the kitchen. From ancient times until now, wooden or metal floors have been used to organize the kitchen space and make optimal use of this space.
Today, with the advancement of science and technology, these floors have become more modern and have given way to chic cabinets. Cabinets are usually made of wood or MDF, each of which has certain advantages. The variety of MDF cabinets is wide, and they can be ordered more specifically. Join us with this article of DIY724 to learn more about diy kitchen cabinets and building cabinets.
How can I make my own kitchen cabinets? (diy kitchen cabinets)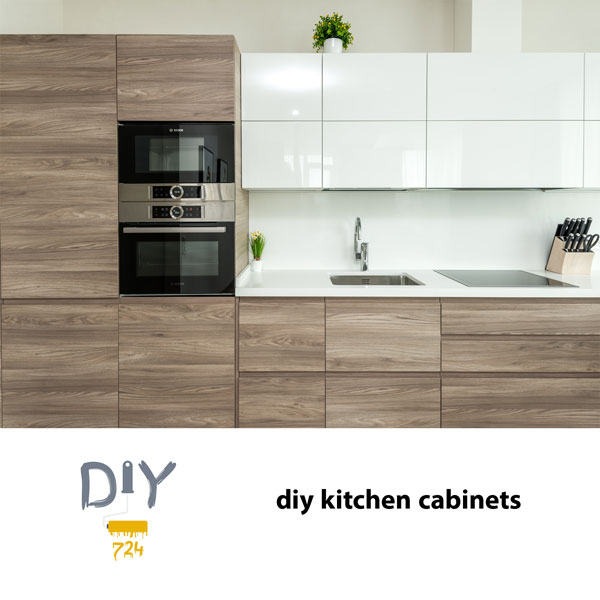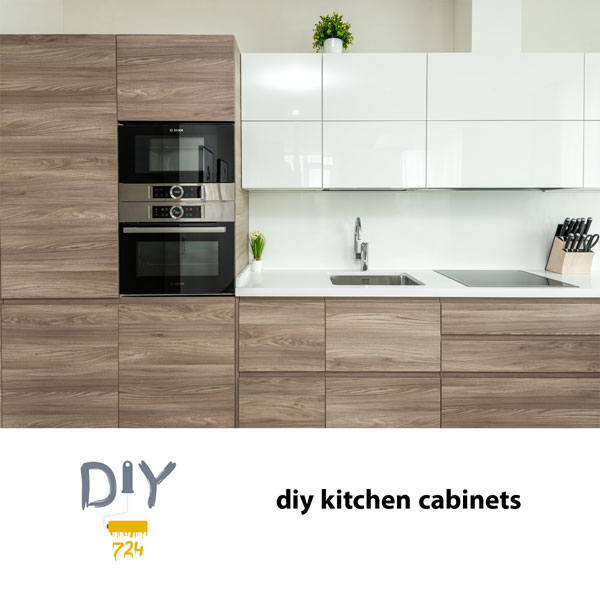 For diy kitchen cabinets with different dimensions and materials, the main stage of making and installing cabinets must be performed. This step has a separate process which we refer to below:
Kitchen measurement
Before designing and building cabinets for any kitchen, you must first measure the size of the kitchen environment and the installation location. This step includes the following:
First, you must specify the type and location of the stove. For a conventional 35-inch stove, space is placed, while for a plate stove, a hole is installed under it. It is essential to consider the gas pipe branch, hood chimney, and electricity in the cabinet construction training.
Usually, 23 to 35 inches of space is required to install the hood, depending on the type of hood. Whether you want to have a cabinet on top of the hood or not. To install the washing machine and dishwasher, you should consider 23 inches for each blank. After determining the location of the refrigerator and sink, a space of 37 x 70 inches and 23 to 47 inches should be allocated, respectively.
DIY Kitchen Cabinets Tutorial: In this video of DIY PETE, we'll walk through the basics of building a simple cabinet. We'll make a cabinet carcass, face frame, drawers, doors, and a walnut butcher block top.
Cabinet designing (diy cabinets)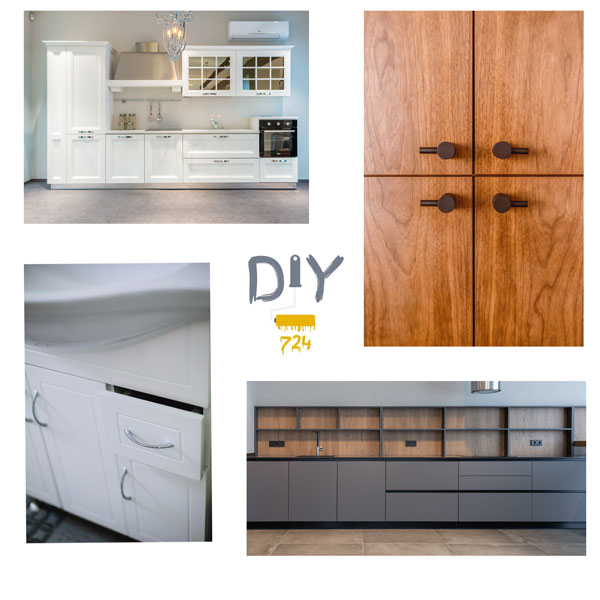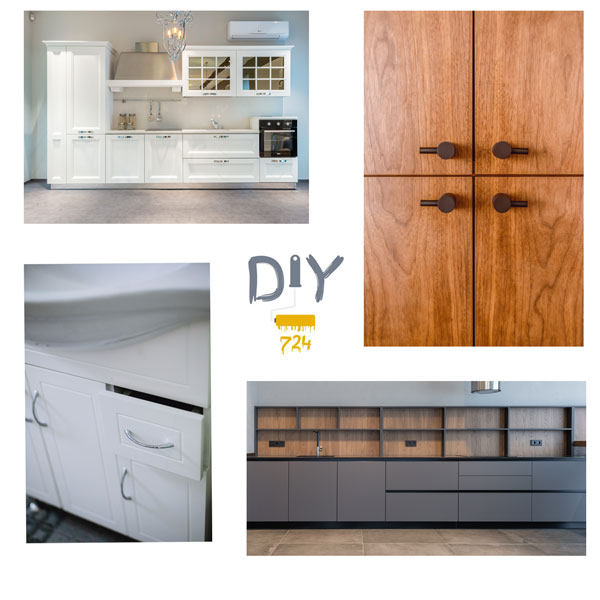 After the above step, it is time to engineer the cabinet design on paper. For this purpose, you should use design software such as 3Dmax and Catia. At this stage of cabinet construction, you must specify the type of kitchen system (hallway, V-shaped, U-shaped, and L-shaped).
The access triangle of the kitchen, which includes the sink, refrigerator, and stove, should also be observed and designed so that you can access them in the shortest possible time. Finally, we should consider the most beautiful cabinet design for the kitchen.
Determining the type of materials used and their color for diy kitchen cabinets
There are different materials for making the body and surface of cabinets. Cabinets are usually made of particleboard and MDF with artificial and natural veneers. The surface of the cabinets, because it is more in contact with different people and equipment, should be made of heat-resistant and water-permeable plates such as Formica and MPL veneers.
At this point, you have to select the cabinet's color based on the catalogs you have. In the process of making cabinets, materials always come first. Because if suitable materials and colors are not chosen, your work will not be successful.
Determine the thickness of the slices
One of the essential things for diy kitchen cabinets is the same and appropriate thickness of the cut pieces. In calculating the size of the cuts, one should pay attention to the wall or floor of the cabinet. Today, standard floor cabinets use round edge panels that are 23 inches wide, 22 inches deep, and 28 inches high. These dimensions vary from 27 to 35 inches in height and 11 to 13 inches in depth for wall cabinets.
Cut pieces to specified sizes
Cutting has two stages of crushing the sheets and accurately measuring the boards. At this stage, factors such as PVC thickness, sheet deflection, body, passage, back of the body, blunt and crown, and surface scratches are controlled, and all defects are eliminated. In modern cabinets, the cutting is usually done more delicately so that the cabinets bring more beauty.
In this video of garage 11, we show you how to make frameless kitchen cabinets.
Materials:
Led lights

hidden soft-close drawer slides

soft close hinges

Handles – L and C aluminum profiles

Adhesive edge
This step in diy kitchen cabinets is more aesthetic and protects the edges against abrasion and water penetration. For gluing edges, tapes of different sizes are usually used, and it is better to do this step by machine method to make the work more elegant and beautiful.
Grooving and perforating parts
Ground and wall cabinets use grooves to place the fiber behind the work strap. These grooves should be 6 inches away from the back of the body. Then should specify the location of the drawer rail holes, body connection holes, and other holes. Drilling makes the work cleaner and speeds up the assembly.
After going through all the earlier steps for diy kitchen cabinets, it is time to assemble and connect the parts to install the cabinet quickly. In cabinet construction training, the assembly step is considered an essential step because this step, if not done with complete accuracy, will cause you problems at the very beginning.
DIY kitchen cabinets install (Can I install kitchen cabinets myself?)
In this video of Get It Done Home Repair, we will show you step by step how to install upper and lower kitchen cabinets. we will also show you what tools you will need to do this job.
As we mentioned initially, the diy kitchen cabinets also include the installation steps, which we will examine below.
Determine the exact location of cabinets and mark on the wall for diy kitchen cabinets.
Install strong connections such as connection45 on the wall to place the cabinet firmly on it. These connections increase the load-bearing capacity of the cabinet.
Install floor or wall cabinets in place and fix it with bolts and nuts
After installing the cabinet, it is time to measure and cut the cabinet floors and open facade doors. These parts should be a few millimeters smaller.
Attach the edge of facade doors and cabinet floors. For this purpose, PVC tapes with a thickness of 1 to 2 mm are used.
Install hinges, doors, and handles. By doing this step, the diy kitchen cabinets construction operation will be completed correctly.
You can check the article of diy spice rack for kitchen decoration.
---
I hope we have been able to increase your information in this field by providing information in the area of the diy kitchen cabinets process and diy cabinet doors. With this article, you can build modern cabinets based on your desired features.