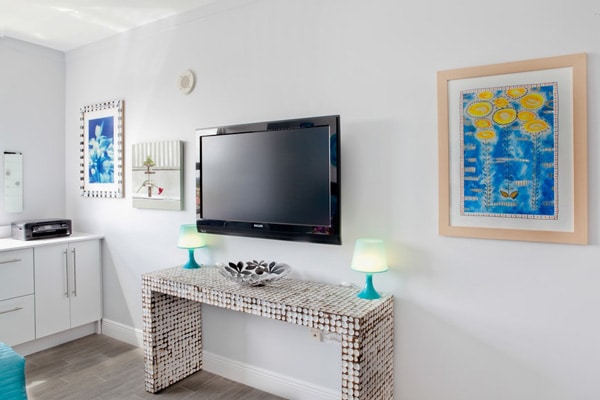 If you want to change your room style completely, the DIY TV stand is a great option. Make the TV stand the focal point and enjoy your DIY project, which would add character to the room in a unique way. With ideas to get you inspired on DIY724, the possibilities are limitless! Let's check out some of these ideas.
How do you make a free-standing TV stand? TV stand design
diy tv stand ideas – The TV stand is one of the essential parts of home decoration because that's where most of your time is passed. In recent times they have been more flexible and don't involve just furnished wood. To make your very own unique TV stand (DIY TC stand), you need a little creativity. Here are some DIY TV stand ideas that can help you upgrade the entire room's look with a new concept.
Pipe & wood TV stand
If you're looking for a great and easy weekend DIY project, a just found it on whatRoseknows. DIY TV stand might be used for so many different things.  



Wall Mounted cabinet TV Stand


if you're not sure how to hide the TV, try DIY tv stand in wall mounted cabinet style. It looks like art to hide the TV. Notinggrace shared a great idea to build a flat screen wall mounted TV cabinet.

Floating TV stand
 DIY floating TV stand is also one way you can style and decorate your living room and lounge. It gives a simple and elegant look to your room. You can easily make it at home by watching a tutorial on YouTube such as this videos:
Wooden Wall TV Stand DIY
Decorating the walls with wood is always trendy. Also it's so unique to DIY TV with wood decoration. To make an elegant TV stand,  you need some simple things like wood, a hammer, and a nail.
Rustic TV Stand
According to hometalk, this rustic TV console table is a simple DIY project for those in love with the rustic/farmhouse style. It needs painting and assembling and takes about 2 hours to get the best finish possible.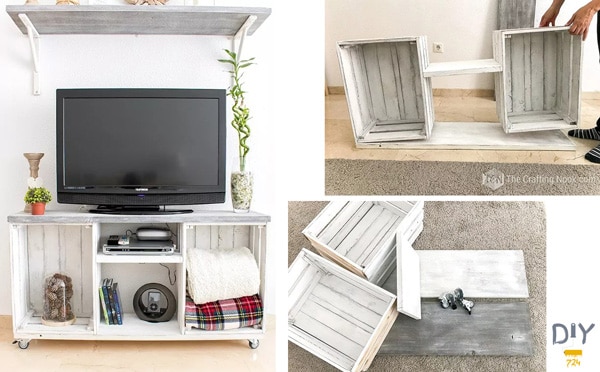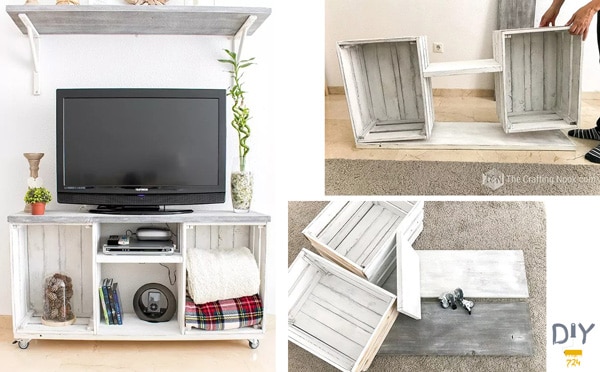 Farmhouse Style TV Stand
learn.kregtool gives you a great toturial to make a farmhouse style TV stand to put your television on. It has storage and shelves on the inside of double 4 pane doors on both sides. feel free to customize the color with a color that suit your taste for added character.
Sliding Door DIY Tv Stand
First, assemble the carcass. you can use 3/4″ poplar plywood and have them rip the 4×8 piece into three 15″ strips. The 4 x 4 sheet, you rip one 15″ strip vertically and then the left-over piece ripped into three 15″ strips again. then cut everything to length at home. for full plan visit buildandcreatehome.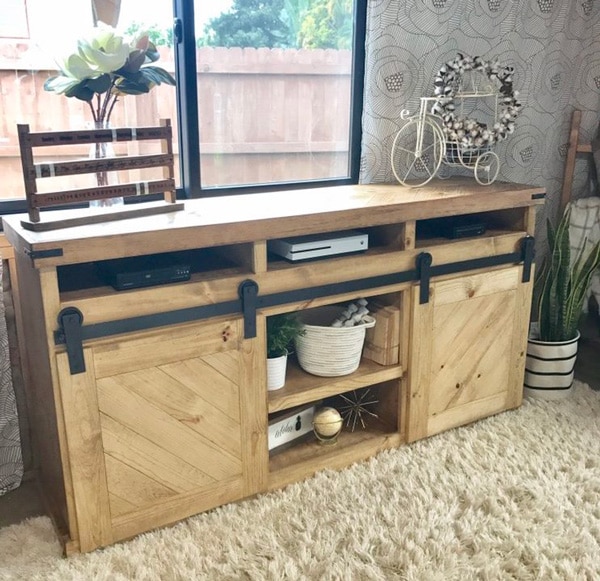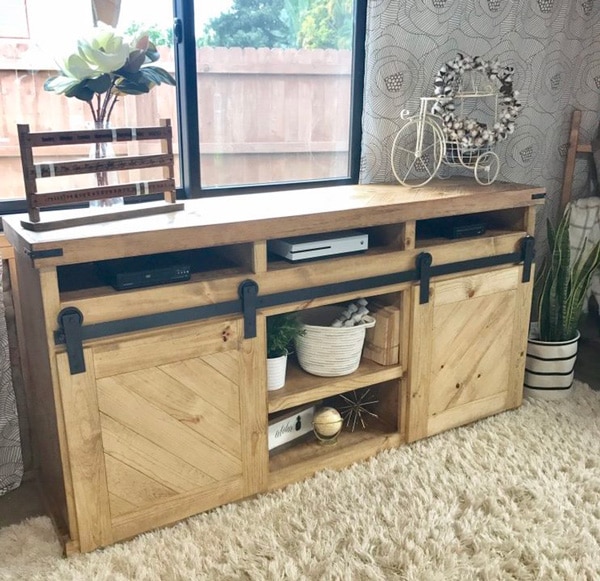 How do you make a simple TV rack?
Do you want to build a super easy TV stand? Watch this video
How do you build a TV stand out of pallets?
Pallet wood is always an interesting material for home instruments. If you are a amator person who love DIY projects, use wood to produce and build awesome pallet wood TV stand. youfind pallet wood in coffee tables, shelves sofas, benches, swings and even beds and dressers. But another aspect of pallet wood is in making TV stand. Enjoy the stunning design in following images.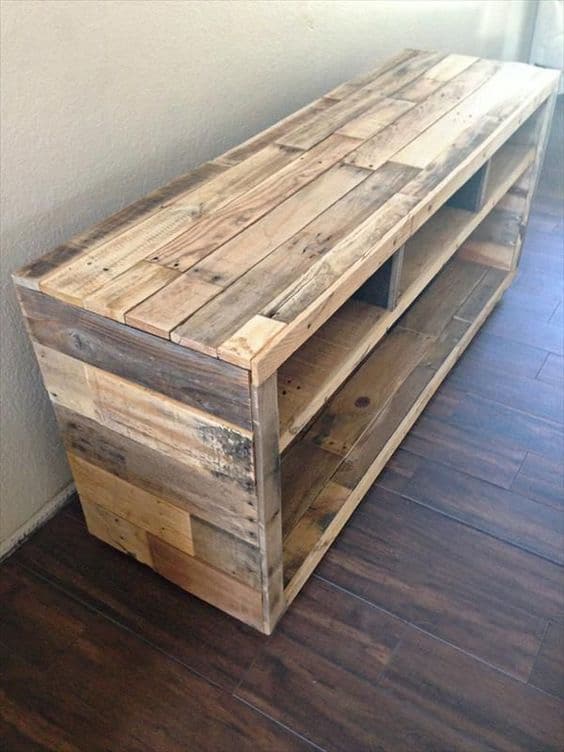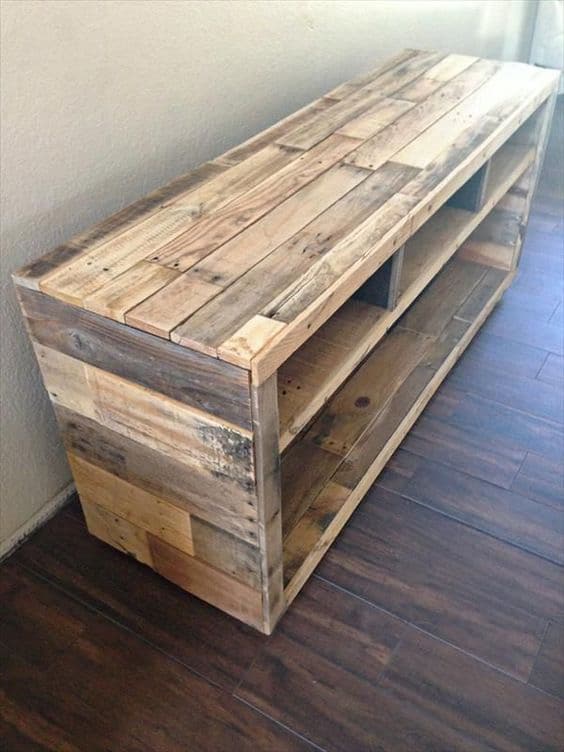 Do you agree that "Home is not just a place, it's a feeling"? A TV stand should be designed to feel comfortable while watching your favorite show with the pleasant ambiance of your living room. DIY TV ideas we mentioned above are provided to help you make something for your home that is 100% you and looks graceful.
DIY724 projects are simple, not too expensive, and graceful enough. Remember that they save you some money. Do it and grind your skills by creating stands with our DIY TV ideas.