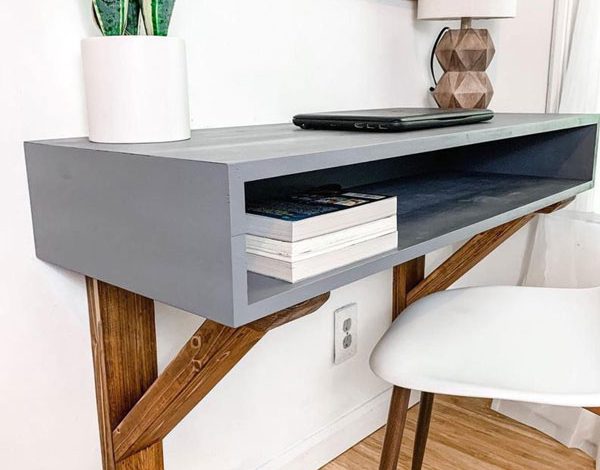 Home DIY & Ideas
DIY wall desk – How to make a floating desk ( Images+Video )
wall desk ideas
Lack of bedroom space is a problem in many homes.  The work DIY wall desk is also an integral part of the youth bedroom, so many people may come to terms with this issue at first and experience the lack of bedroom space, but there is always a solution to this problem.  And You can make a variety of practical tools for your bedroom with the help of DIY bedroom decor and this wall desk ideas.
Tables and chairs are usually the most significant device in the bedroom, after the bed.  As a result, these two pieces can take up a lot of space.  DIY wall desks in folding models can essentially solve the problem of lack of space in the bedroom or home office.  Folding beds and murphy desk are expensive and not affordable for everyone, but instead, wall desks are less costly and give a beautiful and intelligent look to the bedroom decoration. follow this article on DIY724 to create your floating desk.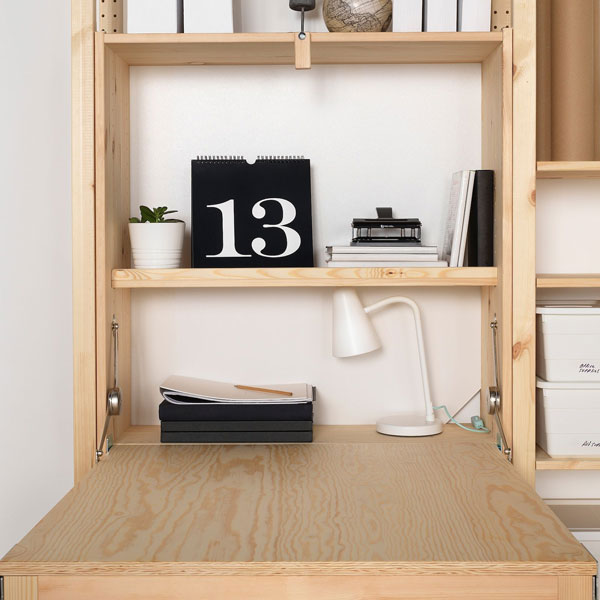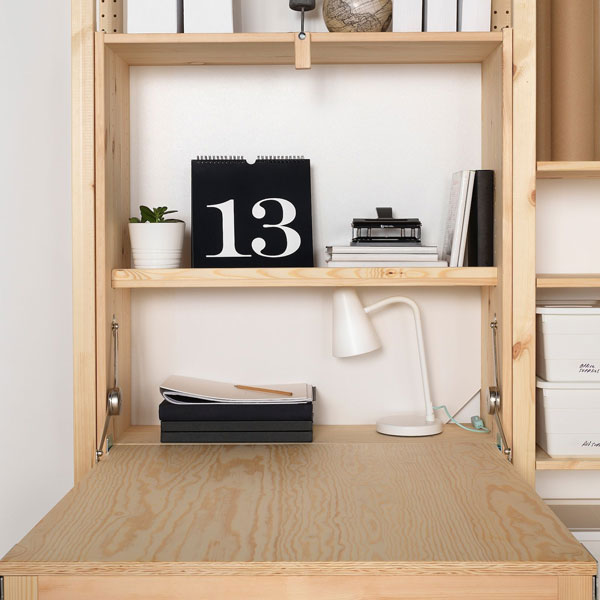 What is a Murphy desk?
A murphy desk is a desk that people use in their home for their work and study. It is a table attached to the wall and is foldable so that it can be folded when it is not needed to compensate for the lack of space.
Types of

diy floating desk

( DIY wall desk ideas )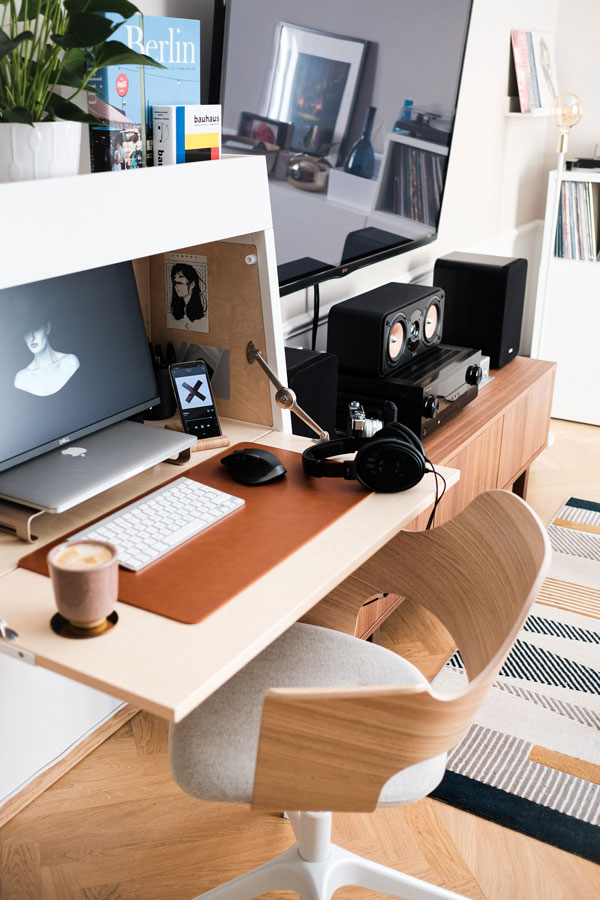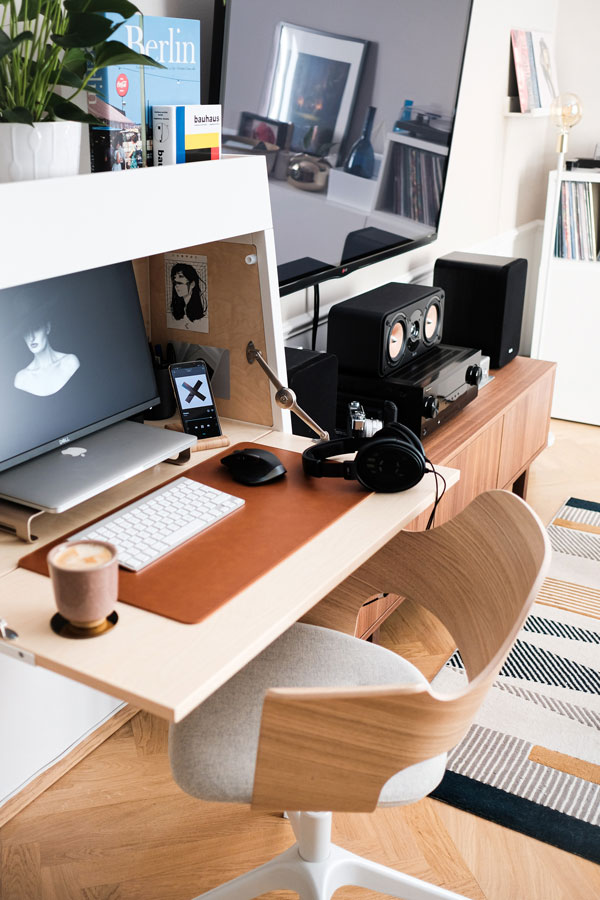 In this article, you will get acquainted with creative DIY wall desk designs with the ability to fold. How to make them, which takes up very little space compared to fixed tables, but also in terms of beauty and efficiency, if they are not better, they are not less.
1. Makeup DIY wall desk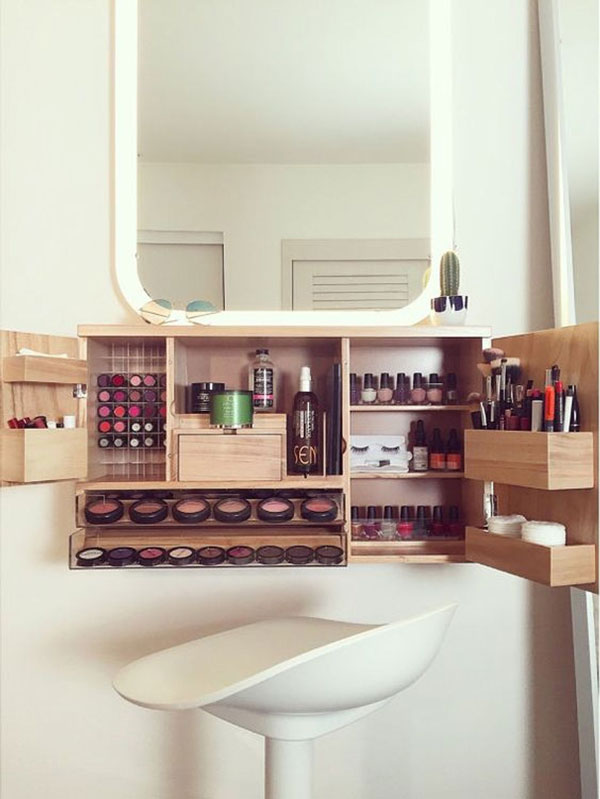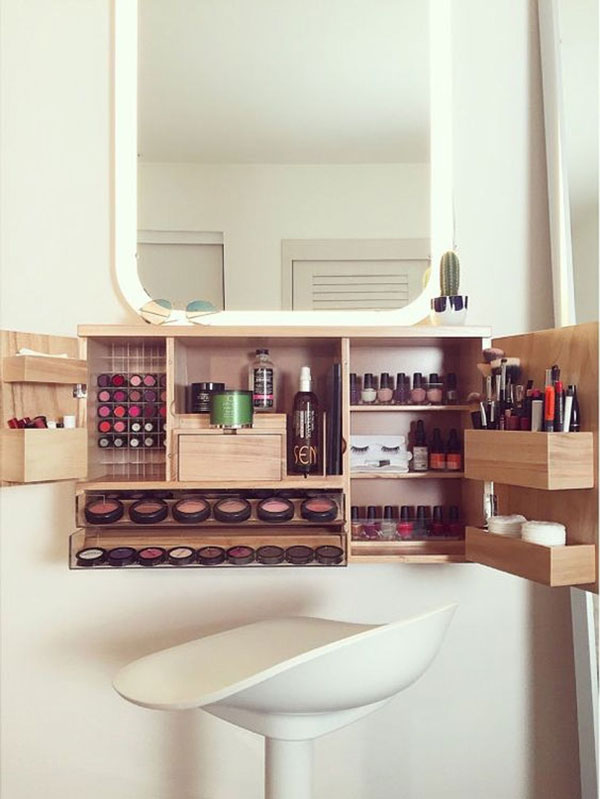 If your bedroom is small and you do not have much space to put your makeup table, a wall makeup table is a convenient and affordable solution. The main advantage of a wall makeup table is that it does not take up any space due to the lack of a base. Another advantage of this type of makeup table is that you can use it to fill your bedroom's corner.
You definitely should not buy a ready-made makeup table. Just be a little creative to customize a modern makeup table for your bedroom. Walk-in, your bedroom, examine the different parts of it and see where you can have a wall makeup table in your bedroom not to take up space. Using the distance between the two walls or the bedroom corner are great places to install a fence make up table.
 2.Work DIY wall desk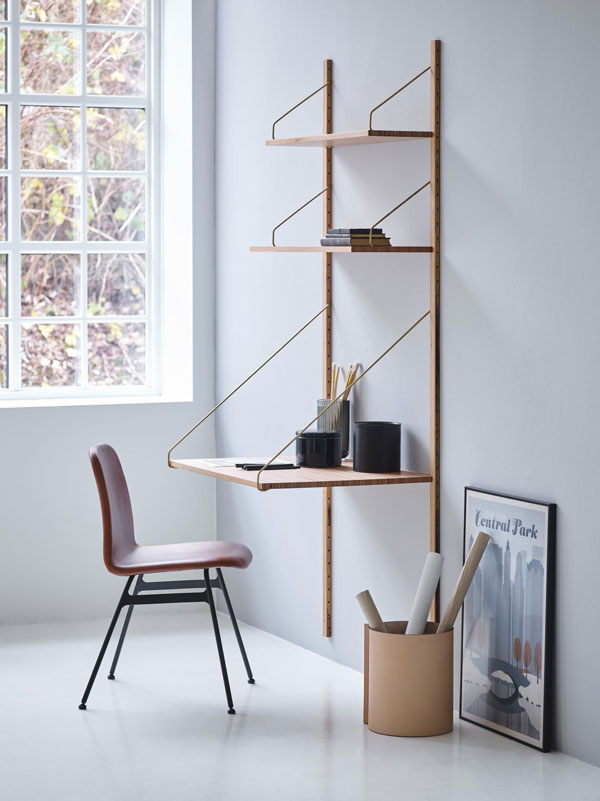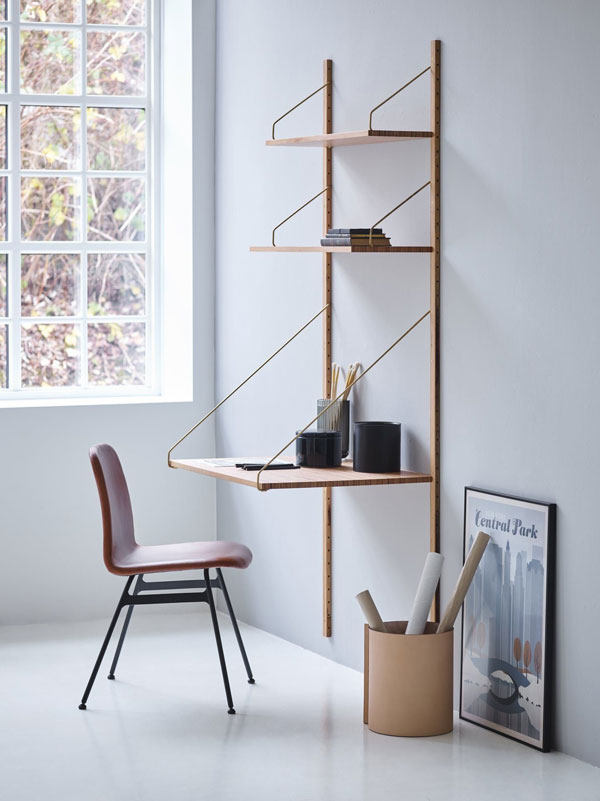 Since portable electronics such as laptops and tablets have become ubiquitous today and used for research and homework, it is no longer possible to consider just a specific range for working with such devices.
The great advantage of a folding DIY wall desk is that you can use it in all house rooms. The hallway and living room to the bedroom and kitchen can be an excellent place to install and work with such tables.
People who care a lot about the desk's appearance because of the superficial appearance of DIY wall desks may not be very interested in creating this type of floating desk. But do not worry, some models look very similar to a fixed desk, especially when they are in the corners of the wall.
Some models look very similar to a fixed desk when opened due to the base. When assembled, they do exactly what a library or wall shelf does. A wall desk with such a feature is a brilliant choice.
How do I make a wall desk at home? (murphy desk)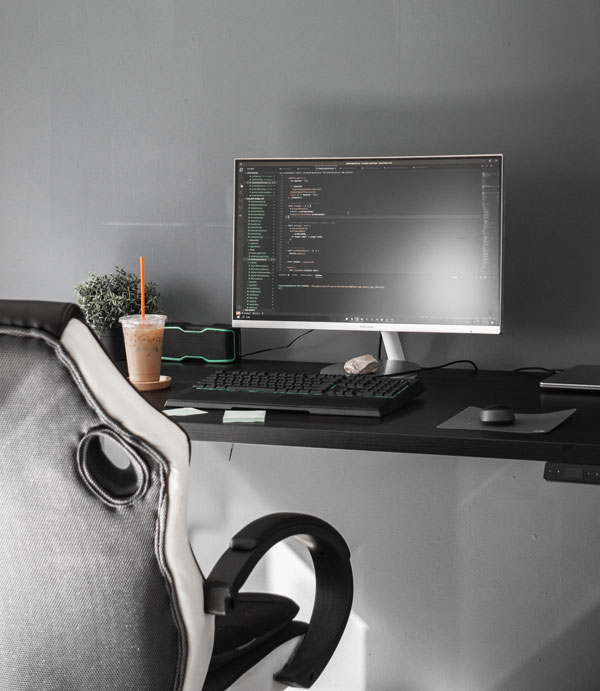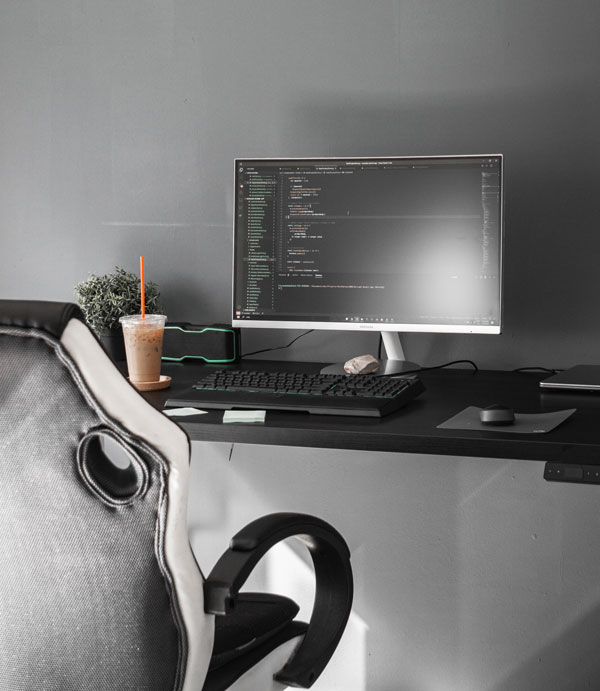 What material should I build a desk out of?
1. Tape measure
2.1-20″ ×30″ Pine shop shelving
3.4- Mini L- brackets
4.Wood screws
5.Pine lumber boards
6.7- Small hinges
How do you build a desk on a wall? 
1.Measure your space.
2.We drill a 1-large piece of wood and 2-long pieces of wood and screw them together to make the piece that sticks our table firmly to the wall and to make our frame.
3.Attach the base wood to the frame.
4.Attaching our desktop to the base by using hinges.
5.Make two triangular L-brackets with wood.
6.Attach the L-brackets to the board we made.
How do I build a foldable wall desk?
In this video of DIY Huntress, we are showing you how to build a DIY folding wall desk (or Murphy desk)! While it functions as a desk with storage when folded down, it looks like an art piece when folded up and stored away! This is an excellent option for homes that require creative desks and space-saving work-from-home areas.
3.DIY wall desk and shelves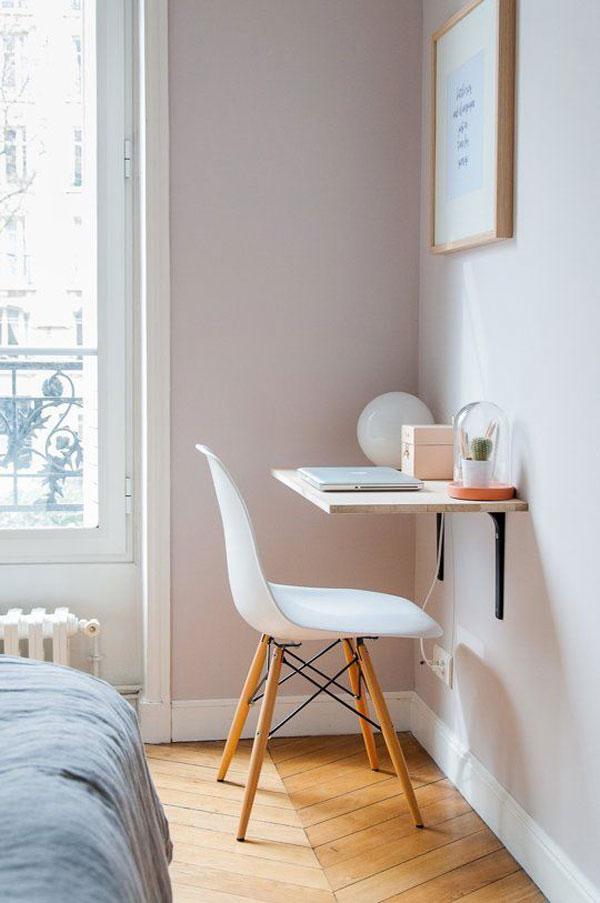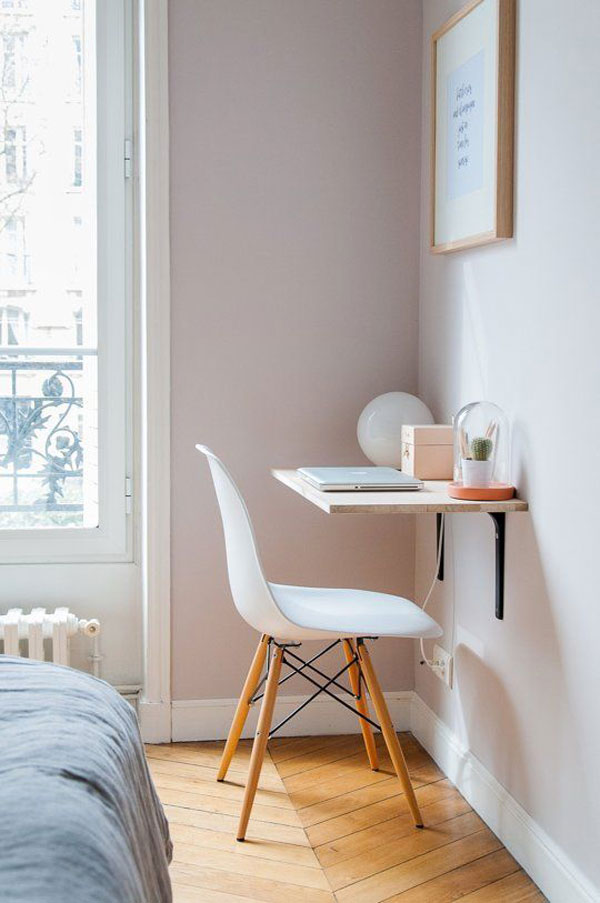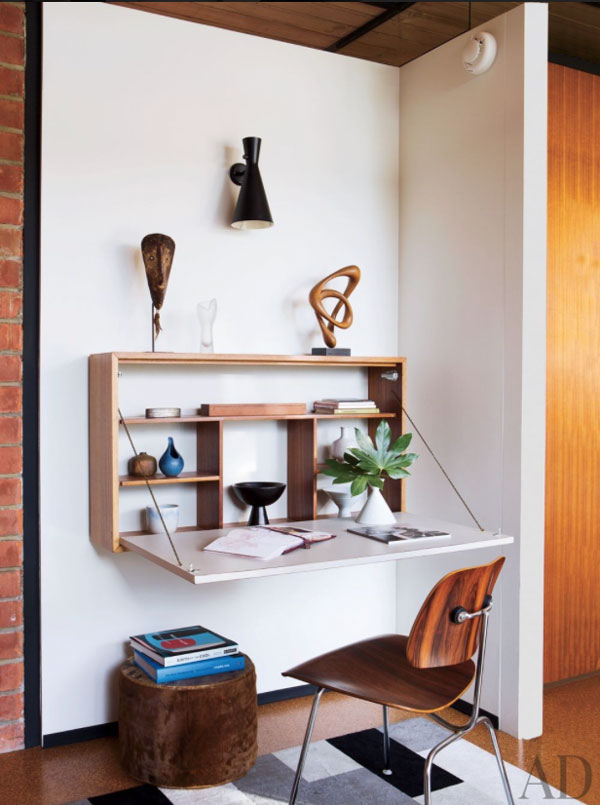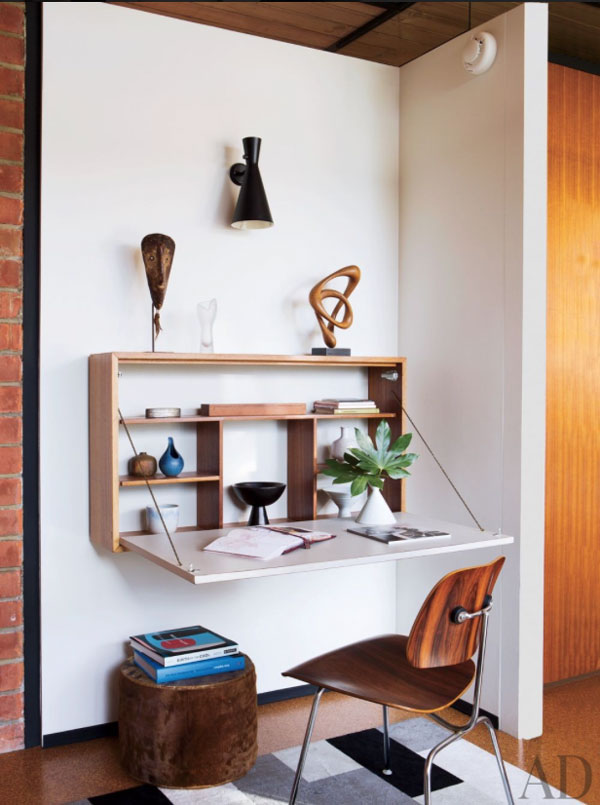 The most efficient DIY wall desk model is a model that, in addition to being foldable, also has shelves for storing your stuff.  For a desk that does not have a cupboard or drawer or shelves, its efficiency significantly reduce.  Folding tables look like a wall bookcase when folded into a wall.
But the significant advantage of a stand with a table is keeping the table surface private.  Since folding desks have a lower work surface than fixed desks, the space on the desk must be as quiet and tidy as possible.
4. Folding DIY wall desk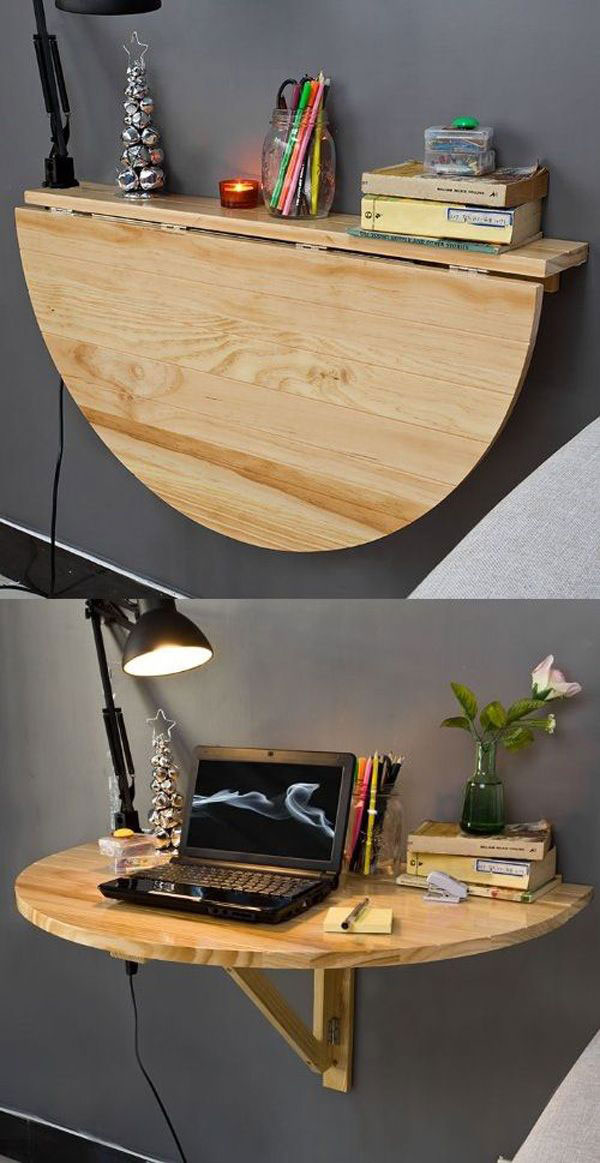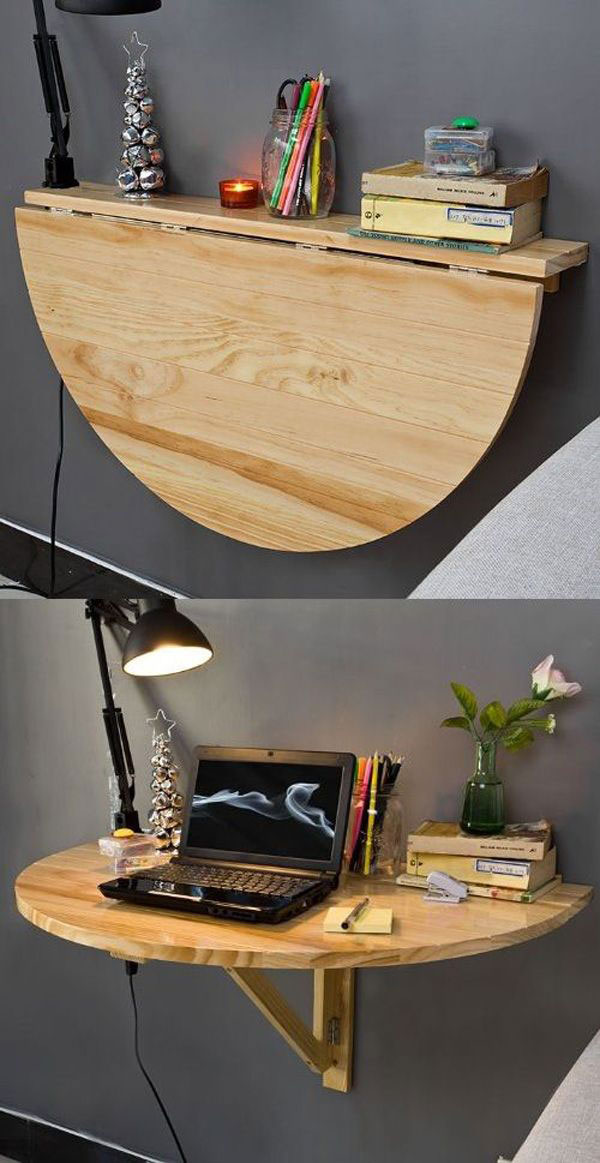 Folding models of DIY wall desks are another idea designed to maximize storage space.  Although the drawers of these desks are shallow, they are the best option for quick hiding of stationery.
Not all folding desks need to be square or rectangular. There are other creative ideas and designs in the market in various shapes that are more attractive than conventional models. Even if you still do not find such tables attractive, you can design and make your shape.
 Baby bedroom DIY wall desk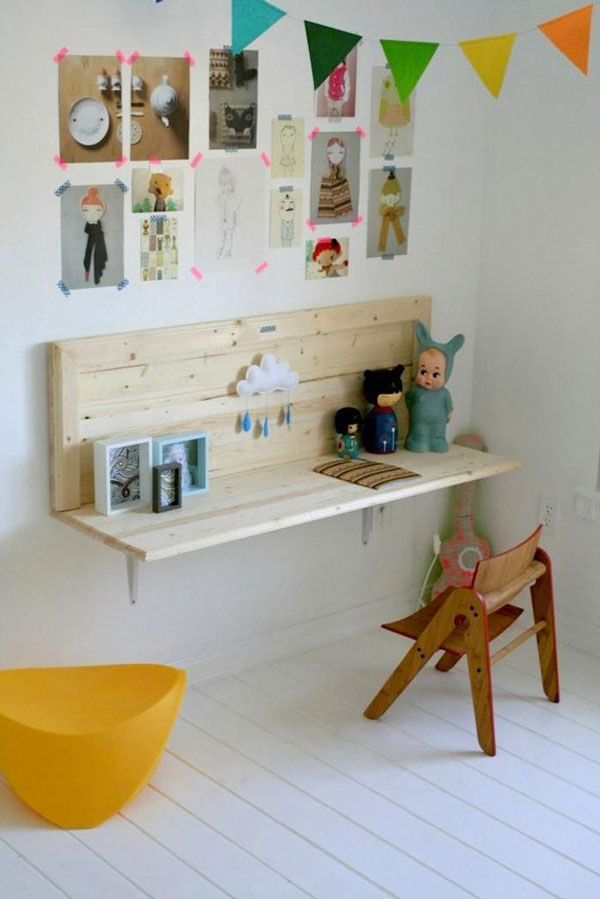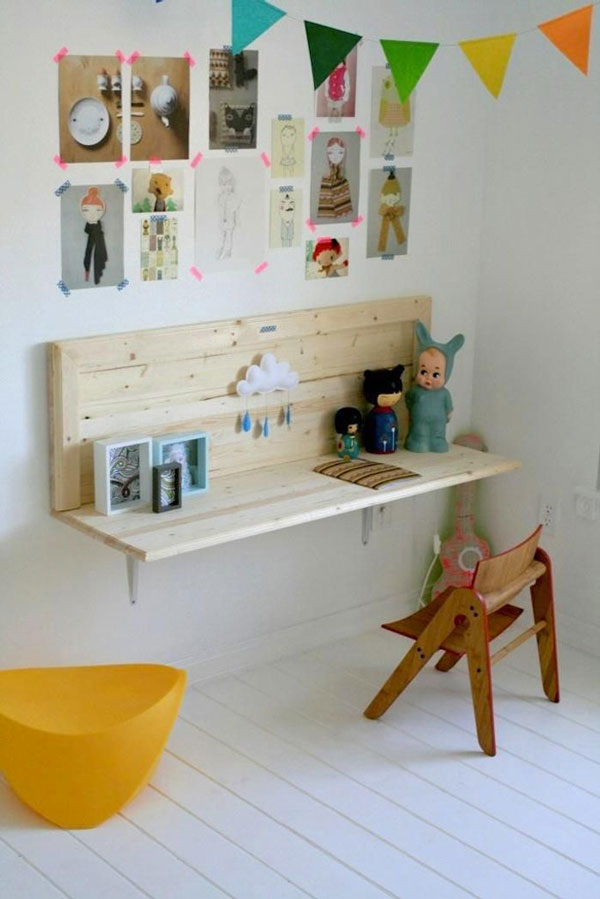 A child's bedroom is a great place to install a wall desk.  Since children are usually very active in their bedroom, having a desk that does not restrict their activities is a positive point.  Another advantage of folding tables in children's bedrooms is their higher safety than fixed tables.
Fixed tables usually have sharp corners that can be dangerous for lively children in a cramped space.  Folding tables are folded into the wall when they are not needed, thus not endangering the child's health.
---
Wall desks and murphy desk give a beautiful and intelligent look to the bedroom decoration. The folding desk is mounted on the wall and takes up the least space. And if not needed, this table can be folded on the wall and ultimately open the space. by exploring the ideas presented in this article, you can choose your favorite DIY wall desk and diy folding desk then harmonize it with other furniture in your bedroom.