In this article, we will get to know different ideas with bedroom wall murals for different ages. We will examine wall murals for bedrooms.  Although today it is possible to use different visual effects to make bedroom murals on the wall beautifully, we try to help you do it yourself.
Bedroom wall mural painting is still trendy, especially for people who want to DIY bedroom decor. If you are looking for exciting ideas for bedroom walls, follow this article on DIY724 to paint on your bedroom wall. You can also visit diy wallpaper ideas for bedroom  and wall painting designs to get more ideas.
Make your bedroom a reflection of who you are and what you love with bedroom mural ideas.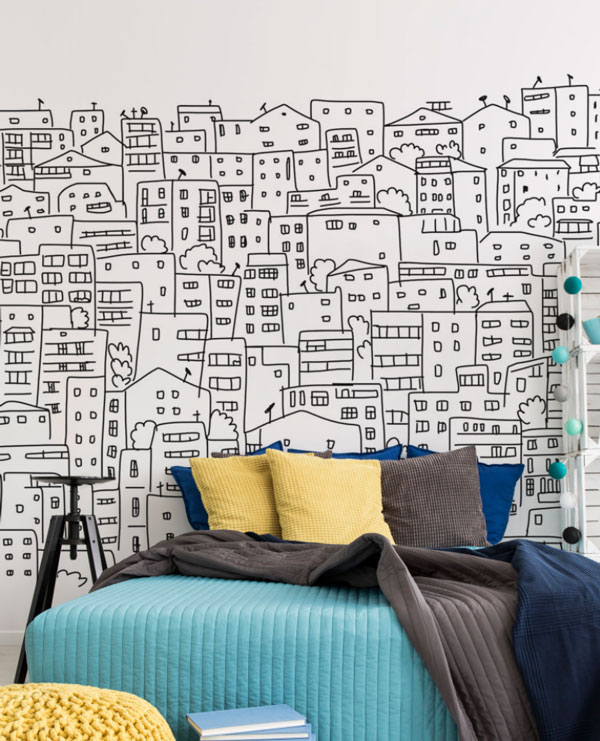 bedroom wall murals | Tips to painting bedroom walls
Bedroom wall murals painting can be a fun and different experience, but not everyone dares to do it. You may or may not feel that this is a risky endeavor.
First, choose which part of your bedroom wall to paint. It often recommends doing this on both sides of the bed, but it depends entirely on your taste and purpose. Many models of bedroom wall paintings can even cover parts of the floor and ceiling of the bedroom.
Create a beautiful image on the wall. The important thing is that you can try this repeatedly, and each time you will achieve a different result and become an expert in this work overtime. Still, it is necessary to have tips to optimize and achieve the result.
Know the color you want to use. The best and most natural color that you can use to paint a wall is acrylic. You can make this color in large cans. Acrylic paint can be diluted with water and usually has a milder odor.
Be creative
Relax your body and mind and dream away with creative bedroom wall murals.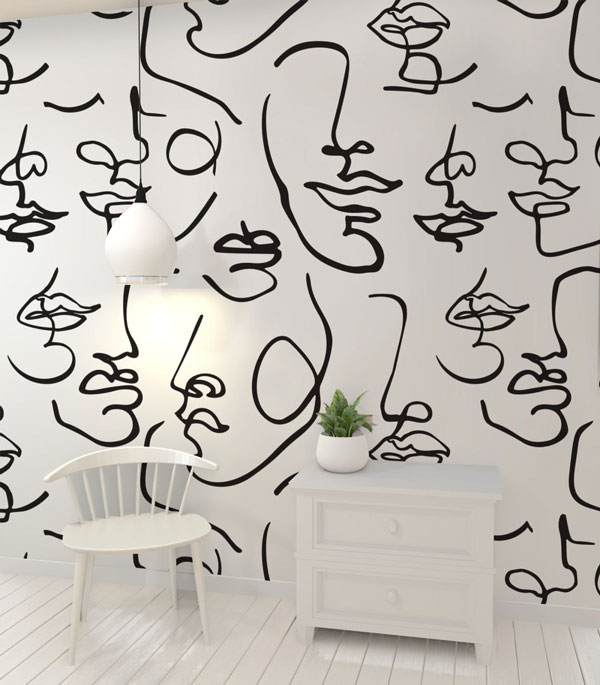 Select the desired texture for painting on the wall
Also, keep in mind what texture you plan to create on the wall. usually, the initial surfaces of the paint or the background of the painting are needed, smooth and without texture. you can use a roller or sponge and a cloth to do this.
The roller has many uses in creating different textures.  By closing the textured surfaces, you can create a uniform and various designs on the roller. In addition, you can wrap multiple handmade fabrics or textures around the roller, paint it, and then transfer it to the wall surface.
To create smooth surfaces with less texture, concentrate the paint as much as possible and make sure that the roller slightly impregnates, as the color may graze on the wall. To create denser textures, use thicker colors
You do not need to paint the whole wall's surface to create a beautiful effect on the bedroom wall, although it is better, in the simplest case, to coat the wall with a thin layer of white paint. You can paint certain parts of a wall and leave the rest behind.
Avoid objects from paint splashes
Avoid objects from paint splash is Another thing about starting the painting process on a bedroom wall. first make sure the bedroom objects are away from paint splashes. To do this, you can put a layer of insulation on the equipment.
Use unique masks and gloves when using industrial and chemical dyes and supplements. For example, to use standard cans of building oil paint, you can use thinner or gasoline to dilute the paint.
 Use the template for beginners
If you are new to painting the bedroom walls or creating a series of very similar designs, do not forget to use templates. templates are also a good technique for people who do not like to spend many hours painting on the wall.
Creating harmony
Creating harmony between two or more colors can use Such an effect individually or as part of your painting background.  If you want to use the brush to create a spectrum without tracing the texture of the brush, first apply layers of paint and blend the color spectrum with the brush strokes.
How to do a wall mural painting ? | bedroom wall murals DIY | wall murals for bedrooms
wall mural ideas for bedroom DIY __This is one of the bedroom wall murals technique on Jay Montgomery, First painted the wall medium cool grey satin finish then a dark grey satin finish. Whole thing took about 2 days.
diy wall murals __ In this video on Paige Joanna, We show you the process from design to grinding on the layout and then painting!
Bedroom wall mural ideas – bedroom wall murals
For bedroom wall painting, you can use different painting techniques such as oil paint or patina. In the following, we will get acquainted with different types of murals.
1. Techniques for using template in bedroom wall paintings | DIY wall mural stencils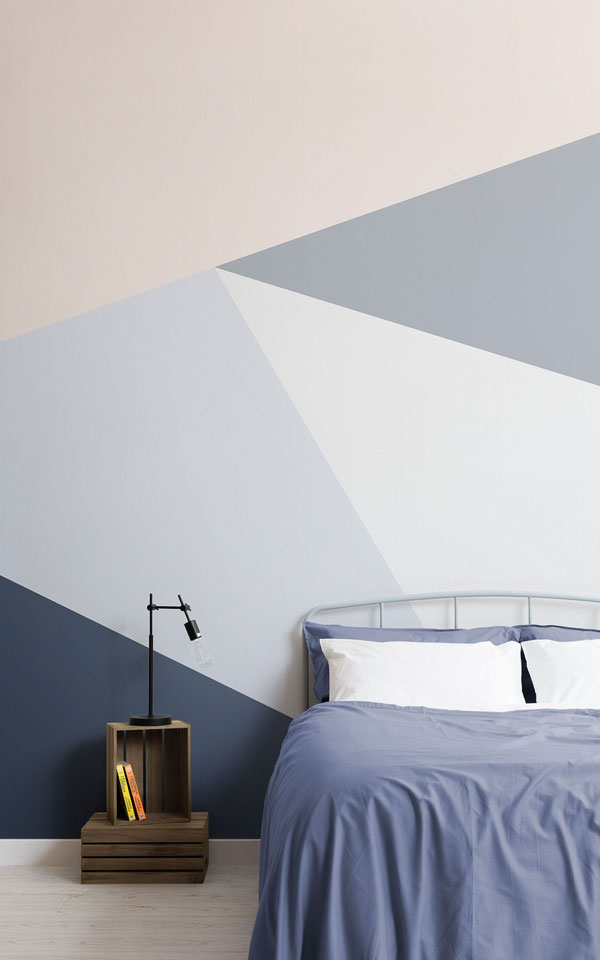 for People who have no previous experience in painting a bedroom wall using ready-made templates can be appropriate. Can choose Templates in variety but with one theme.  Using different patterns of plant leaf designs can be an exciting way for people interested in nature.
To create smooth and even surfaces, you can use a spray or paint roller to transfer the template design on the wall.  To do this, fix the template around the wall with glue.
Using a roller can be a little more technical. First, remove a thin layer of paint from the tray and make sure the entire roller cover with color.
This is a simple image DIY tutorial to learn how to stencil your wall mural.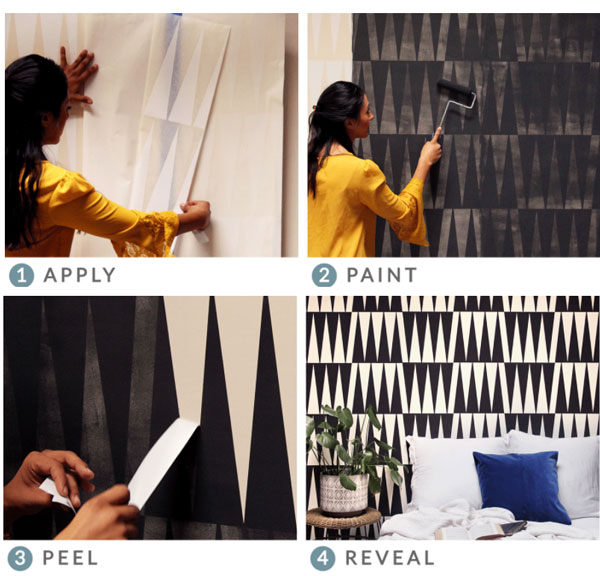 2. Use nature designs in bedroom wall paintings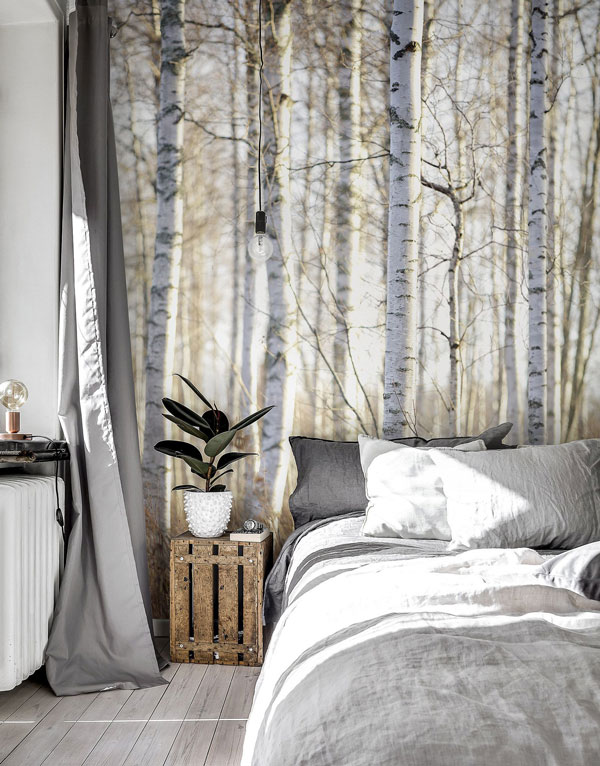 In bedroom wall murals technique, nature painting is a typical and old style that has always been able to maintain its popularity.  These designs can create an innocent and relaxing effect on the bedroom wall.  In this way, you can use cold or neutral colors and apply warm colors in small and unique areas of nature elements.
First, create thin layers of several bright color spectrums on the bedroom wall, then design the cloud to create the effects of clouds and sky.  You can do this with the help of a sponge or some related brush.
One of the Popular ideas for painting bedroom walls is paintings of the sky.  This idea recommends for people who are imaginative or interested in astronomy.  Creating these paintings can be very diverse and different depending on your taste and your tools.
3. Use colorful and glazed bedroom wall murals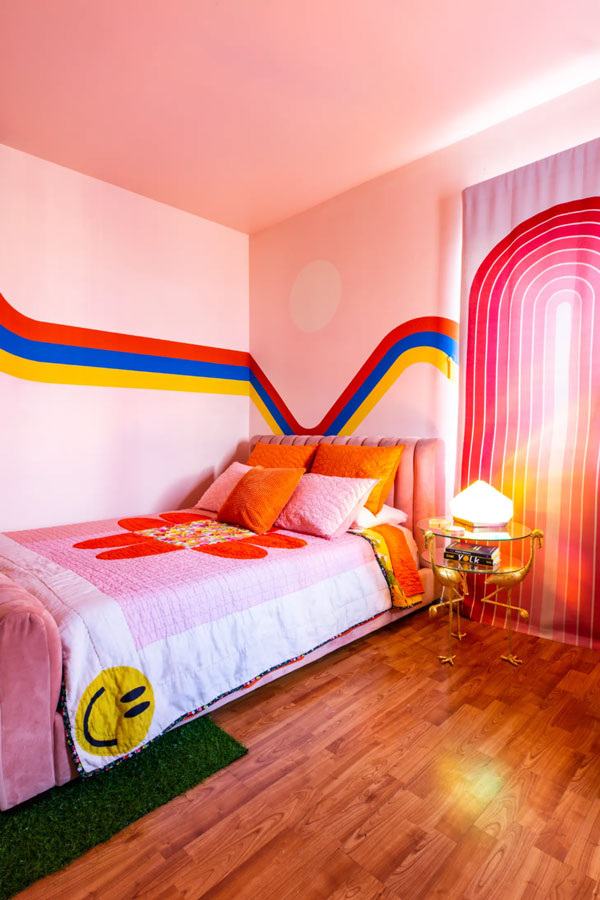 We start by introducing a suitable bedroom wall murals for neutral decoration!  We mean the popular decoration these days!  Murals with warm colors, especially autumn, such as yellow, orange, and red, make the atmosphere of these decorations hot and intimate.  So if you decide to paint on your wall, consider the above colors.
 4. Use vibrant bedroom wall murals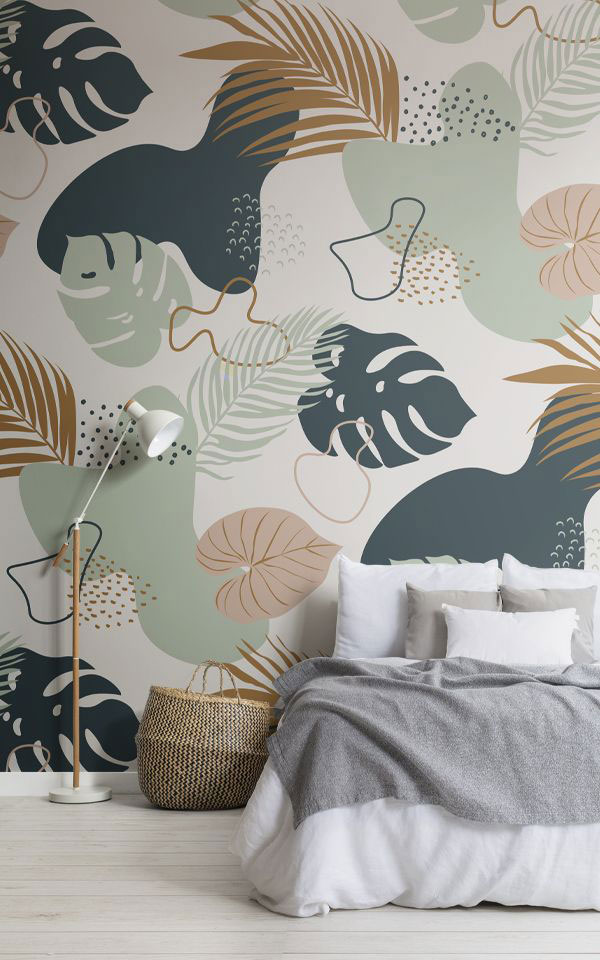 You must have seen bedroom wall murals such as falling tree leaves, birds flying, or dandelions being release.  These paintings are suitable for the parts of the bedroom that you want to pay more attention for example; The optical path created by the flight of birds leads the audience to a particular sign or accessory. picture of muralswallpaper.com.
5. Create watercolor effects in bedroom wall murals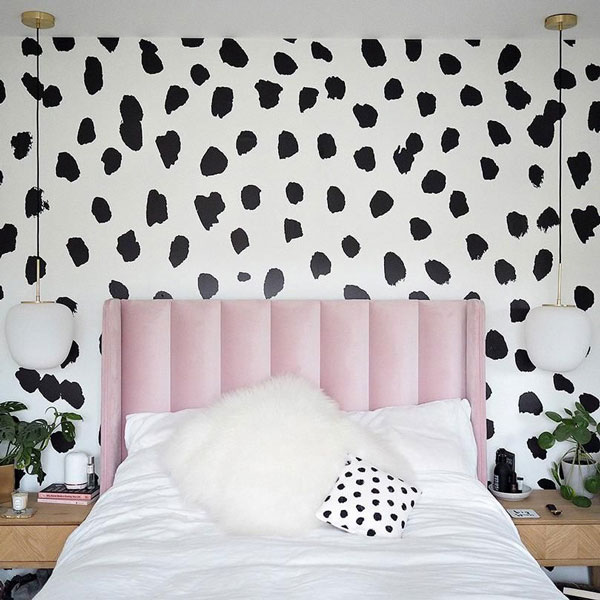 To create a watercolor-like texture, you can use diluted acrylic and transfer the color to the wall by brushing. Use several different colors to create watercolor effects.
6. DIY mountain murals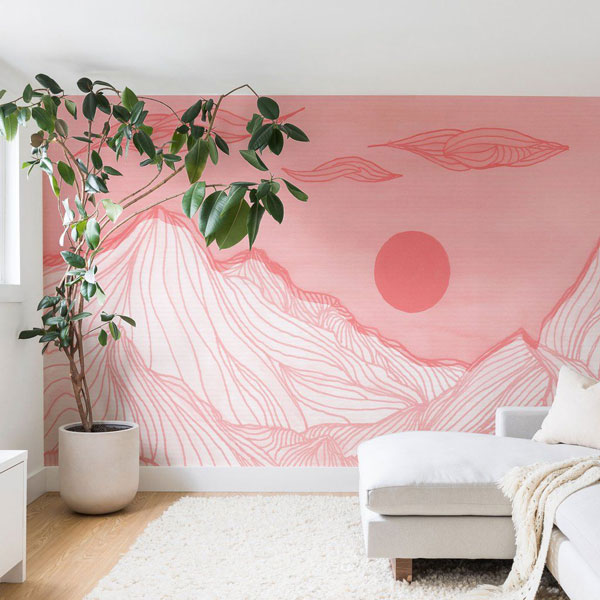 One of the most usual ways to create a soothing view of the mountain is to use several different mountain vectors.  These layers of color create uniformly, but it is necessary to apply the color differences carefully. For example, the front layers of the mountain need to start with darker colors and then fade.
This type of paint can create a deep feeling on the wall. This method can use for all ages, from children's bedrooms to adults. visit denydesigns.com.
 7. Use Chinese miniatures to paint bedroom wall murals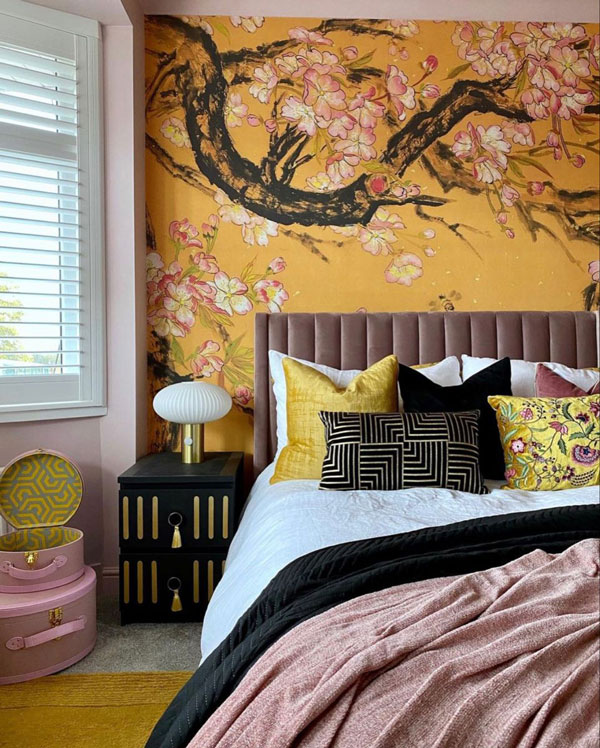 Chinese miniatures, creating soothing effects on the wall .You have probably come across mountains and deep and foggy forests in Chinese miniatures. These designs can create a feeling of calm and deep atmosphere on the bedroom wall. You can use limited color spectrums in this style.
8. Use panels to paint bedroom wall murals
You can install some painting effects as a highlight or panel on the wall in bedroom wall murals technique.  All stages of illustration of such designs are on the ground and transfer to the wall only for installation.
The panels can make of wood or polyester. It is better to use acrylic paint when painting the boards. Can move The back of the panels away from the wall with the help of a piece of wood.  Behind these panels, you can create unique effects by placing light filaments.
 9. Use of phosphor colors in bedroom wall murals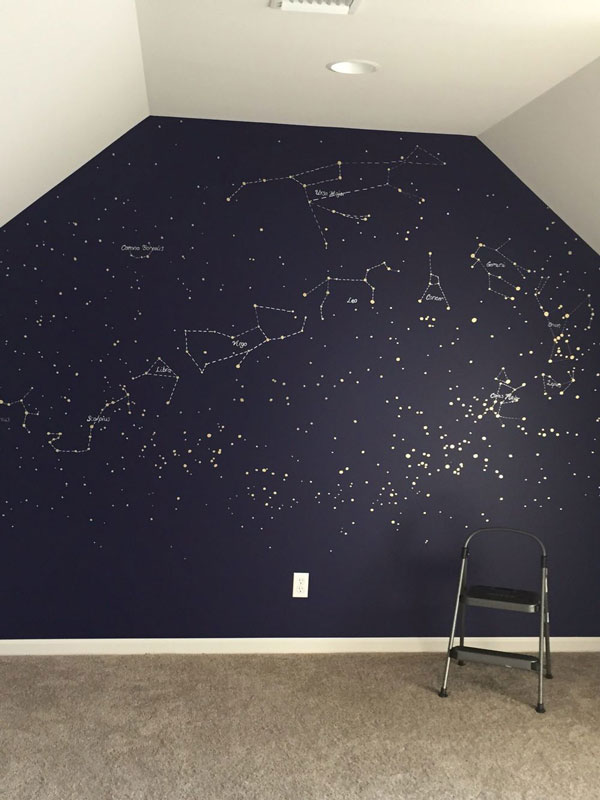 These colors, which have wide use in design and illustration in recent years, can create a unique glow during the night. To create these effects, you can make the background of the bedroom black and, with the help of your art, transfer beautiful designs from the night sky to the wall with ready-made templates.
These bright colors are available in different color spectrums, and their effect appears in the dark of night and can create a dreamy and exciting product. Can use This technique in designing children's bedroom walls.
10. Create a skyline in bedroom wall murals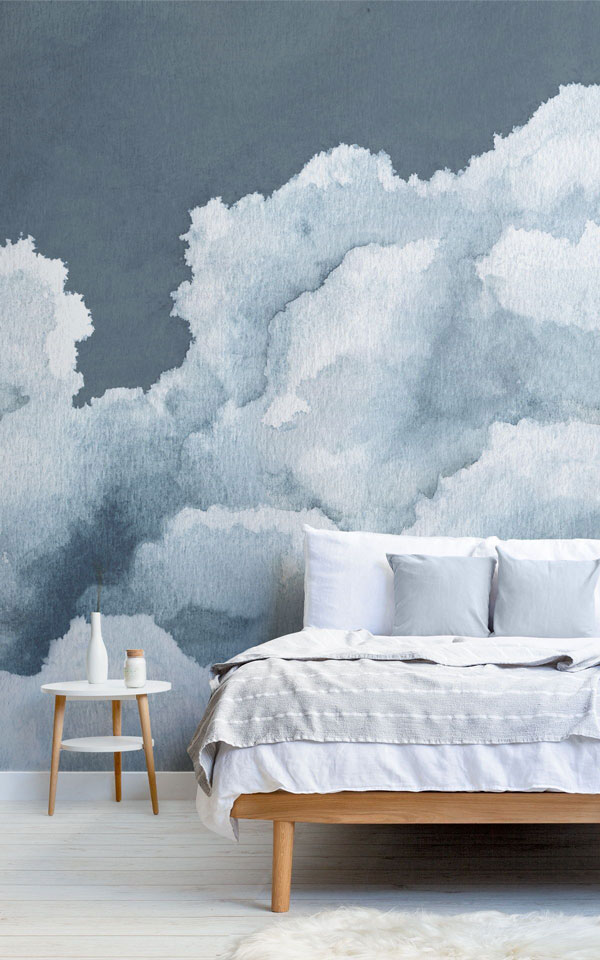 Creating a skyline on Your bedroom wall or ceiling can be an exhibition of the sky and its constellations. For this purpose, you first need to make a list of constellations and start painting. Can create many of these designs simply with the help of templates.
But if you are familiar with painting techniques, You can also create different designs of the universe and the solar system with the help of color and shading. Sprays are well used in Galaxy painting and can help to combine gloss or uniform color surfaces.
 11. Worldview maps for bedroom wall murals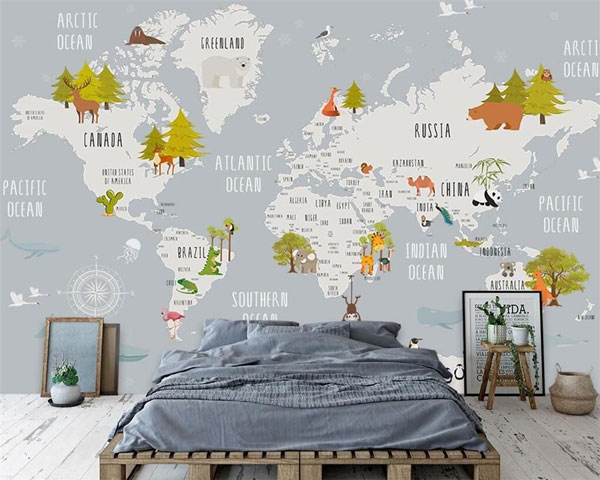 In bedroom wall murals technique, Worldview Templates and Worldview maps create a sense of dominance and are not merely in the realm of those interested in astronomy. Today, world map designs have become common elements in decoration design.
12. bedroom wall murals for children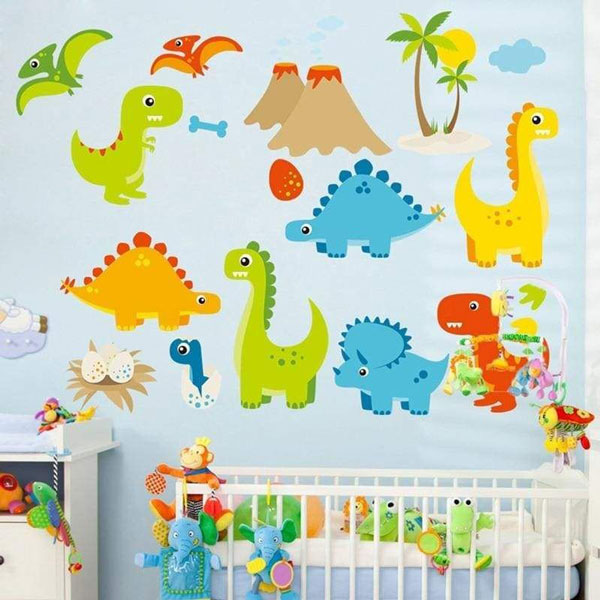 When it comes to painting a child's bedroom, we have a variety of choices. You can use a crowded and warm color palette with just a range of bright colors. However, the issue of lines is also important in this regard.
You can see some minimal and simple designs in baby bedroom wall murals ideas and complex illustrations with many curves. How to apply the lines depends entirely on your taste. Minimalist designs can evoke a sense of calm and sleep, but crowded methods can also create a refreshing atmosphere.
---
today it is possible to use different visual effects to make the bedroom wall beautiful. bedroom wall murals and DIY wall murals for bedrooms can be a fun and different experience, its still trendy.
DIY724 hopes you are well acquainted with how to draw a painting on a bedroom with bedroom wall murals. if you have any comments on this, please let us know.