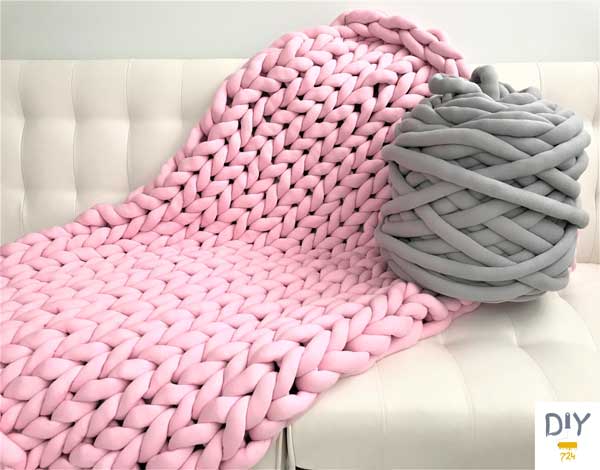 DIY Crafts
DIY chunky knit blankets(how to make a chunky blanket)
do it yourself chunky knit blanket
Autumn and winter and the cold weather always remind us of knitwear from the past to the present. In the past, our mothers and grandmothers used to buy knitting yarns for their children and grandchildren, and they turned those yarns into warm and beautiful clothes with taste and love and with their own hands. but today they diy chunky knit blankets
But today, knitwear is not limited to hats and sweaters. If you look at the fashion and decoration pages on sites and Instagram pages and search a little on them, also in this article of DIY724 you will get acquainted with more knitted products such as DIY chunky knit blankets.
This video on She's Crafty and She Knows It, gives a step-by-step do it yourself chunky knit blanket. We hope you start knitting it as soon as possible.
As mentioned, if you are interested in interior decoration, you must have seen these large diy chunky knit blankets in the cold seasons, and you have probably fallen in love with their warmth and softness, beauty and color. These lovely blankets in the cold seasons add a unique color and warmth to your home. You can use them in the living room and bedroom decoration. These blankets have both aesthetic and functional aspects.
Where is the most common use of diy chunky knit blankets?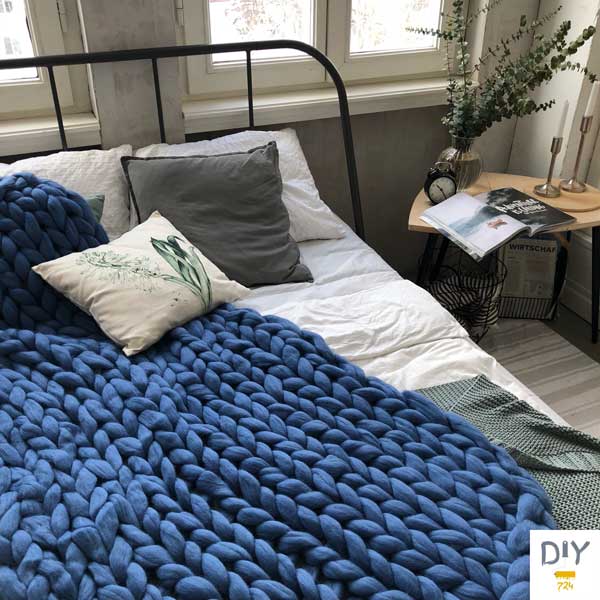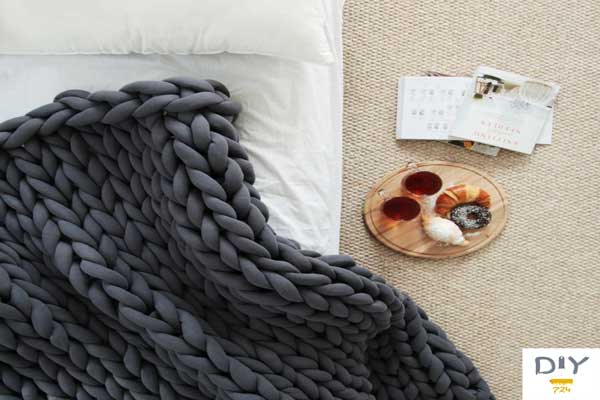 This stylish and attractive blanket can be used as a bedspread in the bedroom. You can place a large blanket on a comfortable sofa in the living room and, wrap it around you, and enjoy the warmth at different times, such as watching TV or reading a book. It can also be viewed only as a decorative item.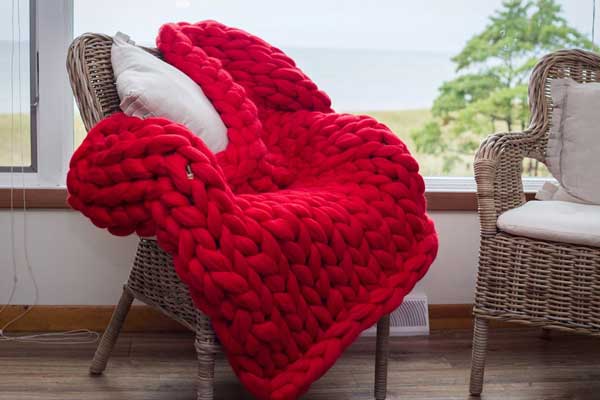 For example, as a bed decoration in the bedroom, you will create a suitable and beautiful colour combination by diy chunky knit blankets in the same color as the pillows. The dimensions chosen for this blanket as a bed cover can be large enough to cover a large part of the bed. But if these blankets are woven as rumble, they must be in single size dimensions so that you can put them on your feet or cover yourself with them for a short nap.
Can diy chunky knit blankets be woven at home?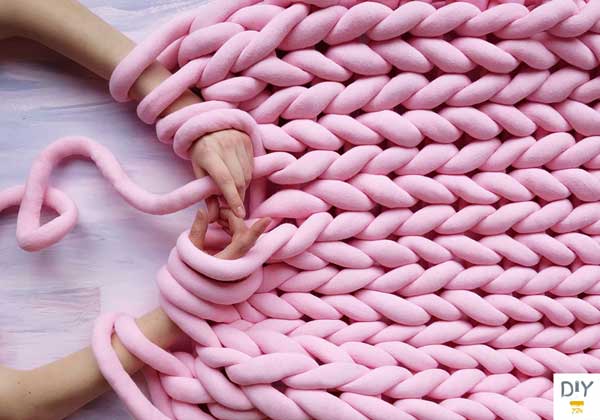 These blankets are rarely available in ready-made colors and sizes of your choice, but you can weave them at home, and it is straightforward. It does not require specialized knowledge, and you can easily do it. Also, your consumption cost will be much lower than when you buy this blanket from the market.
What colors are more suitable for diy chunky knit blankets?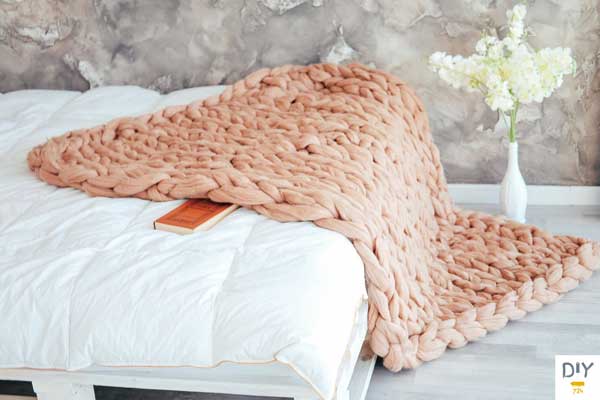 Like all other home decor items, the color of the blanket is something to consider. However, these diy chunky knit blankets are considered furniture accessories, and it may be easier to decide on them. The choice of color, first according to your taste and then depends on the home decoration colour.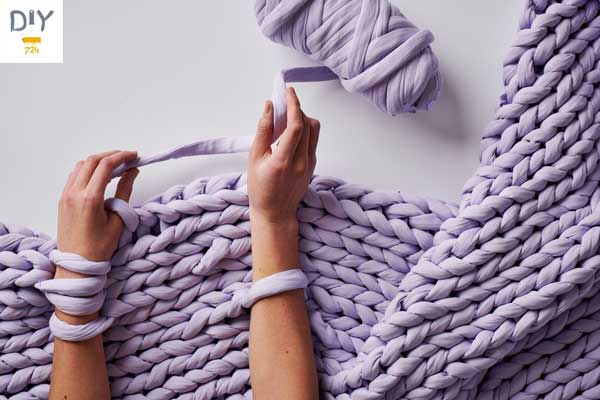 If you have used warm colors in your home decoration, the chunky knit blankets can be warm or a color that contrasts with the warm colors. This rule also applies to cool colors. In general, white and grey are the two most used colors in these blankets. Also, if you want to be fashionable, using the year's colour is an exciting suggestion. As you know, 2021 is Pantone!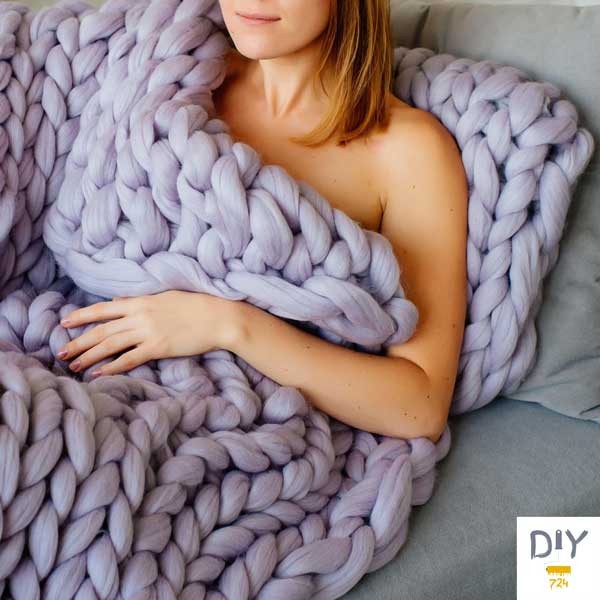 If the space of your house is decorated with cheerful colors and vivid colors, in this case, dare to choose your coarse-textured blanket from red, purple, green and yellow.
What material is the chunky blankets made of?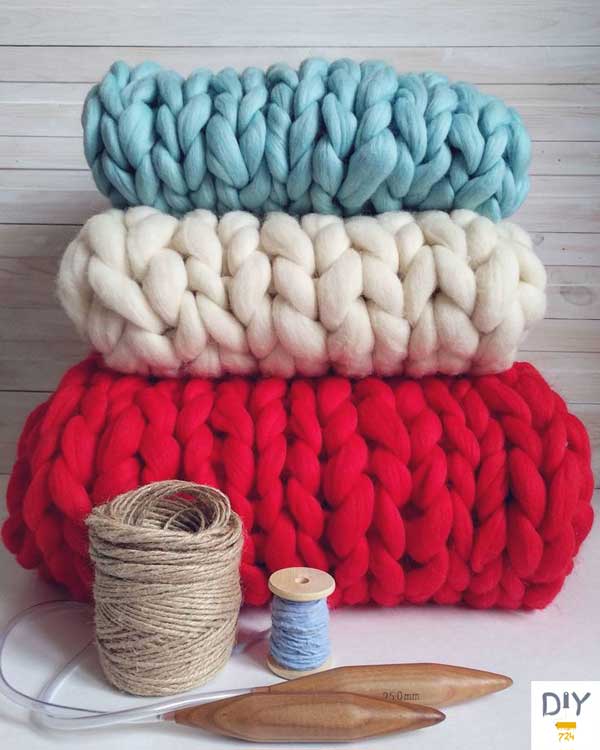 To knit diy chunky knit blankets, you must use a wool hank. You can quickly get these hanks from knitting yarn stores. But note that the diameter of the yarn you choose should be high. As it is clear, thin threads are not suitable for this purpose. Another point to consider when selecting wool is to use durable wool. If you want to use a blanket to warm yourself, the material of choice should be such that it does not tear too soon. It must also be washable.
Another essential point in chunky knit blankets is that if you use wool or felt yarns for blanket weaving, you should keep in mind that in the end, the weight of the woven blanket will be high. But at the same time, with the pleasant warmth that it provides, you will not feel the cold of winter.
What tools do we need to weave coarse-textured blankets? how much yarn do i need to make a chunky blanket?
To start weaving a medium knitted blanket, buy about 2 meters of the suitable wool coil. Try to use the best type of wool. Marinos wool is the best and softest type of wool. Its origins go back to the Merino sheep, transported from Spain to other parts of the world. No special tools or are needed to diy chunky knit blankets. In this case, your hands will act instead of knitting needles.
It is enough to have scissors, thread and needle next to your hand. As mentioned, the weaving of this blanket does not require knitting needles and is done by hand and requires a maximum of two hours to complete.
Pictures of chunky blanket diy (diy chunky knitted blanket)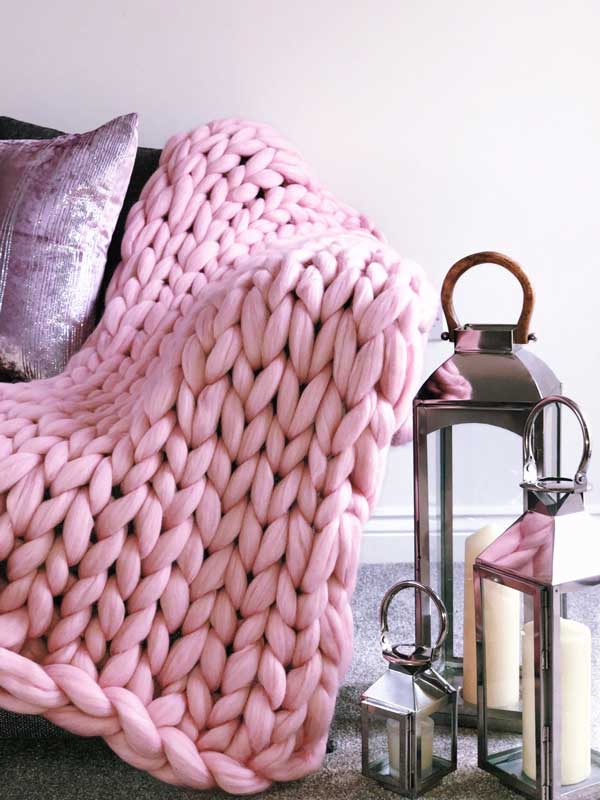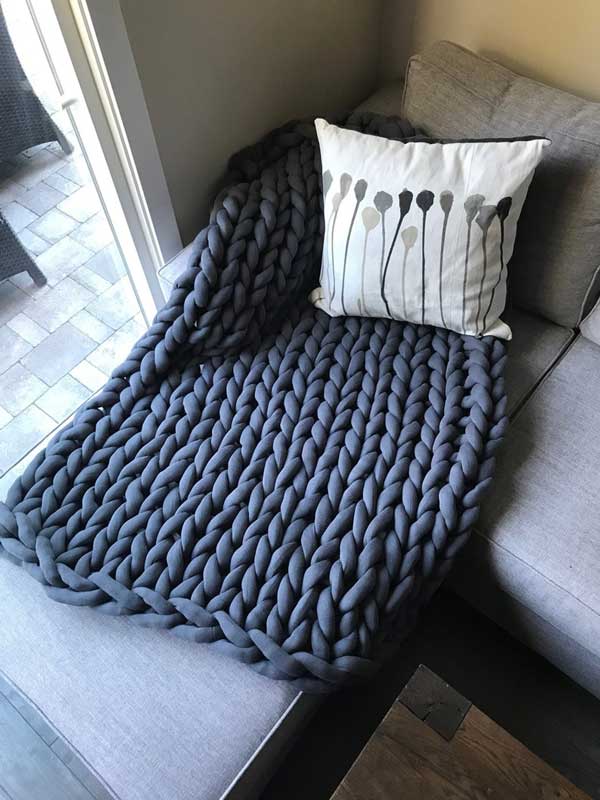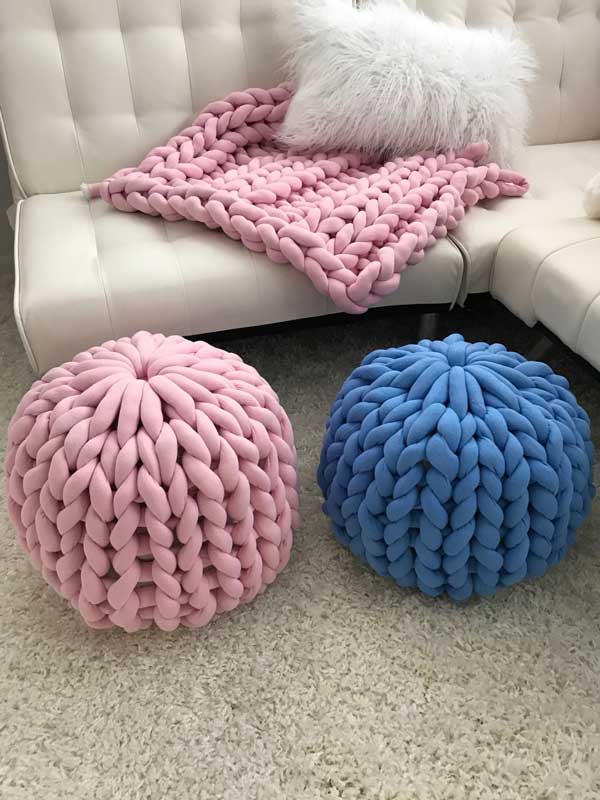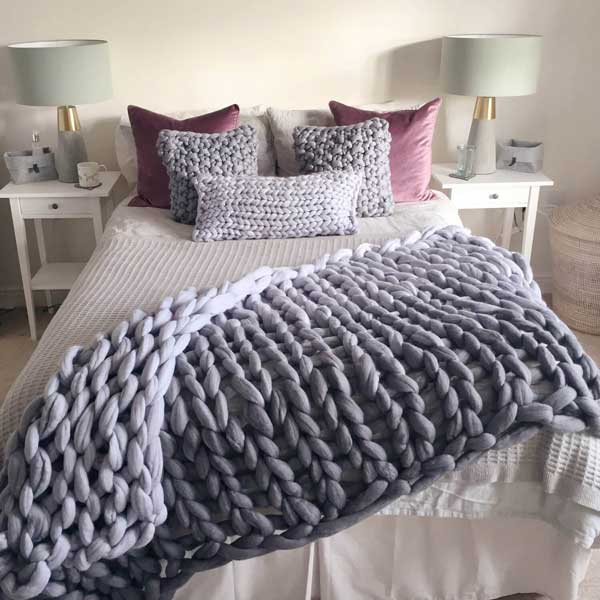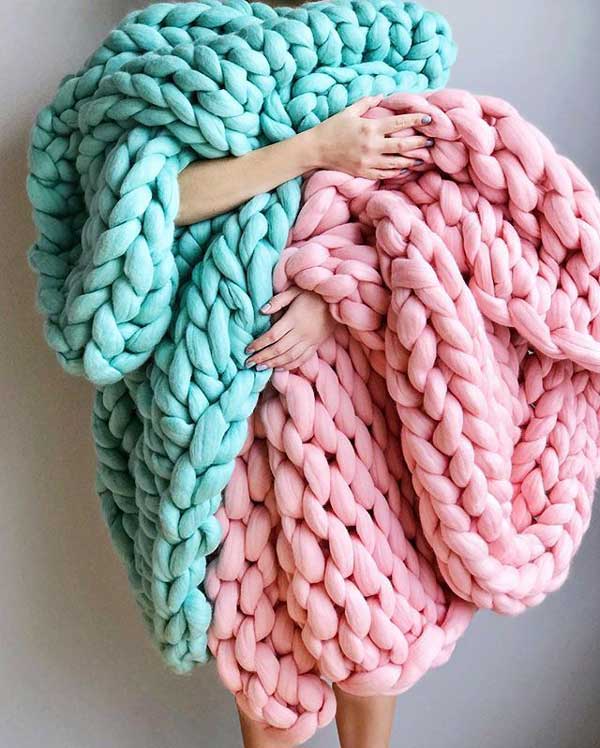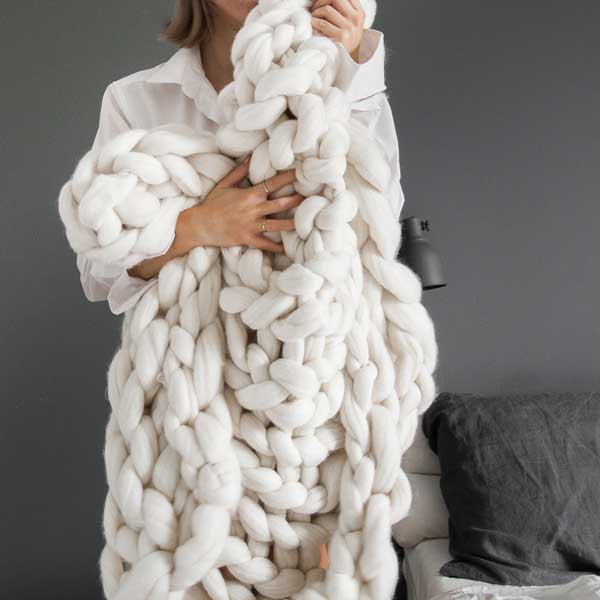 ---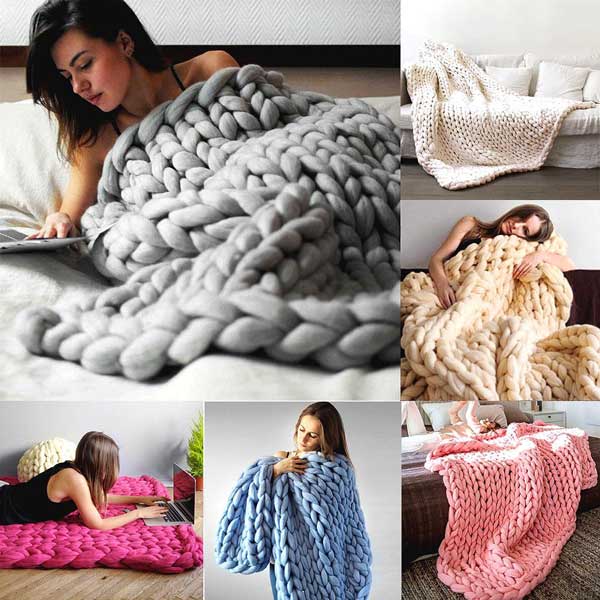 Many people like to change the layout of their homes according to the different seasons of the year. The coarse-textured blanket is a lovely decorative accessory that allows you to make your home look autumn and winter. It is enough to make your home journalistic and stylish by spending a little time and money on furniture.
In addition to the beauty and use of these diy chunky knit blankets, spending time doing a work of art related to your taste and mood and making a device with your own hands will give you an incredible feeling. Let your hands create a beautiful work of art.
The positive energy transferred from your fingers to what you have made will reach those around you. Are you still excited? Be sure to add this knitted blanket to your home decor! Join diy724 and learn how to weave diy chunky knit blankets.