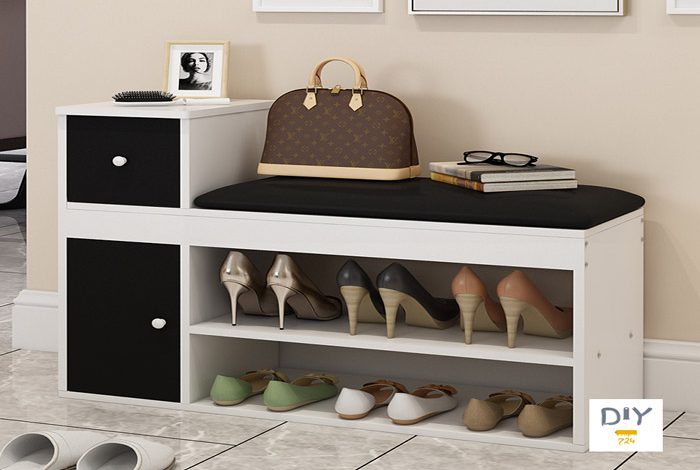 DIY Crafts
How to DIY shoe rack
Shoe storage ideas
One of the exciting and remarkable ideas for changing the decoration and interior of the house is decorating the house with hand-made items, such as diy shoe rack. which helps us make beautiful and different decorations at home by using new ideas and applying creativity and initiative. You will get acquainted with unique and beautiful ideas and models for decorating and making shoe racks at home in the following.
In this post of DIY724, We introduce you to special and unique types of diy wooden shoe rack that are made quickly and at a meager cost but play a significant role in the beauty and highlighting of your interior decoration. 
Steps of diy wooden shoe rack (making shoe racks)
Your acceptance of different ideas and their implementation can create a different result in your interior decoration and have other consequences. You can combine elements that have the proper harmony and, in addition to making an efficient device, give a beautiful accessory to your home. In this video we learn how to make a shoe rack with fruit boxes.
Necessary tools for diy shoe rack with wooden boxes
 Old wooden box

 sandpaper

 Cloth and some compressed sponge

 Wall punch

 Color

 Hand drill

 Small wheels
The first stage of making shoe racks: sand the wood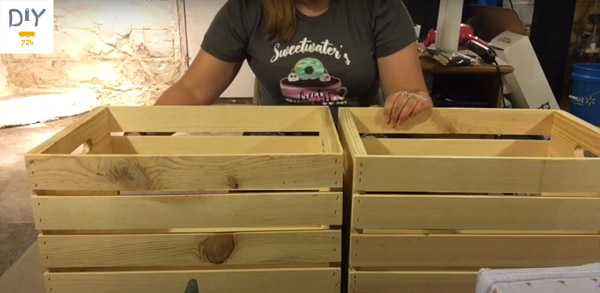 First, sand the wooden box thoroughly so that its surface is smooth. To do this, you can first rub the surface of the wood with rough sandpaper and then with soft sandpaper until it is entirely smooth.
The second stage of making shoe racks: paint the wood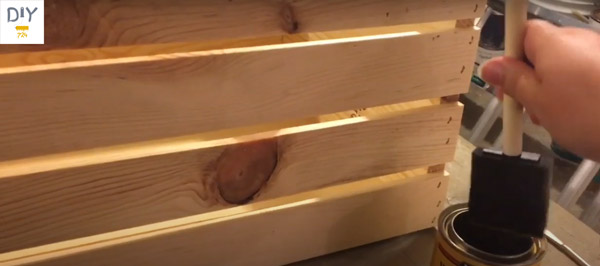 Have a lot of patience to do this so that your craft will have a beautiful texture in the end. Once you have made sure that the work surface is smooth, paint all the wood in the box with spray paint or oil paint and a brush. Do it to your taste, and you can even match it with the color of your room.
The third stage of making shoe racks: drill and connection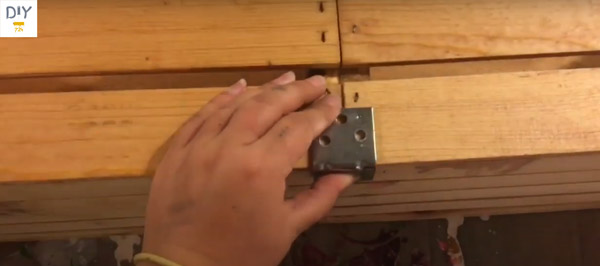 After the paint dries, drill a hole in the bottom of the box and connect 4 wheels to the four corners so that it is easier to move and you can easily clean the bottom. To use the box as a bed, cut a sponge the size of the top surface and stick it on the top surface of the box.
The fourth stage of making shoe racks: glue the box
You can use wood glue or shoe glue to make the work more substantial in the end. Then cover the sponge's surface with the desired fabric and staple around the material to the upper parts of the box. Your bed and diy shoe rack are almost ready. To make more use of the inside of the box;  
You can stick a board in the middle of the pack.

Fix it from the back of the box. 

Divide the inside into 2 parts, and put 2 rows of shoes inside it. 

Enjoy your initiative and craft to the fullest.
Attractive ideas for diy shoe rack (shoe storage ideas)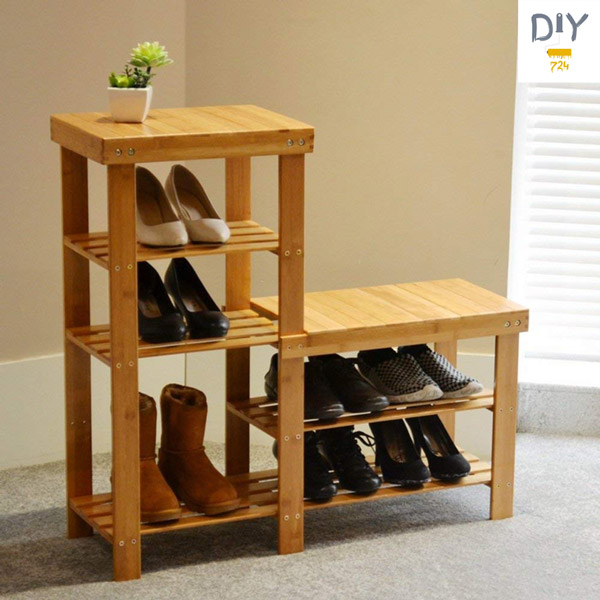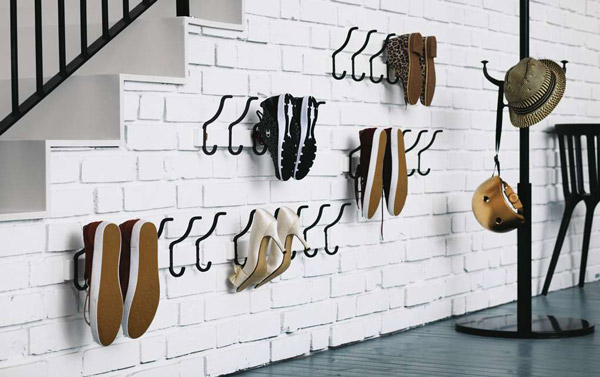 There are other ideas for diy shoe rack, some of which we can look at together. Of course, not all of these items are produced with fruit boxes or similar cartons, but you can create unlimited designs with a bit of creativity.
In this video of SlideHouse, we show you 10 best diy shoe rack.
10. DIY PVC Pipe Shoe Storage
9. Hang Your High Heels
8. Floating Copper Shoe Rack
7. Easy Wooden Shoe Rack
6. Rustic and Portable Shoe Rack
5. Affordable Shoe Rack
4. DIY Grid Shoe Storage Display
3. Repurposing Old Jeans
2. Built-in Shoe Storage
1.DIY Hexagon Shoe Rack
Ladder shoe rack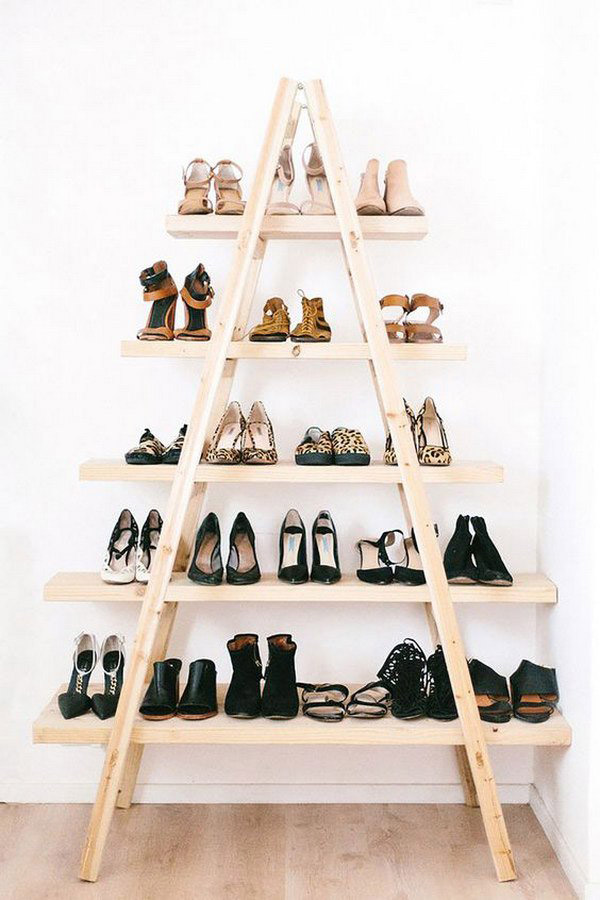 Are you looking for a good idea to make a modern wooden shoe? So these ideas are for you. Build a ladder shoe with a different and beautiful pattern! The most prominent features of these shoe racks are:
The particular type of design.

The display of shoes and easy access to them.

The addition of warmth of wood to the interior decoration.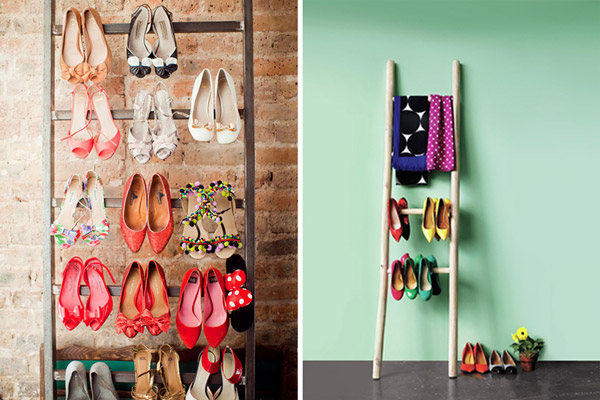 Diy shoe rack wall mounted (diy shoe rack on wall)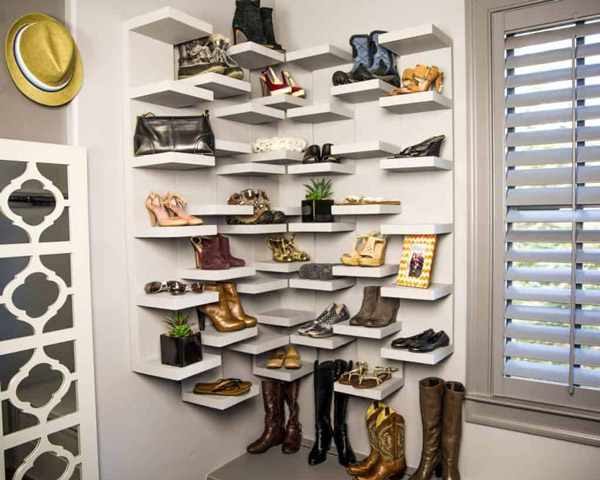 If the entrance of your house has empty corners, gaps, etc. try to cover these defects in the best possible way like a professional decorator. Making a suitable diy shoe rack in this place, in addition to placing your shoes, can create a unique look for this part.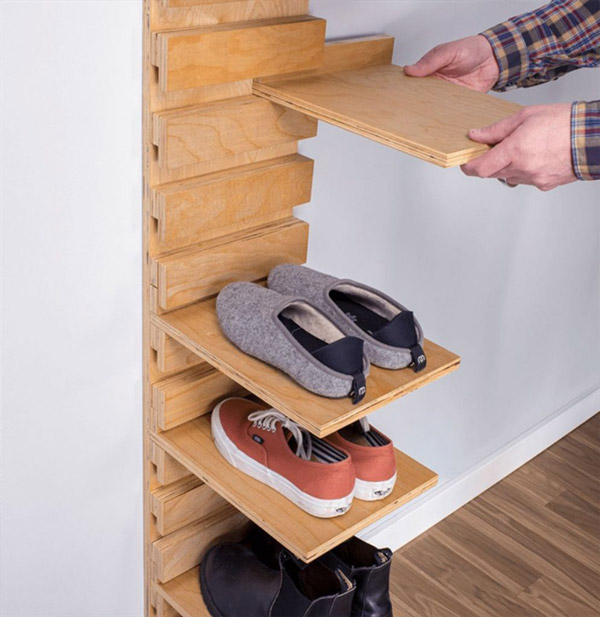 Modern shoe rack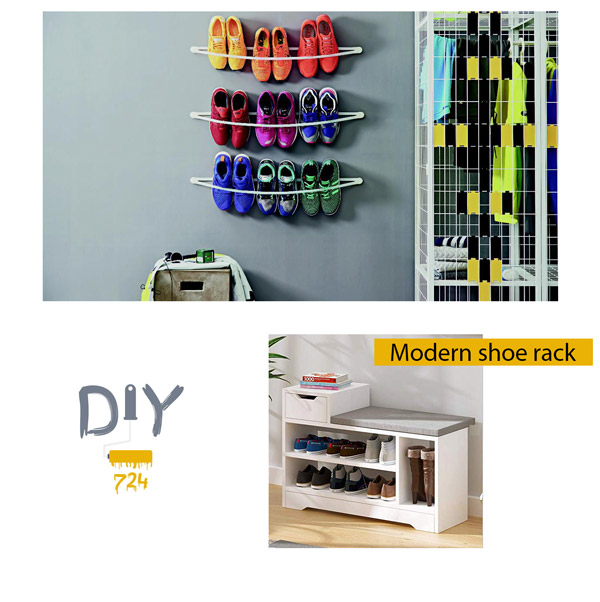 The design and construction of modern shoe racks are used in houses with modern architecture. As we know, modern design is based on details and conceptual designs.
Standing shoe racks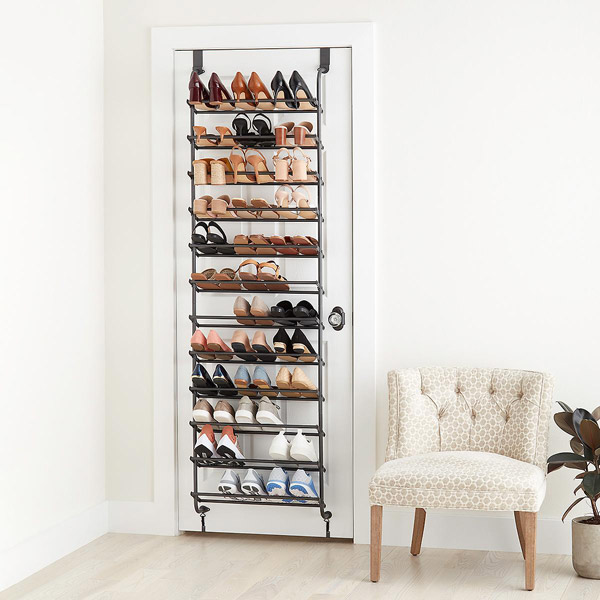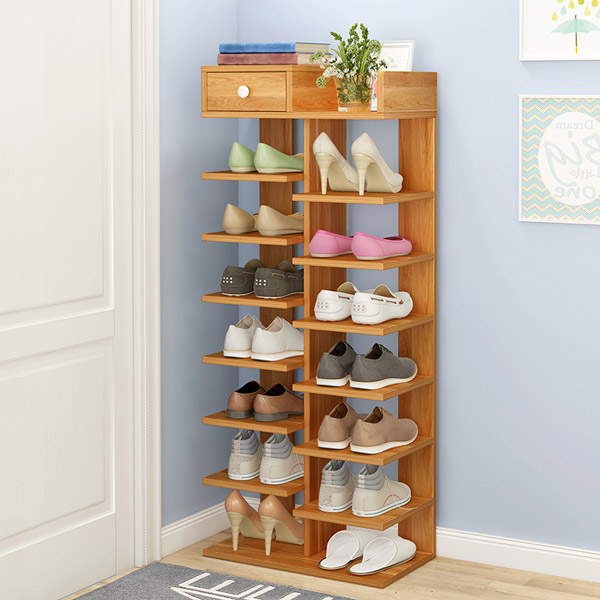 This model of a custom shoe rack with more space also provides more features to the consumer. Among the facilities for making standing shoe rack, we can mention chairs or clothes hangers, wardrobes for storing shoe racks equipment.
Dashboard shoe rack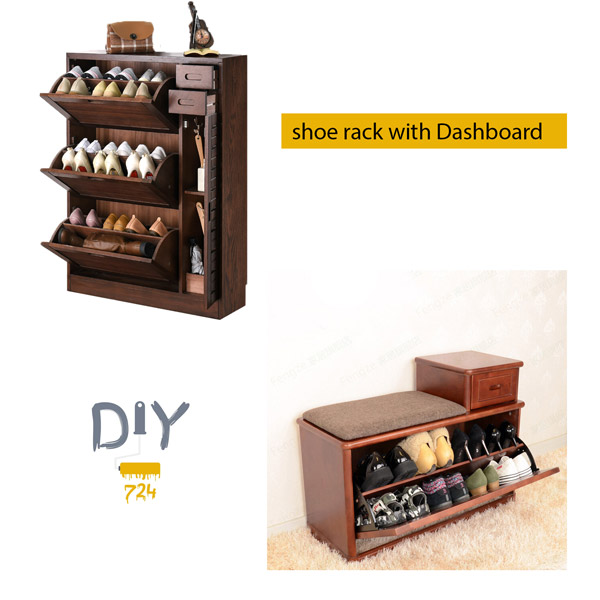 In designing and manufacturing this type of shoe rack, the idea was taken from the car dashboard. These types of shoe racks are scarce. they are not suitable for leggings and are more suitable for compact shoes with small sizes.
Multi-piece shoe rack (diy shoe storage)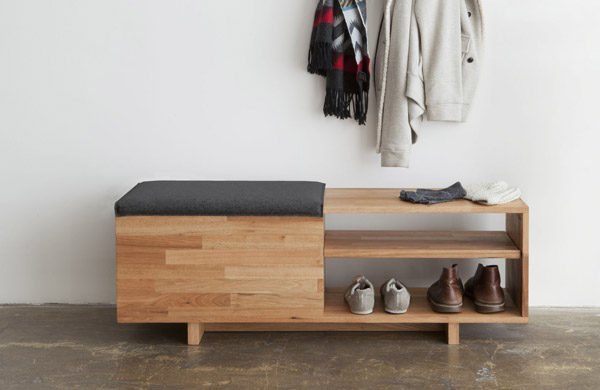 Making a three-piece diy shoe rack is the newest type of shoe racks. And can be stunning and spacious. this shoe rack can also be used as a shelf in decoration. This type of shoe rack is placed chiefly next to each other in a step-by-step manner.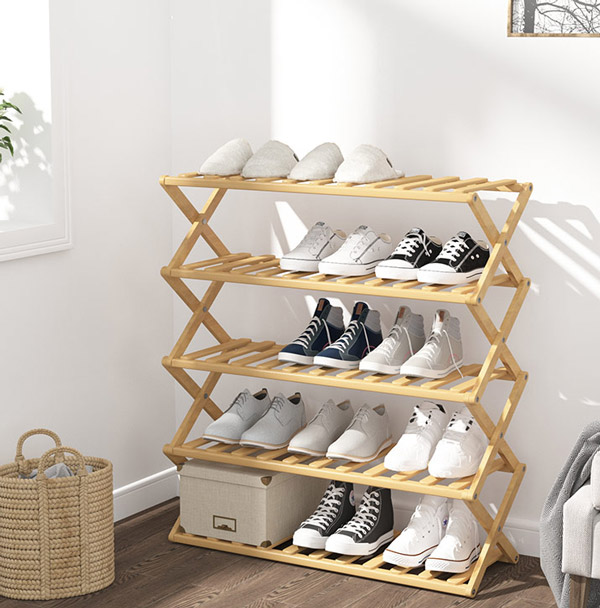 Mirrored shoe rack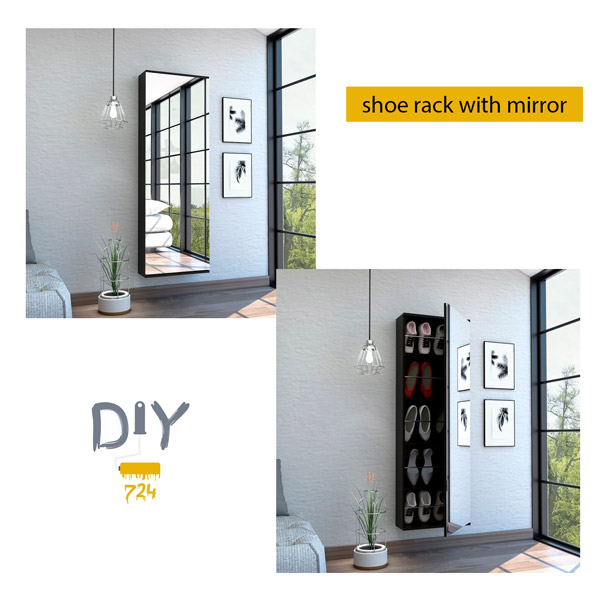 As the name of this type of shoe rack is clear, tall mirrors and hangers are used in the construction and production of these models. Making mirror shoes rack is a multi-purpose product designed according to your needs in spacious spaces. 
DIY stairs shoe rack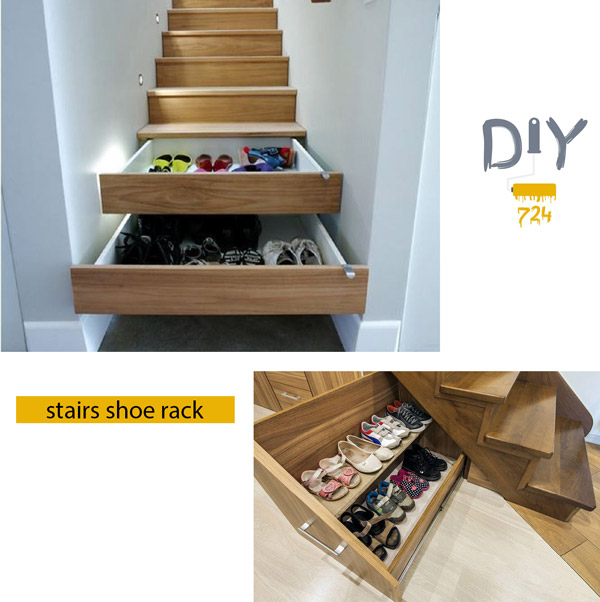 ---
An essential point in making wooden shoes
Due to the changing patterns of life and the type of home layout, every device in the house and the user aspect must also have a suitable decorative element. Wooden shoe racks and diy shoe rack are no exception to this, so keep in mind that you should pay attention to the beauty and fit of the shoe rack design with the layout of your home when choosing and making it. If you have a suggestion, let us know in the comments section.