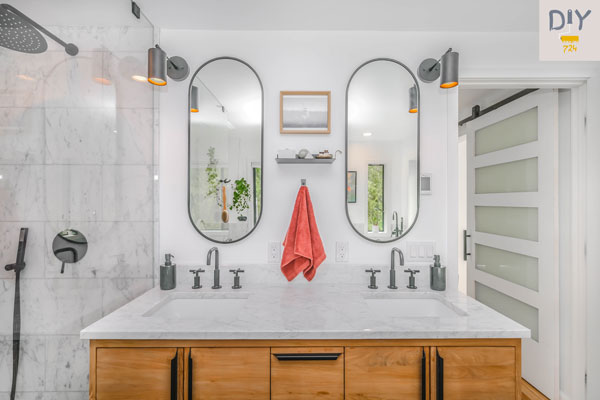 The condition of toilets has changed a lot over time. Toilets are no longer small and white environments for washing only. Today, we all spend a lot of time in the bathroom at home and consequently spend a lot of money to feel comfortable at this time. Bathroom lighting fixtures is one of the essential design elements in the relatively small space of bathrooms.
Bathroom lighting fixtures is undoubtedly the most emotionally practical design element. We should never ignore the effect of poor lighting on the human soul, and on the other hand, proper and appropriate lighting will positively impact you.
In this article of DIY724, you will see the examples of bathroom lighting fixtures and bathroom lighting ideas. Stay with us.
Bathroom lighting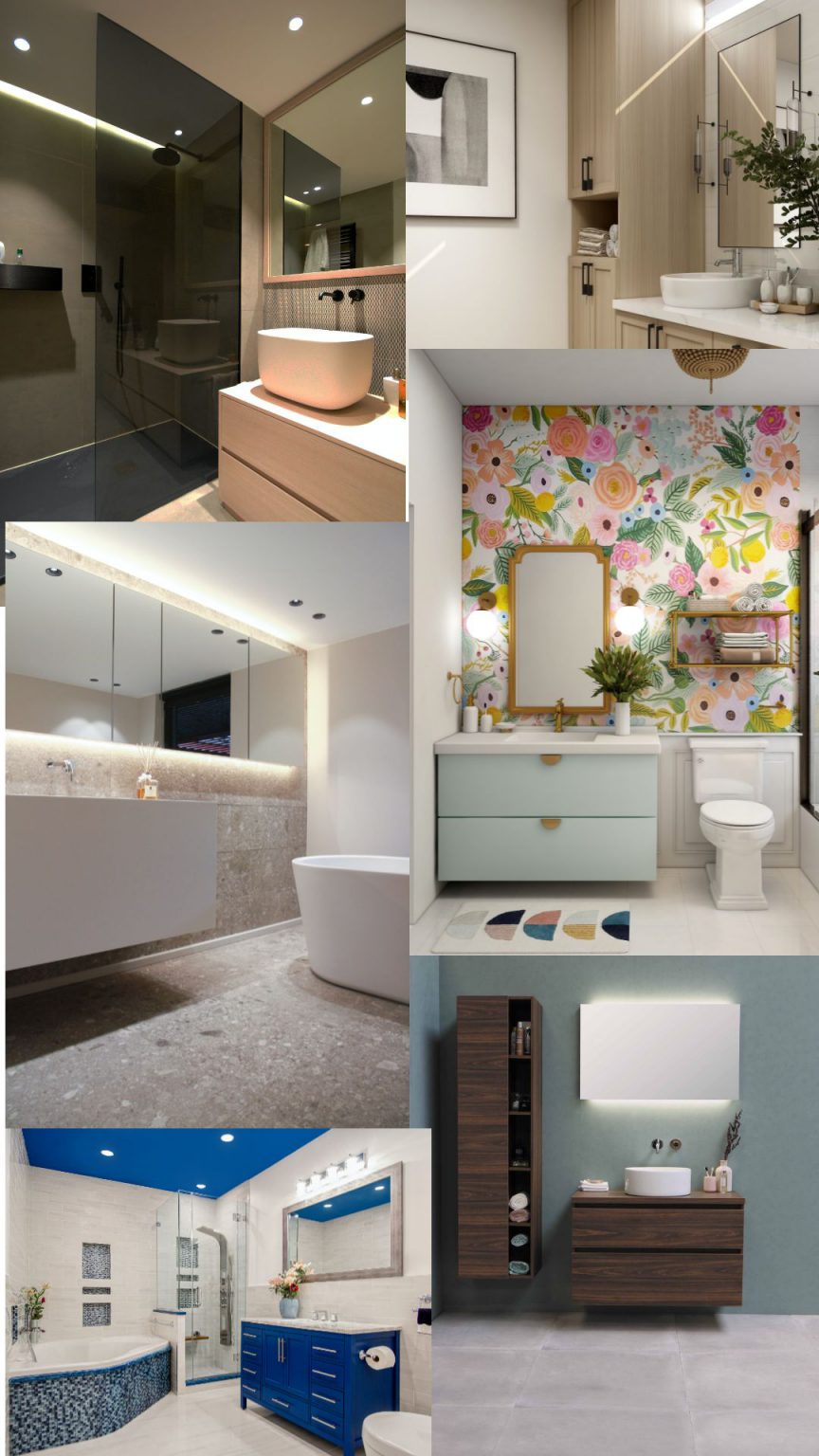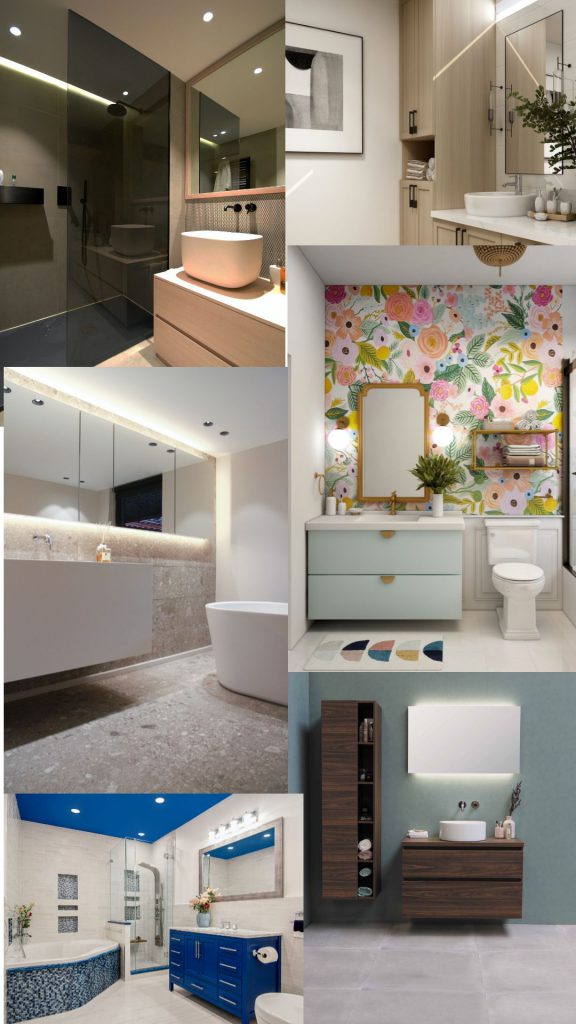 Do not think that we mean expensive lamps and lights and such designs when we talk about Bathroom lighting fixtures. No, this is not the case. With the simplest of lights and the lowest possible cost, and simply by following a series of basic principles, you will achieve the desired result in lighting in the bathroom.
Let's move forward with the program of bathroom lighting fixtures
To perform proper lighting, you must determine the location of the lights and their type before placing or simultaneously with different parts of the bathroom. bathroom Lighting is not just about Bathroom lighting fixtures. Elements such as tiles also have a significant impact on bathroom lighting.
Know the rules and standards for bathroom lighting fixtures
In choosing your Bathroom lighting fixtures, try to select from institutions that have the IP 44 standard. These devices have good resistance to water and moisture, and you can use them safely in different parts of the bathroom.  There are also products with an IP65 standard that guarantee higher degrees of water resistance. Devices that have this standard can even be used in the shower.
DIY Bathroom wall lights (bathroom sconces)
In this video of Hometalk, we learn how to make $10 Bathroom Light Upgrade.
How to make a Bathroom Vanity Light (bathroom lighting above mirror)
In this video of I Like To Make Stuff, See how he makes a simple vanity light for the bathroom.
Supplies:
 cabinet saw

 Strap clamps

 Lamp sockets

 LED bulbs

 Dewalt 20v drill driver combo

 Evolution miter saw (cuts wood, alum, steel, etc)

Orbital Sander

Shop Fox Hanging Air Filter

 2HP Dust Collector

 1 Micron bag

 Speed square

90˚ corner clamp (4 pack)

Formby's tung oil finished (tung oil/varnish)

Respirator

 Filters

 Eye protection

 Ear protection
LED bathroom lighting (modern bathroom lighting)
In this video of Modern Builds, we learn how to DIY LED Framed Mirror. This project had a lot roadblocks along the way, but the final version of the mirror came out great! This is part of the Bathroom Renovation Under $500.
Supplies:
LED light Kit
Extra Strand of Lights
Wood Stain
Adhesive
How to DIY a Wall Sconce for bathroom
In this video of Amy 804 Sycamore, this lighting fixtures is such a fun way to easily add a wall sconce to your home. There's no need to pay an electrician to hardwire the fixture, and there's no cord hanging down your wall. These awesome puck lights are remote controlled and have a dimmer and timer! It's also a good way to test out having a light fixture in a location before permanently adding it.
Supplies:
Wall sconce
Puck lights
Velcro
DIY bathroom ceiling lights
In this video of ToolBox, we Make a statement in any room with this simple yet stylish Pendant Turned DIY Drum Shade Chandelier. This is the perfect solution for renters and rooms that are not wired for lighting in the ceiling. It's a battery operated Chandelier that works with a remote with a dimmer and a timer.
Supplies:
DIY shower light
In this video of DIY•BRY, we learn how to make shower Light.
Supplies:
6" Halo LED recessed light: https://amzn.to/3t8f5CW
How should be the lighting in the bathroom?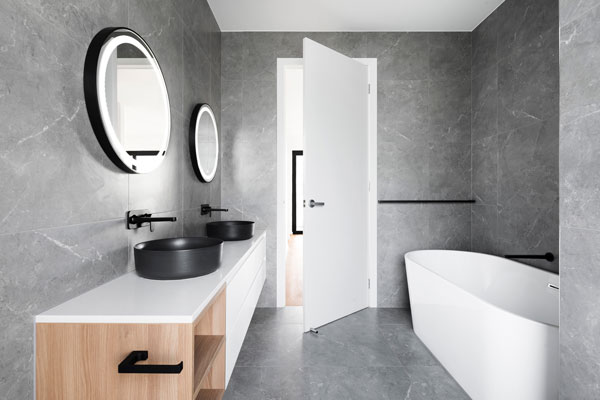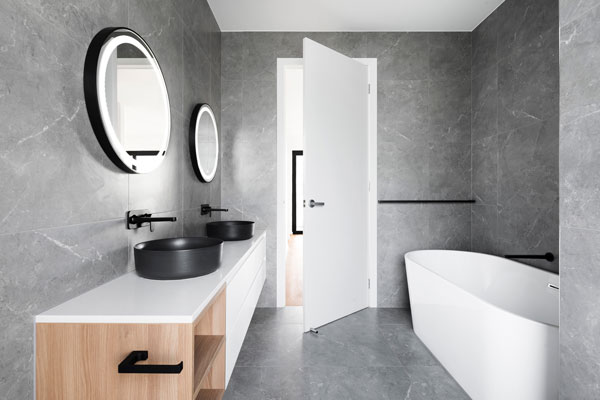 With the advancement of technology, we have many options for Bathroom lighting fixtures, and it is important to use lighting elements correctly. The first thing to consider when it comes to bathroom lighting should perfectly light the space inside this part of the house.  The most important factors that you should consider in the design of lighting in the bathroom space can be mentioned as follows:
Do lighting with different conditions in mind. Less light is needed at night than during the day. The use of LED lamps is one of the best options in this regard.
In lighting, be sure to consider the age of the user. People over the age of 60 need more light than people over 20. Using different types of lamps in different directions is a good solution.
If possible, use as much daylight or natural light as possible. Artificial lights of any design and color will not be comparable to natural light in freshness and vitality.
Do not limit yourself. Note that you have many options for Bathroom lighting fixtures. Do not limit yourself to installing several lamps on the ceiling. Don't worry about costs. Installing a few small LED bulbs on the floor and walls for better lighting in the bathroom will cost very little.
You do not need to shower in the dark. Many lighting fixtures in the bathroom today have waterproof standards, and you can quickly and safely use them in direct contact with water.
Try to use more incandescent bulbs due to their low energy consumption and very high resistance and durability.
Types of lighting in the bathroom
When it comes to lighting in the bathroom, we come across three main types of this concept, which are as follows:
General lighting
Task lighting
Mood lighting
General type lighting
Placing a simple ceiling light (Figure 1) in the center of the room is a simple way to create light in the whole space, but it will not be enough to create different moods and interests.  If your budget for Bathroom lighting fixtures is low and you have no choice but to use a ceiling lamp, using spotlights mounted on the surface like in Figure 2 is also an ideal option at the same time, more customization. Compared to a simple ceiling light, it will be less expensive to implement.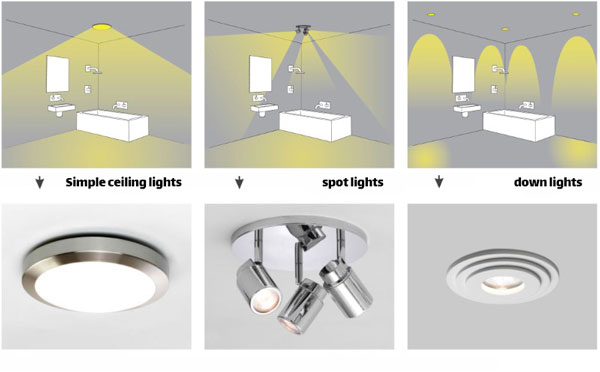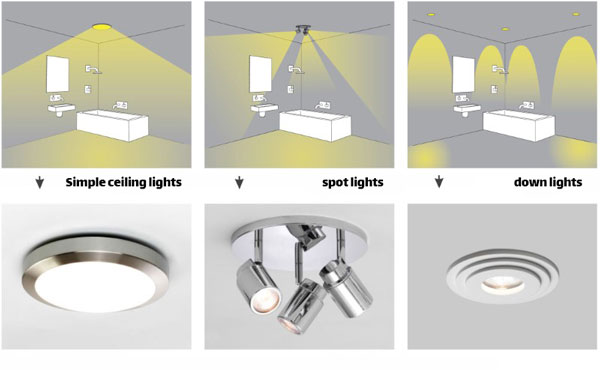 The third option you can use is small lights located inside the ceiling called downlights (Figure 3).  For example, for proper lighting in a 2 by 2-meter space, you will only need 3 or 4 of these lamps. The best place to install this lamp is near the point of contact of the ceiling with the wall. Putting them directly on top of the head is the worst possible option.
Task type lighting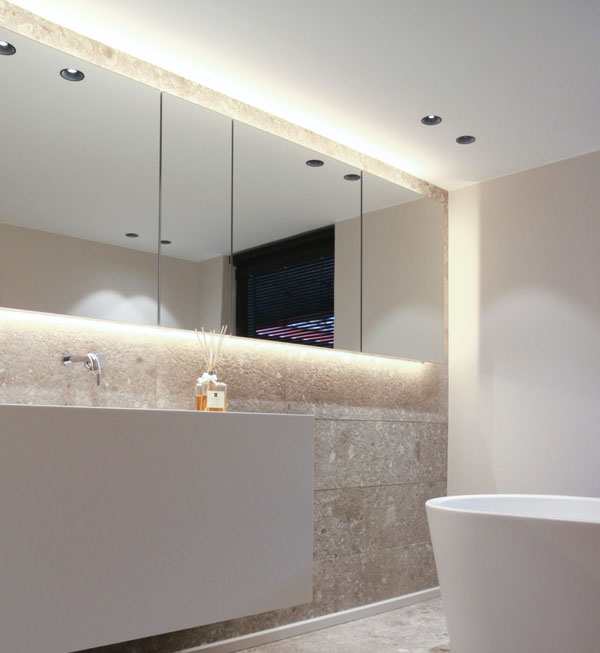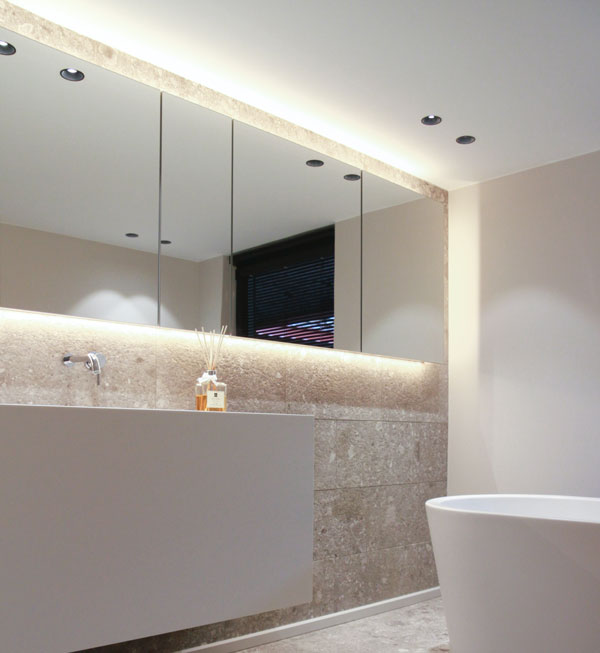 The mirror used in toilet is the desk in the office environment where most activities occur. There are several solutions for optimal lighting of these mirrors, but the best option is to illuminate both sides of the face evenly. For this purpose, you can use unique mirrors with lamps, or two lamps can be installed on both sides of the mirror.
Mode lighting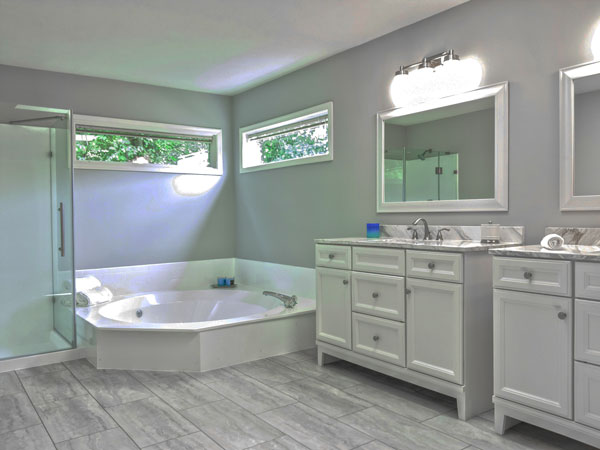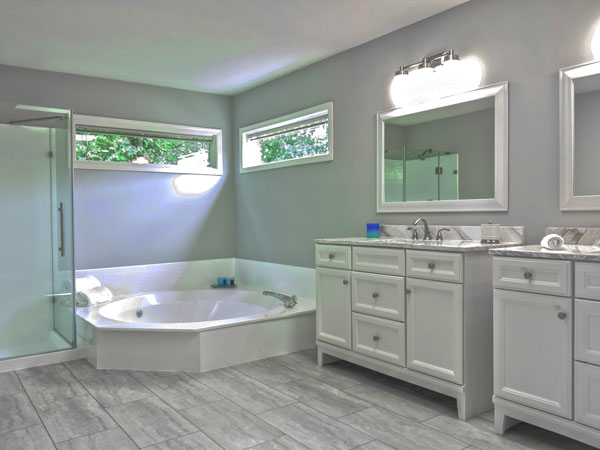 In this type of lighting in your bathroom and toilet, you can make a difference by creating design elements and, of course, your creativity create a much more attractive space. Your hand is completely open when using low or high light in this style of Bathroom lighting fixtures.
The use of LED lamps in this style of Bathroom lighting fixtures is almost the best choice.  These types of lights are available in a wide variety of sizes and shapes, and in this regard, be sure to use LEDs with IP 44 or IP 65 standards to install them in different parts of the bathroom safely.
---
The last word for bathroom lighting fixtures
Lighting is not limited to the space of rooms. Bathrooms and toilets are essential parts of any home today, and you need to pay attention to the Bathroom lighting fixtures in these areas to respect yourself.  The three main types of lighting in the bathroom are general, task and mode lighting. Using them together will give the best results.  Be sure to consider factors such as age, night lighting and optimal use of daylight, and finally, try to be creative and not limit yourself to a particular option. However, if you need more guidance, you can contact our consultants.