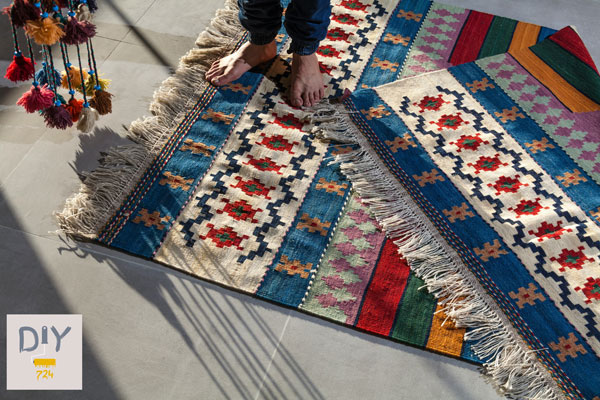 For most of us, we have the opportunity to go to a carpet store and buy carpets. We like the model, design, and pattern of the rug, and after a bit of bargaining, we believe it, or we do not reach an agreement and leave the shop; But in this report, we do not want to tell you about the carpet market, but we want to teach you how to make a rug.
In this article of DIY724, you will be given the necessary training to diy rug and What tools are needed for rug making, and how it is used; Things you may not have heard of before.
Rug making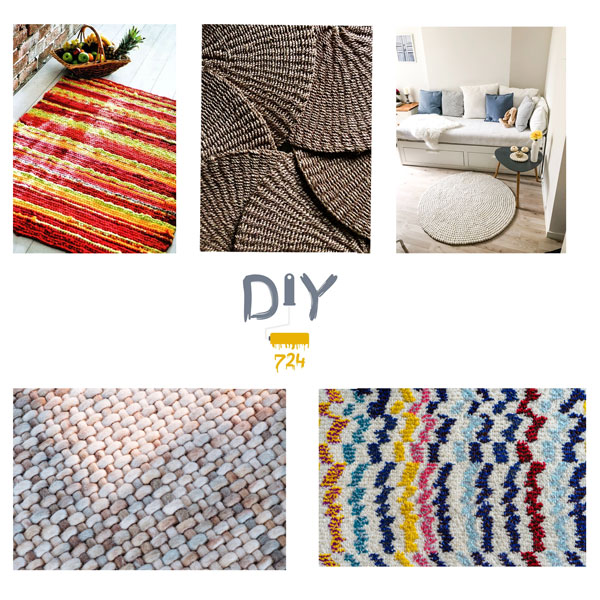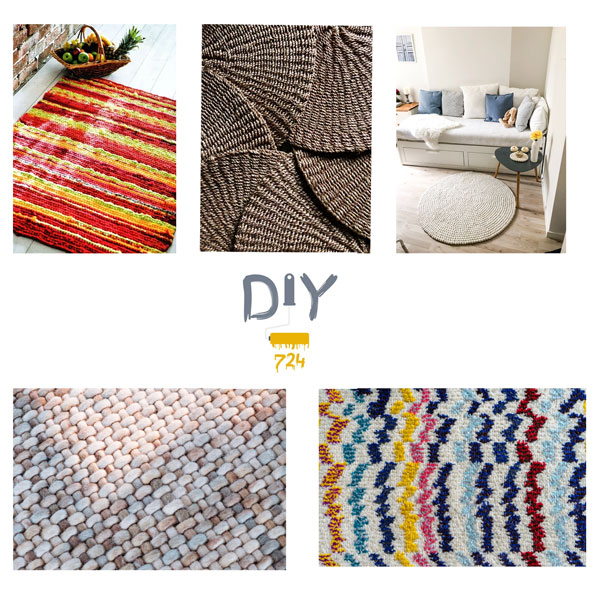 This little rug can be woven with yarn, hemp, all kinds of thin or thick plastic or cotton ropes, and even with wicker ribbons.
how to make a rug: a piece of cardboard is needed as a rug holder and a large needle. First, We mark the top and bottom of the cardboard at a distance of half a centimeter. And draw a line and install the warp thread on the board.
Then we start knitting with yarn. This rug is in small size for glasses and plates. And it is suitable for padding in a more significant length, and a much larger size is ideal for underlays.
How to make a rug with hemp and yarn
In this video of Jenna Phipps, we show you  how to make a punch needle rug.
Supplies:
Punch Needle/kit

Monk Cloth

 Yarn
The art of using hemp yarns is widely practiced today. One of these sections is how to make a rug and fancy pads for the home, which we will teach in this section.
Pad and the small rug is a carpet or smooth carpet used outside or inside the home. It is used to prevent the transmission of contamination during people's movement and maintain cleanliness and hygiene.
An aluminum pad (industrial pad, hospital, and hotel) is a modern and stylish pad that serves as the entrance system of the building and your home to prevent dust from entering and thus staying clean inside the home and reducing the cost of cleaning.
Tools needed to make hemp rugs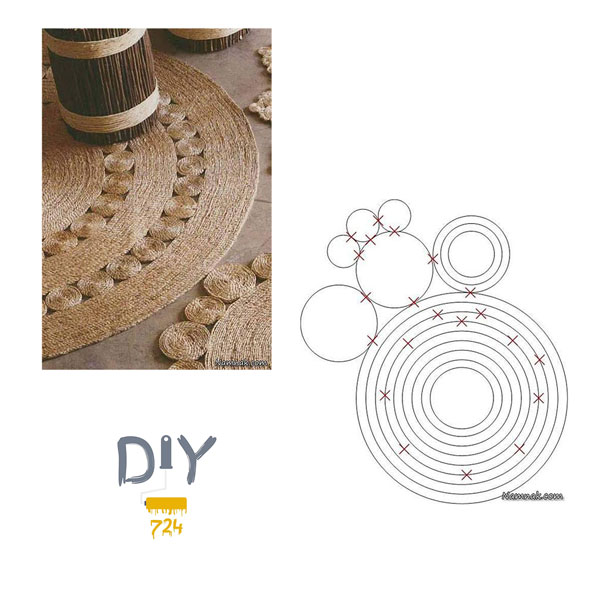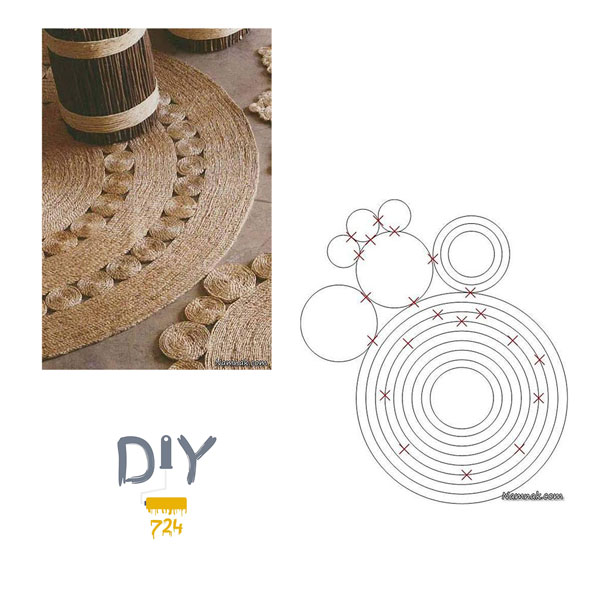 To make hemp pads and rugs, connect them with the following image pattern after making loops of yarn. By changing this pattern, you can also have newer models.
How to make a rug with pom pom
In this video of Aimsy's Antics, we are going pom-pom mad by making a DIY Pom-Pom Rug. I love a good pom-pom. There is just something about the little balls of fluffy wool that bring a bit of joy to your life. Learn how to make the perfect fluffy pom-poms to make this soft and cozy DIY pom-pom rug.
First, make enough pom poms, depending on the size of your pad or carpet. Each 100 g yarn gives approximately 7 to 8 balls. It is better to tie the tassels on a surface To make a rug with a pom-pom. This surface can be fabric, sack, plastic net, chicken net, carpet brake.
Important points of diy rug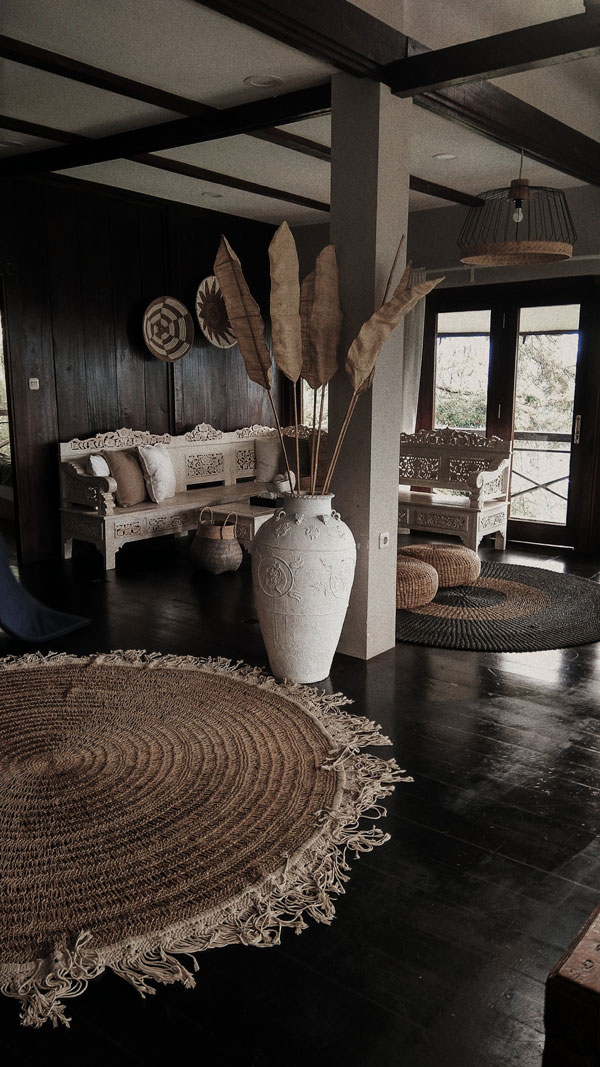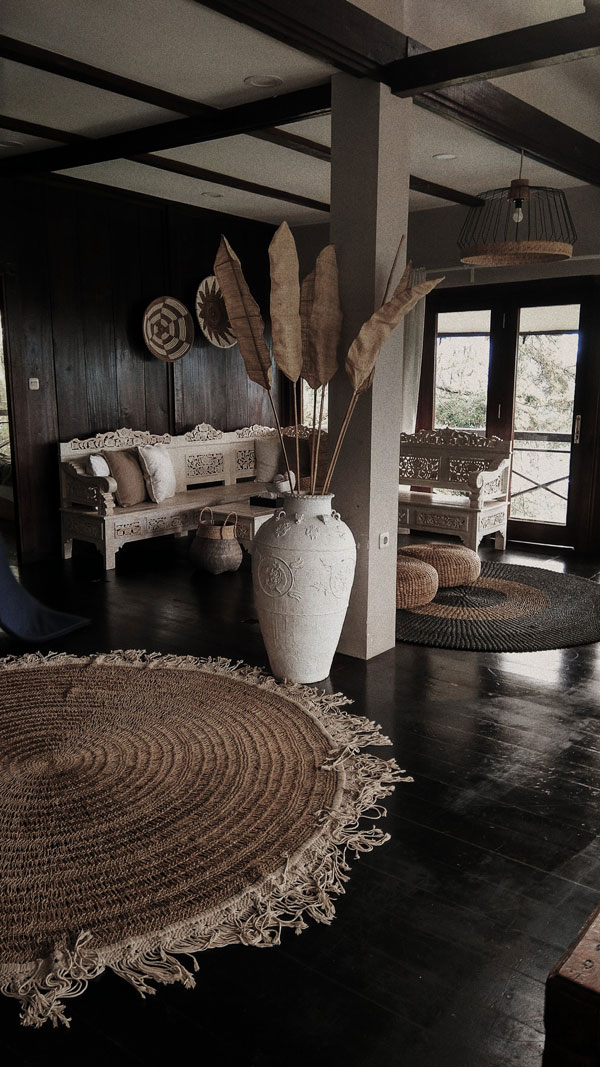 Although a defective tissue can be problematic in many ways,
But there are some key points that if observed by the weaver, the carpet texture will be of at least acceptable quality, and if not followed, irreparable damage to the carpet may occur.
How to make a rug : The basis of doing a good texture

First:

 a healthy and flawless carpet hanger.

Second:

 Doing squatting must be correct and uniform.
Therefore, if the above qualifications are unacceptable to you, do not start weaving until the problem is solved.
How to make a rug : Thick and thin fabric
The most crucial factor in the success of a good weave is that the weaver is skilled enough in pulling thin and thick weft. So please do not start weaving at all in this case until you are sure and have enough practice because:
The quality of the carpet is more than anything related to the quality of its thin fabric.
How to make a rug : Accurate control of carpet height
Regularly (usually once every twenty rows) calculate the texture's height in proportion to the number. It is enough to adjust the size of the carpet regularly from the beginning and avoid many problems that may occur due to a lack of dimensional control.
When starting work on the first ridge, you should check to install a cover made of adhesive tape on the carpet's initial carpet weaving because the threads at the bottom may not be injured by the bottom of the knife when working in the initial rows.
If you want your carpet not to be raised or lowered and its length not to be longer or shorter, every 10 rows woven in carpets with 50 rows should be about 15 millimeters, one and a half centimeters.
To prevent your carpet from collapsing on both sides, hold 5 cm of the fabric from each side. And cut with a knife when you do the thick weaving of the material. At first, it seems that this makes the carpet incoherent, but there will be no problem in this regard at all.
In this video of BuzzFeed Nifty, we show you 5 DIY Rug Ideas and learn how to make a rug. watch and enjoy.
The density of the knots and their delicacy indicate the quality of the carpet. The more knots and the fuller carpet weaving, the higher the quality.
---
It is straightforward to make modern carpets that have entirely replaced traditional carpets today. In contrast, its prices in the market are not so low. In this article, we learn how to make a rug with yarn. for rug making, we can use thread that matches the color of our decoration.