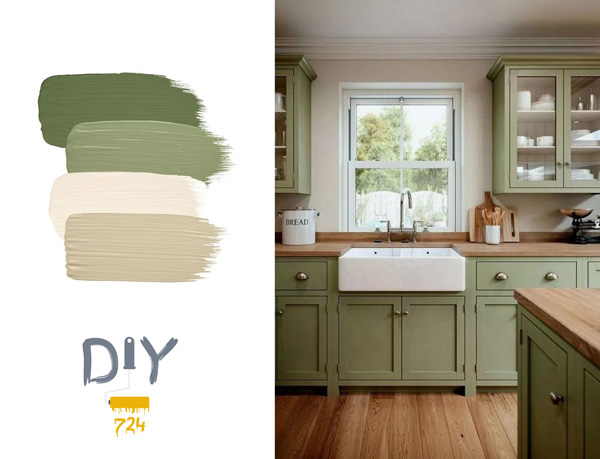 Home DIY & Ideas
Is painting kitchen cabinets worth it? DIY724 answers all the questions before getting started
Before you begin painting kitchen cabinets, you should know what your kitchen cabinets are made out of. There are very different materials such as solid wood, stainless steel, engineered wood made from MDF, plywood, particleboard, and covered with veneer, laminate.
Painting kitchen cabinets seems trendy these days. In this article on DIY724, we provide some long-term solutions for your cabinet renovation. Read on to do it yourself.
---
It's worth the effort for painting kitchen cabinets. You new DIY job will absolutely transform your room.
---
DIY painting kitchen cabinets – How to Paint Kitchen Cabinets
A DIY cabinetry painting job can be challenging and time-consuming. With painting kitchen cabinets ideas, the results will be excellent. Following examples of DIY painting kitchen cabinets inspire you to find out how to do it! First check this Youtube video.
 Let's start painting! But before starting, you should gather the materials you need to paint the cabinets. Consider some following items:
 – Oil-based OR 100% acrylic latex
 – Primer
 – An angled brush or paint sprayer
 – Sandpaper
 – Sponge
 – Gloves
 – plastic sheeting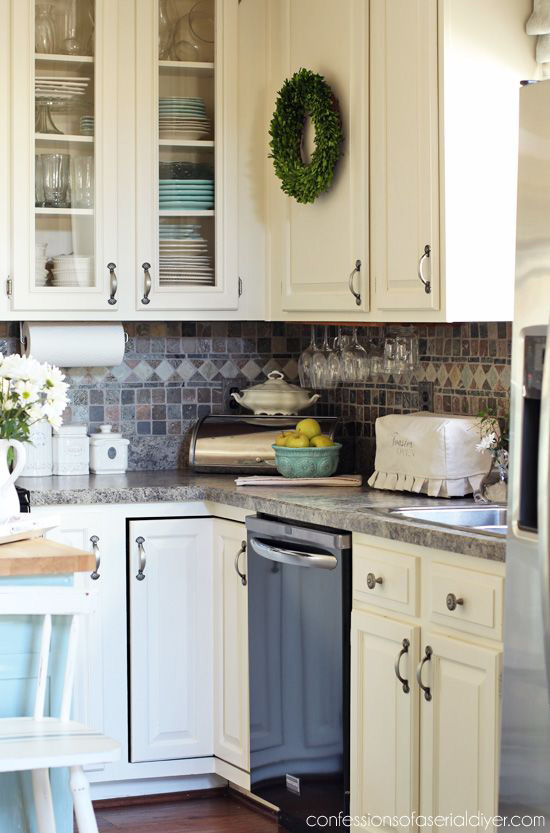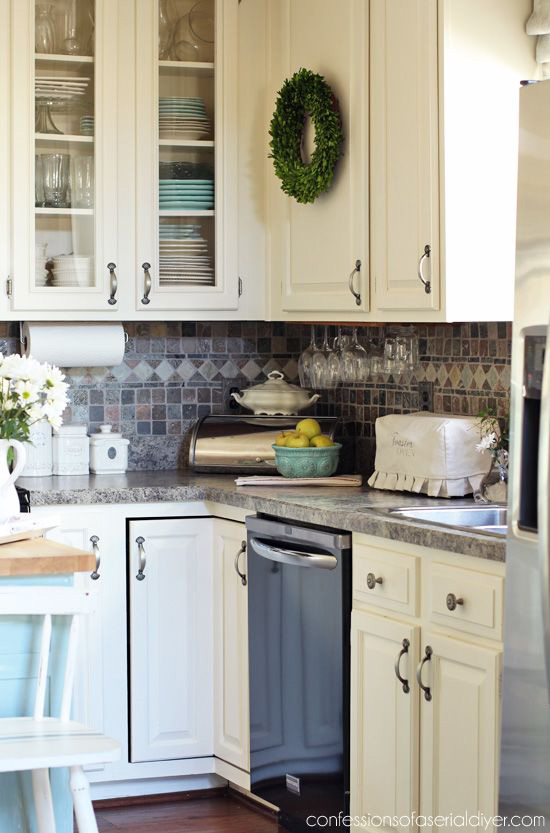 Prepping is the critical key in the painting kitchen cabinets.
To paint your cabinets, first, remove cabinet doors and drawer fronts, and any attached hardware. The next step is cleaning all areas of cabinet doors and boxes. Use a degreaser and pay attention to wearing gloves if your skin is sensitive.
Now it's Primer time! Apply it to the inner panel. Primer makes the surface smoother. When the primer dries thoroughly, sand the surface with around 220 sandpaper, finally, use the brush to start painting the kitchen cabinet.
painting kitchen cabinets with blue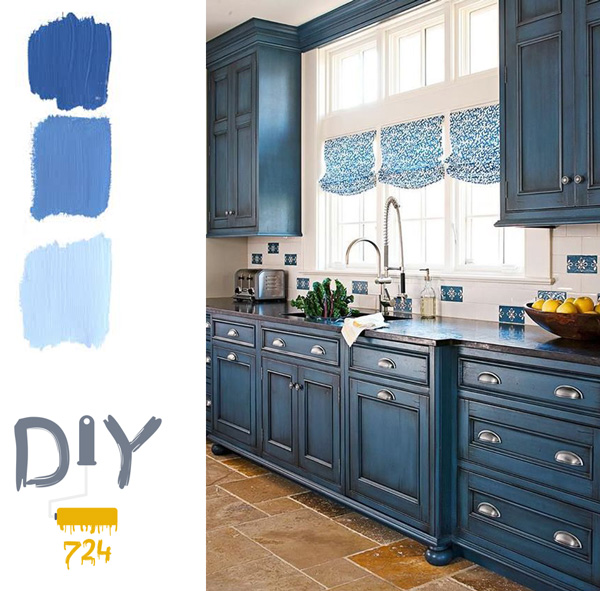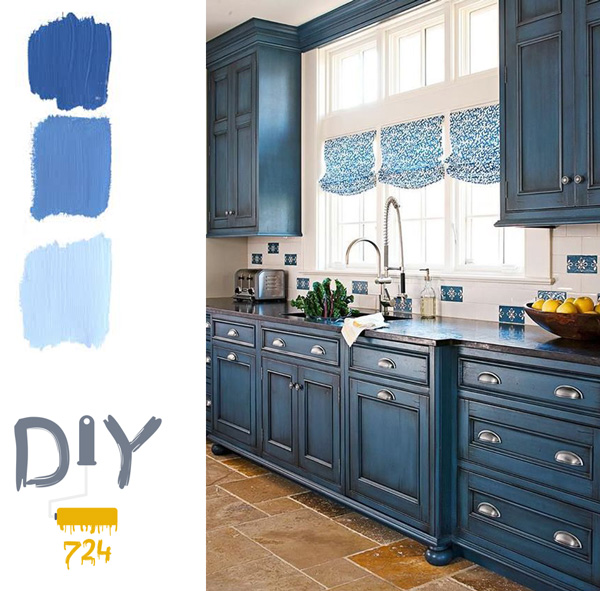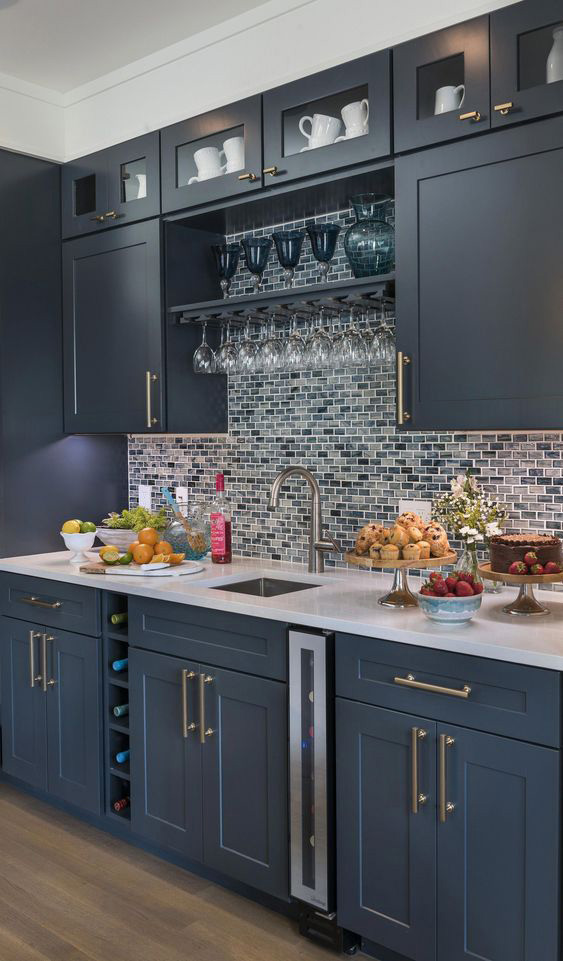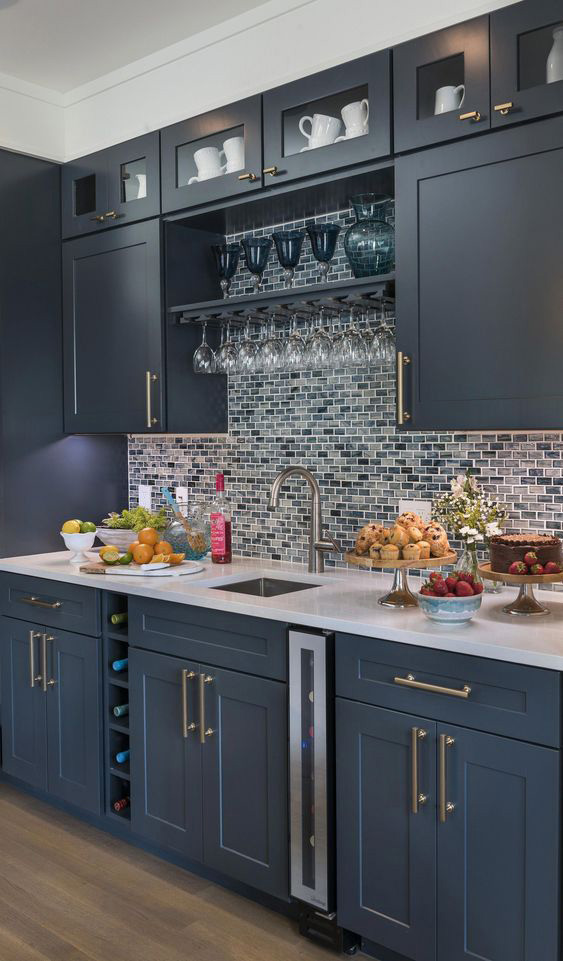 painting kitchen cabinets with green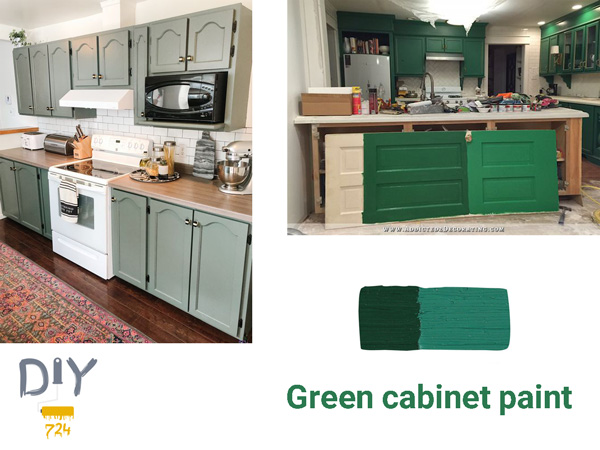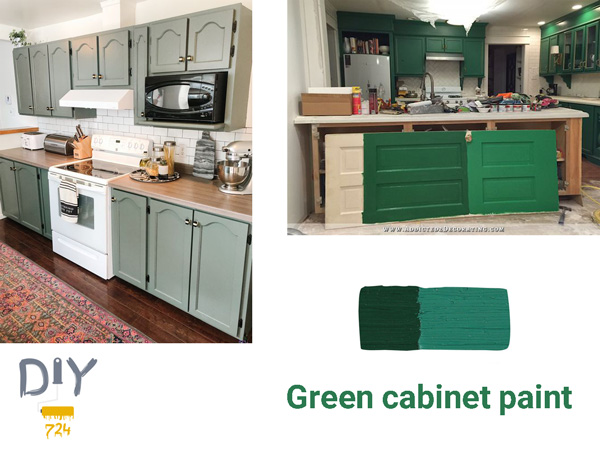 painting kitchen cabinets with red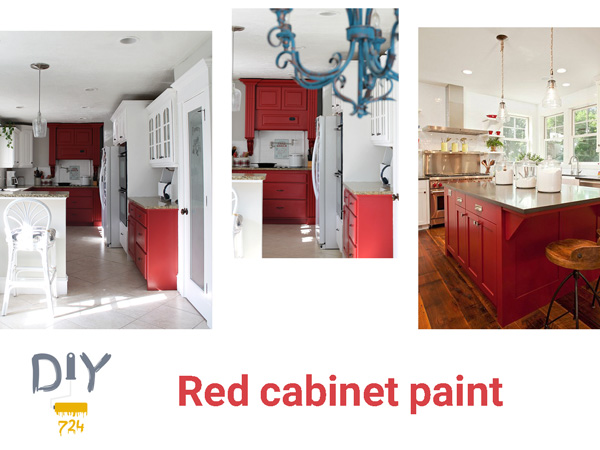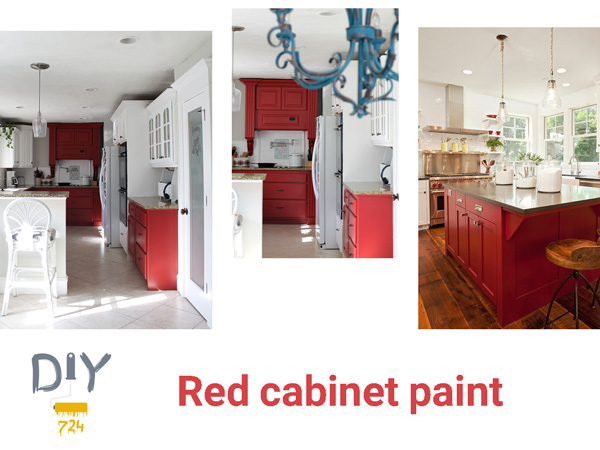 What kind of paint should you use on kitchen cabinets?
There are 2 options for painting kitchen cabinets: Oil Paint and Latex Paint. We provide some pros and cons of each technique.
Oil-Based Paint for painting cabinets
Oil-based paints are known for their resilient finish; this kind of paint makes a surface super easy to clean.
Latex Paint for painting cabinets
Experts believe that latex paint is the best choice for painting kitchen cabinets.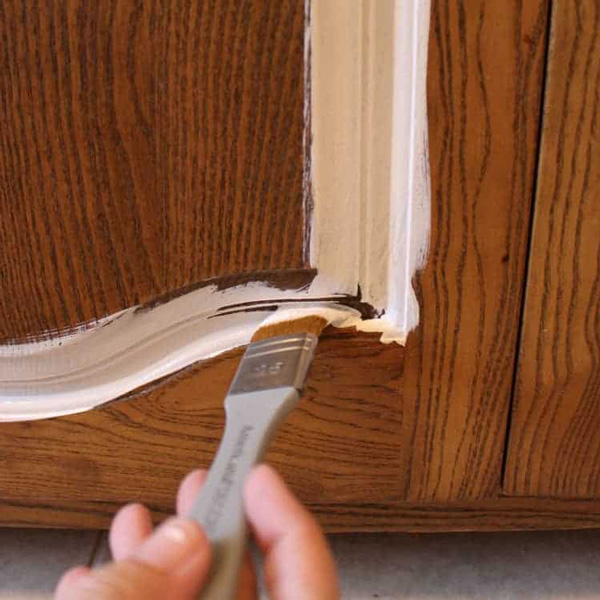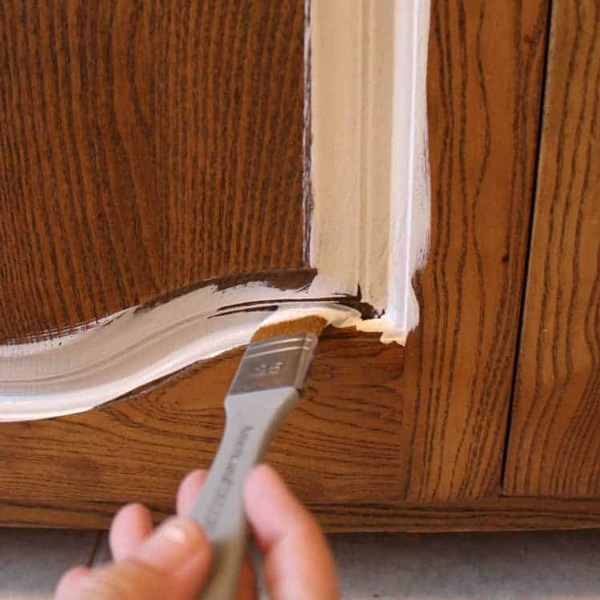 Look for a washable or scrubbable paint To DIY painting kitchen cabinets.
Do you have to sand cabinets before painting?
Yes. When sanding your cabinet, the material can accept the paint easier because the sanding creates a grooved surface for the paint to stick. It also gives you a more durable and smoother finish.
Other benefits of sanding before painting the kitchen cabinet are moving imperfections from the wood and inspecting the wood up close before painting.
Can you just paint over stained cabinets?
You can paint directly over stained wood with the suitable primer and paint. The right painting way depends on the type of stain used, the state of the wood, and whether or not you're painting a piece of furniture or some other structure.
The stain itself isn't the problem because the paint won't adhere to the shiny coat of varnish or lacquer that is often applied over the stain. We recommend you use a brush to apply a primer, working your brush using long strokes in the direction of the grain.
What happens if you don't sand before painting?
You can paint anything without sanding. But it would be much better to sand a surface before painting kitchen cabinets. Consider that cleaning and sanding will ensure the most robust adhesion for your paint.
If you don't sand the surface, your DIY job will likely end up peeling after a few months. Another disadvantage of painting without sanding is that the cabinet might see lighter or darker patches of the book come through the paint, which looks ugly and unprofessional.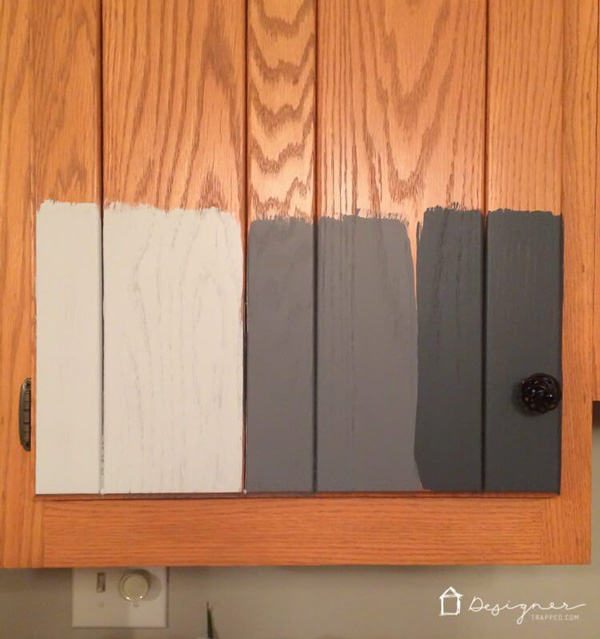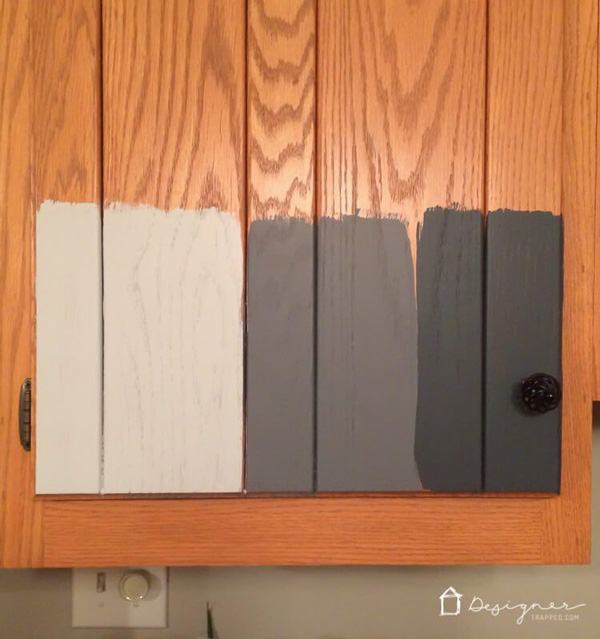 9 tips to cosider when painting kitchen cabinets
Considering some tips helps you to tackle cabinet painting with confidence:
Be realistic!
With the best situation, it might not be going to look totally smooth. Plus, this project takes time. So allow yourself enough time and do your best.

Clean the wood before painting.
If your kitchen is clean, it doesn't mean the cabinets don't need to be cleaned.

 Remove the doors and drawers.
Taking off the doors is a crucial step.

label where your doors, drawers and hardware go.
Save time by labels that help you to remember where each cabinet goes. Write the exact location of cabinet.

Sand the cabinets
Even if your cabinets seem ready to paint,  you still have to sand them so the paint will stick.

Dust-free before you paint.
Don't forget that a few pieces of dust can ruin the look  of your cabinets.

Use paint primer
To avoid bleed knots through the painting of cabinets, tempt to use the primer.

Paint the cabinets' surfaces in the right order.
You should paint the back of the cabinet doors, then paint the front.

choose the right paint and color
As painting kitchen cabinets isn't the kind of job you're going to want to redo any time soon, choose the color you like more and consider the best paint for a smooth finish.
---
Update your kitchen with painting cabinets. Although Painting kitchen cabinets Is a long and detailed process, it's one of the most common affordable renovating options.
We provided you with some painting kitchen cabinets ideas to help you get ready before grabbing a bucket of paint.
Bear in mind that DIY painting kitchen cabinet is the easiest, and most cost-efficient way to give your kitchen a makeover. So use a paintbrush as a weapon of choice to have your favorite cabinets. If you have any ideas share it in comments.