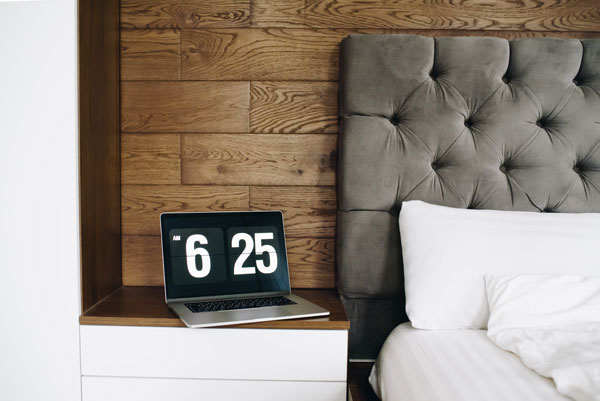 What is a headboard? A board attached to the top of the bed. You mean, like, the throne?
Almost yes! Sometimes, the headboard is attached to the top of the wall and not necessarily to the bed itself.
So every throne is a headboard?  No, DIY headboard ideas has its benefits and, of course, its form.  A headboard is something that can turn the view of your bed and even your bedroom upside down.  But you can also make your headboard with DIY bedroom decor and install it on a throne or wall.  Now let's get more acquainted with the cheap diy headboard on DIY724.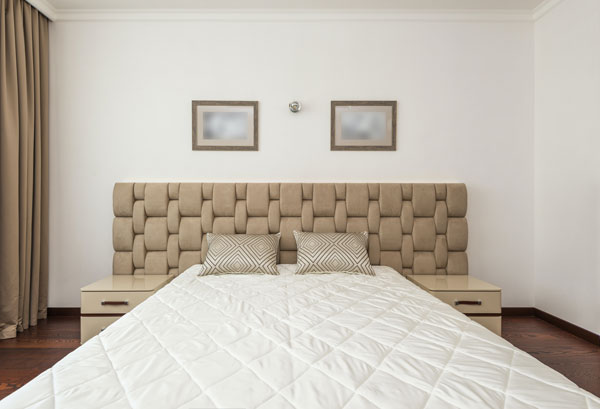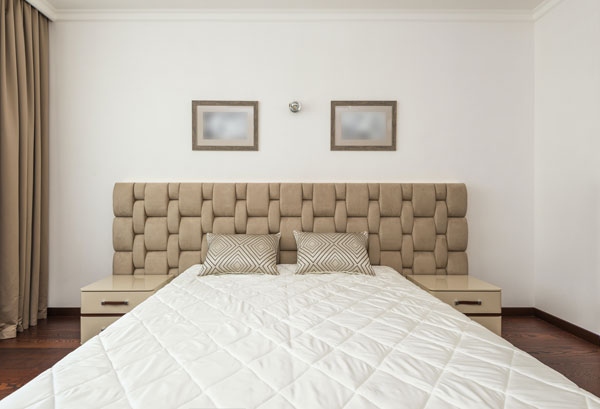 Headboard history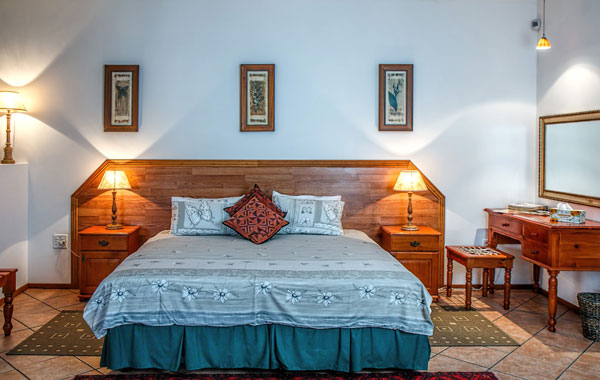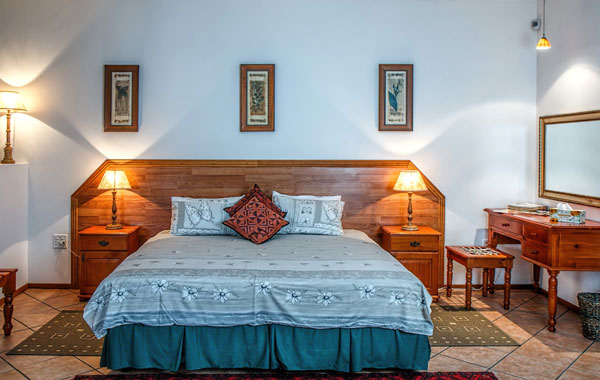 Like many other types of furniture, the traces of the first headboards can trace back to ancient Egypt and Greece.  In ancient times the throne of kings was separated from the wall by a wooden board decorated.  Since the walls made of stone, a wooden board could provide good thermal insulation between the head and body and the cold stone wall.  Umbrella headboards also served as canopies.
Benefits of DIY headboard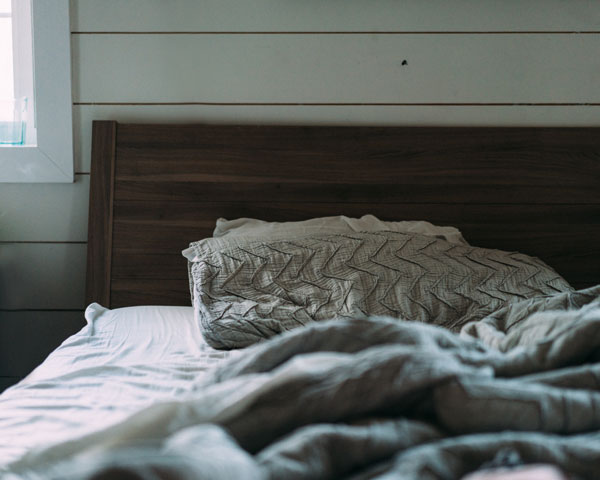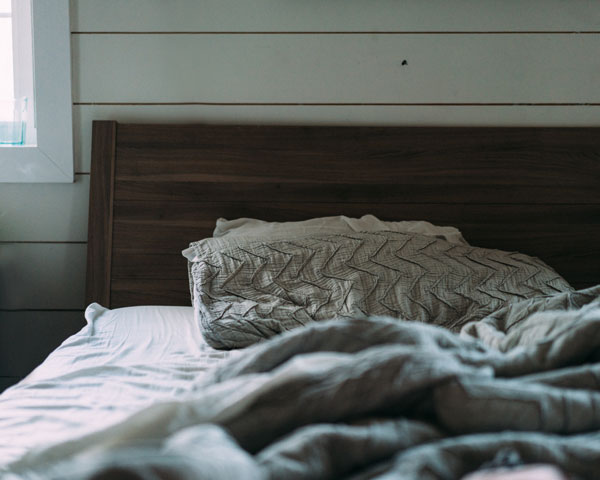 Today, there is no need for thermal insulation. However, headboards have other benefits and their aesthetic function, which is their most important function in the present age.  Headboards do not allow your pillow to slip and fall on one side of the bed. They can be a convenient and comfortable backrest for bedtime reading or breakfast on the bed or a space to store books, glasses, bed blinds or lights.
But what effect do headboards have on the appearance of a bedroom?
DIY headboards can be an excellent option to become the bedroom's focal point and become the center of attention.  They make the small bedroom look a little bigger. The bed with the beautiful headboard looks much more magnificent and even more regular.  In addition, headboards can hide blemishes and wall damage behind the bed.
Videos of cheap DIY headboards ( cheap headboards

 )
First lets watch a video of Tufted diy headboard that found on youtube.com 
material:
 a sheet of plywood
thick foam
quilt batting
fabric
roofing nails
button cover kits
second lets watch another video of how to EASY DIY Plywood Headboard that found on youtube.com
Materials:
Magnetic wristband

2×4's for the frame

Plywood

Miter saw

Kreg Jig , the K4

and the Kreg320. 

Power Drill

Circular Saw

Wood glue

2-1/2″ pocket hole screws

2-1/2″ wood screws

Edge banding

Edge trimmer

Clamps

Clothes iron

Stain in color of your choice
third lets watch a video of other ideas of diy headboards that found on youtube.com
How to DIY door headboard? | How do you make your own headboard?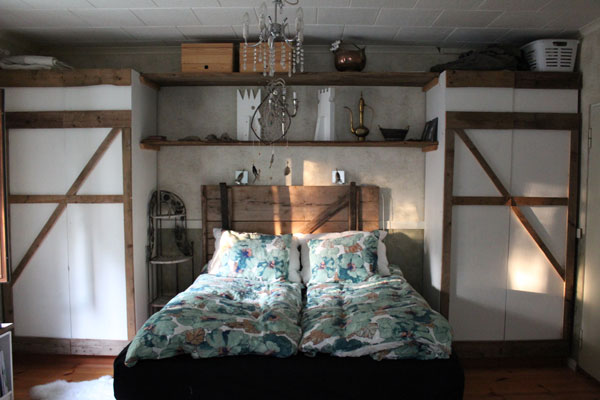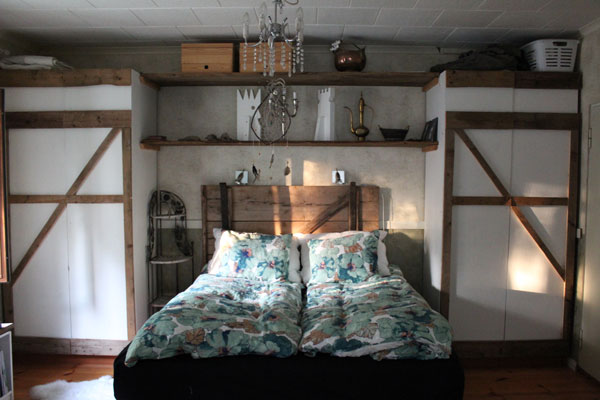 First The material you will need is:
1.Hollow-core door
2.Metal T-square or Ruler
3.Painters tape
4.Decorative paper
5.Primer and brush
6.Mod podge
7.Iron
8.Crafts knife
9.Iron-on oak veneer
10.Clear polyacrylic spray finish
11.Flush mount hanging hardware
Hang your door and enjoy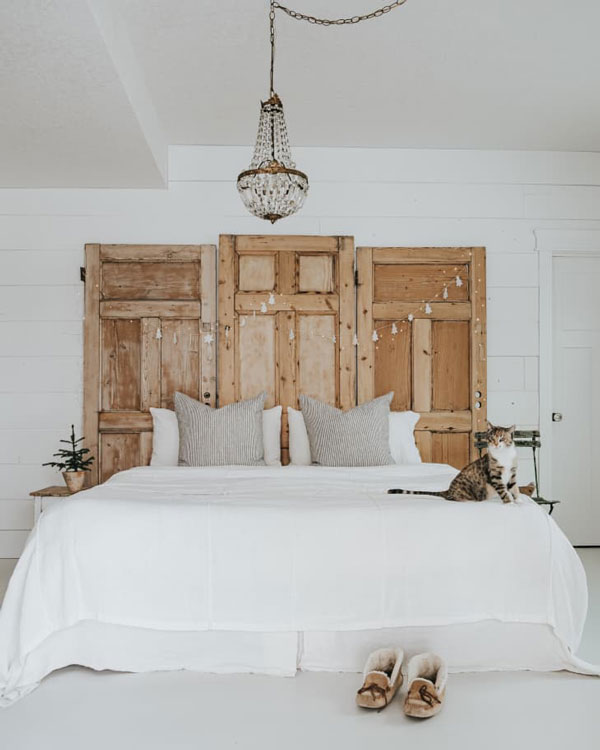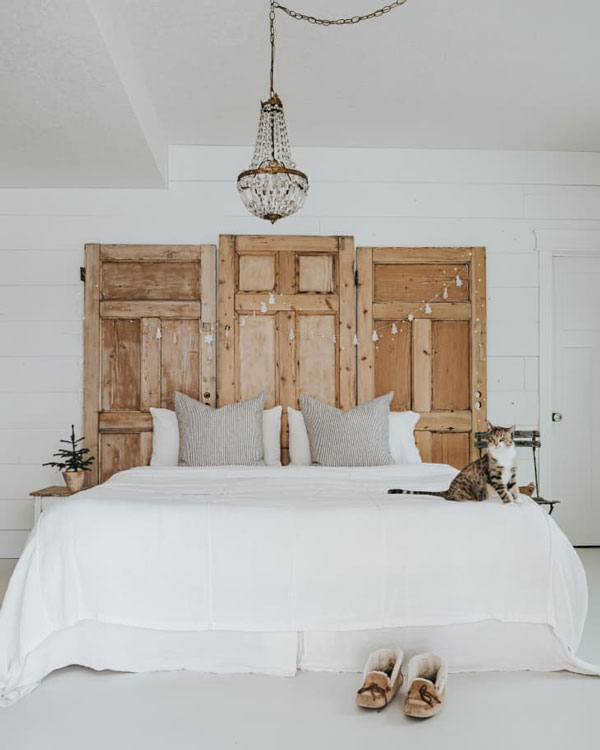 Second Construction processes is:
1-Measure 8 inches from the edges of the door, draw a line
2-From the first line, measure and mark another line the width of the paper
3-Apply painters tape along pencil lines and let it dry. Remove the tape
4-Layout paper on the door
5-Be sure to line up the pattern
6-Mix equal parts mod podge and water, Brush mod podge on the top portion of primed area, Don't forget edges
7-Lay paper on the wet spot and smooth. Repeat until covered
8-Brush coat of mod podge on top of the paper
9-Measure and cut veneer pieces to fit all four sides of the door
10-Trim the width of the veneer to accommodate the width of the door
11-Layout veneer on the edge of the door, apply veneer using iron
12-following package directions, repeat on all sides of the door
13-trim edges, spray door including paper, with polyacrylic finish
14-install hanging hardware 5 inches from top corners
For more construction check apartmenttherapy.com
How do you attach a DIY headboard to a bed frame?
To connect the headboard to the bed, you must first have the basic tools such as bolts, washers and wrenches. attach the headboard leds and Tighten them. Then screw the top of the board to the wall using wall mounts to make it stronger. You can screw the headboard directly to the bed frame.
What can I use instead of a headboard?
1.old windows
2.old doors
3.shelves
4.a tiny library
5.paint a part of wall
6.Hang a Textile
7.Mosaic and Tiles
8.a carpet and etc…
Homemade headboard ideas cheap

( DIY headboard ideas)
It does not matter if you have a modern taste or a classic or a minimalist decoration.  In this list, you will find a headboard according to your liking, which you can make yourself, or when you decide to change your bed, look for a similar example.
1. Modern and luxury headboard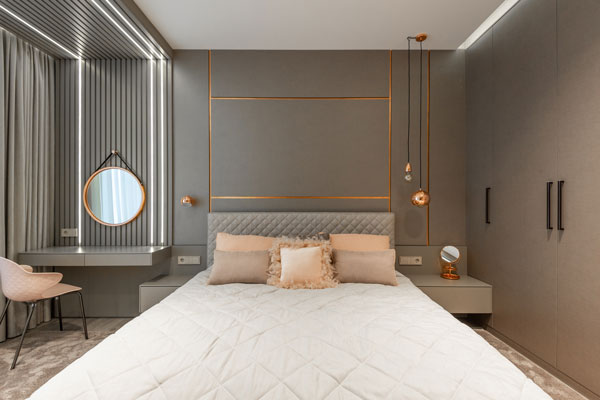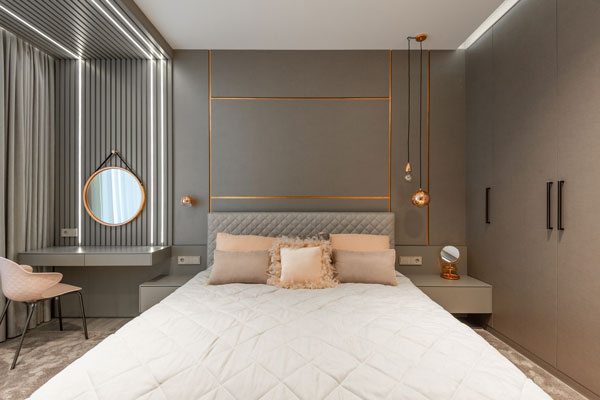 The DIY headboard is designed in a modern and luxurious style that uses gold leaf and bedspreads. The use of velvet fabric in the headboard and glossy surfaces on the floor and sides of the headboard and the middle side chandeliers inspire an excellent feeling to the users.
The use of 3D panels on the wall behind the bed and lighting in them and the use of black and white contrast and its combination with wood color has created a very eye-catching combination.
2.Rustic DIY headboard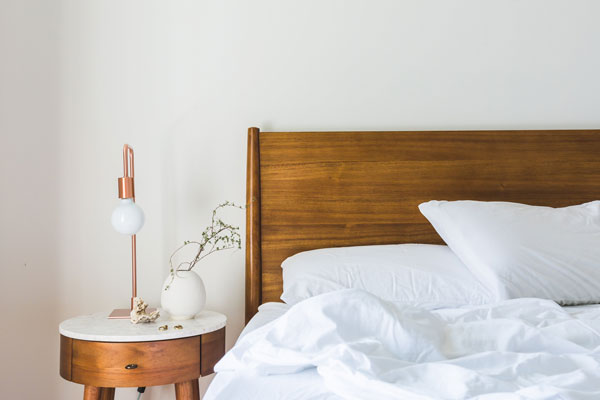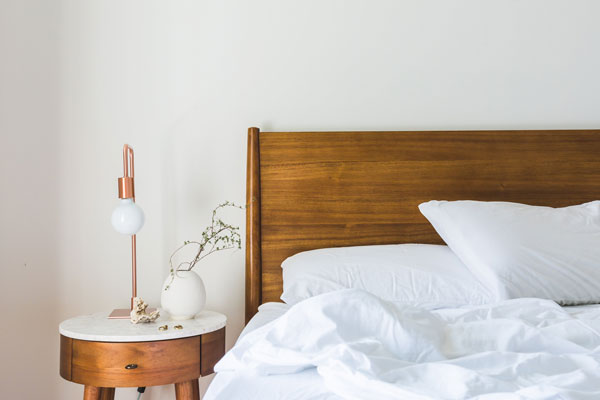 You do not need a carpenter to make this wooden headboard, and you can do it quickly with Install it and use two tools, a drill and a saw.
3. Gift headboard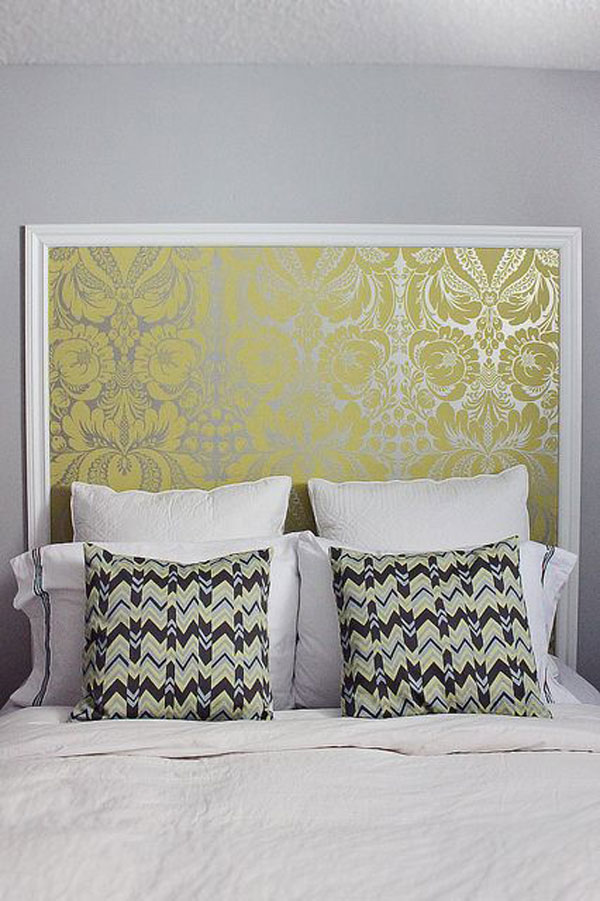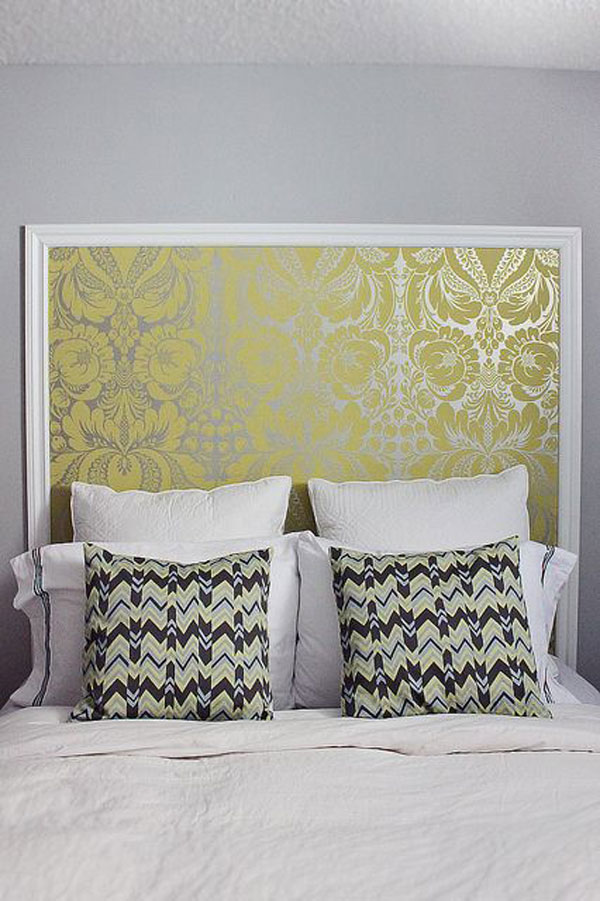 This beautiful DIY headboard made of gift wrap. An impressive decoration for the throne.
4. boho DIY headboard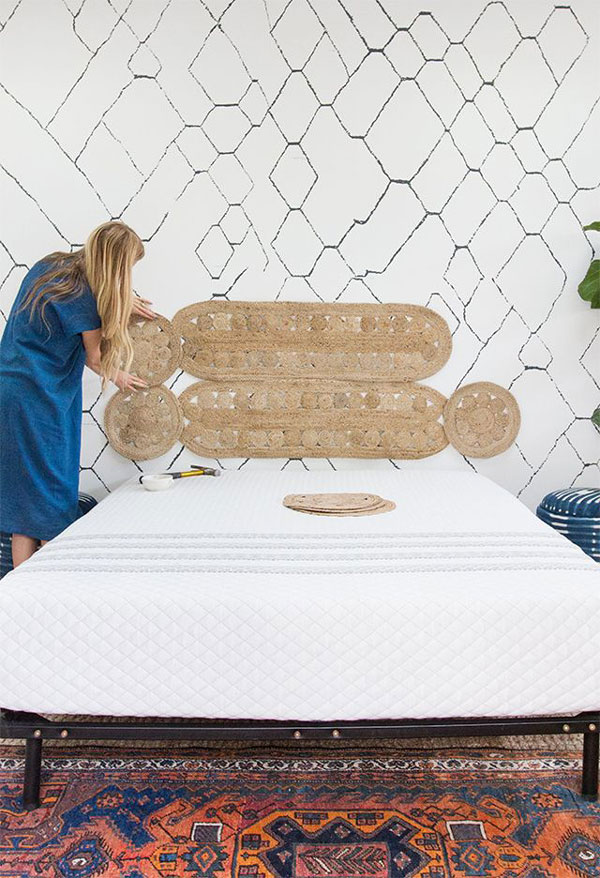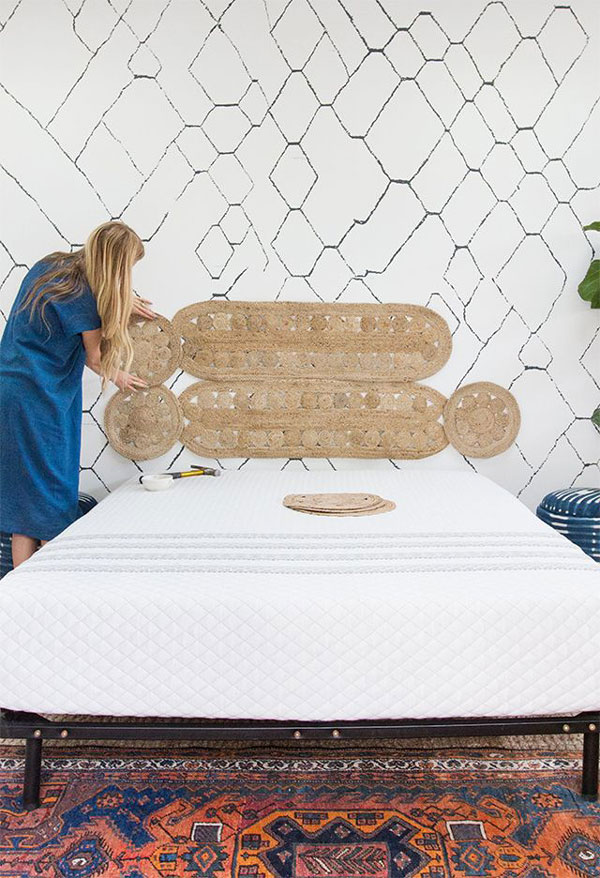 The remaining tiles from your bathroom renovation can inspire a beautiful DIY headboard.  Just add plywood to them.
5. Fabric and upholstered DIY headboard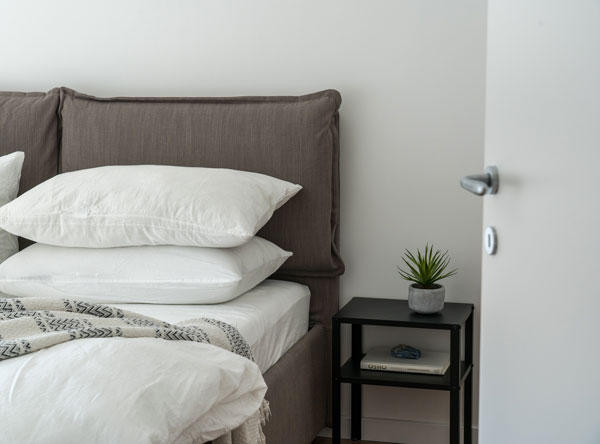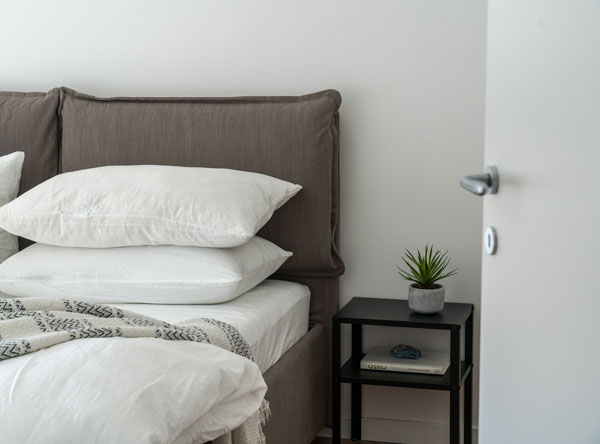 This design is one of the oldest and most popular models, but its construction requires a sewing machine with good tools and skills.
6.Headboard or painting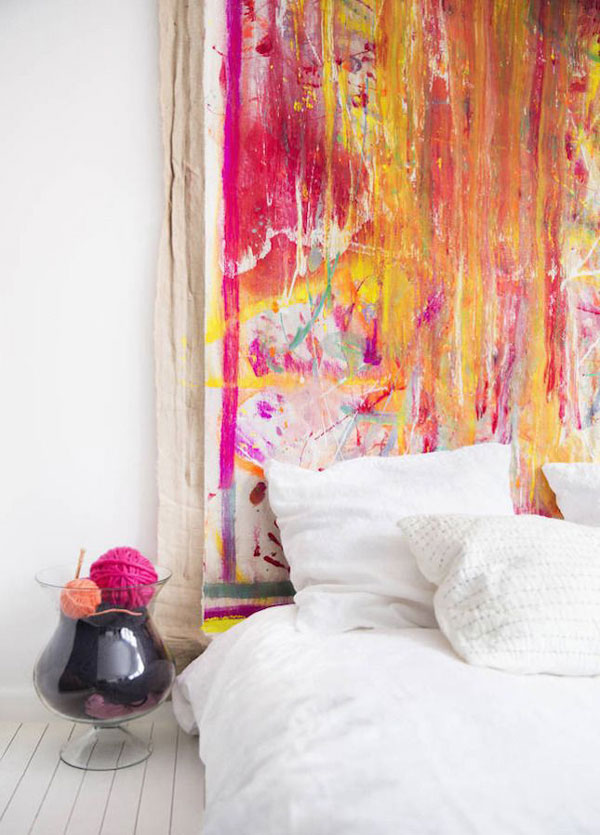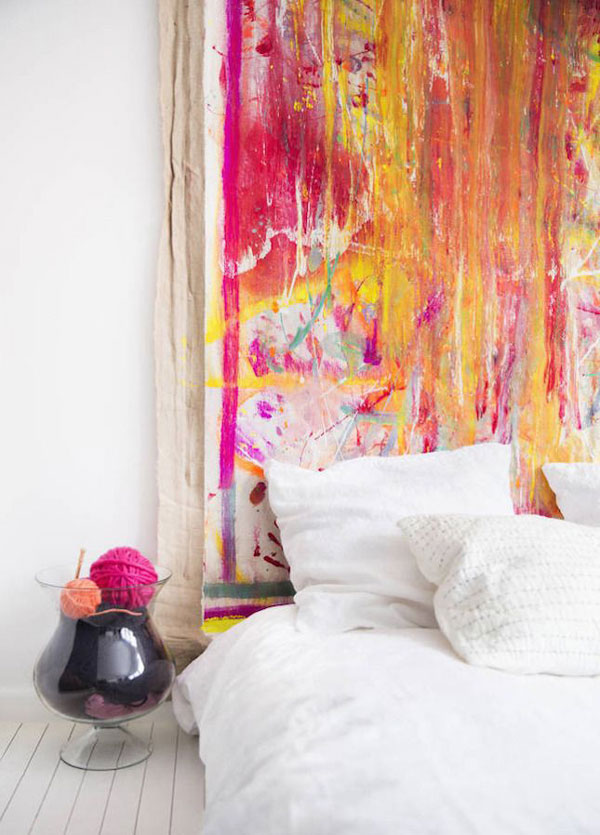 If you think there is nothing duller than neutral colors, you can bring excitement to the bedroom with graphic designs. to Make, mark your design on the wall with adhesive tape before painting, and then start painting the design.
7. Crescent edge headboard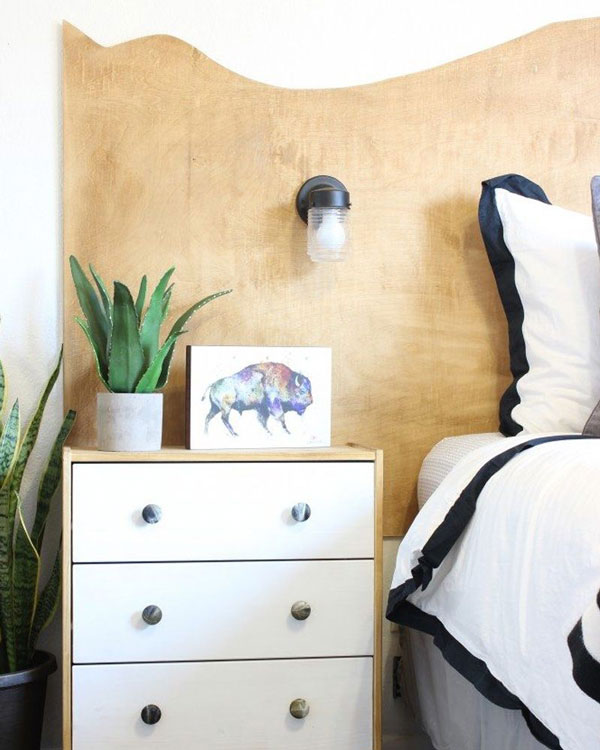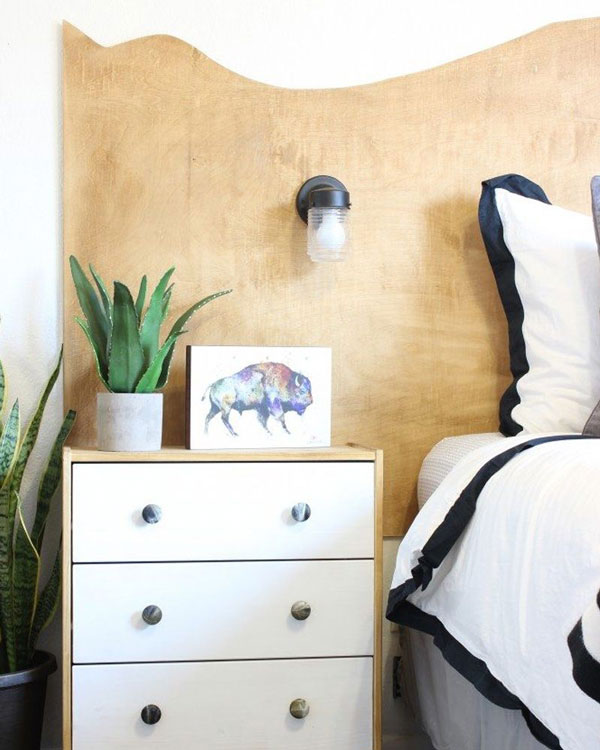 This DIY headboard model may be the most straightforward carpentry project on our list.  It only takes a few hours to build a crescent-shaped headboard.  Despite its appearance, creating such a headboard is not so complicated, and you will be able to do it. It would help if you had a jigsaw and a workshop clamp.
8. Macrame DIY headboard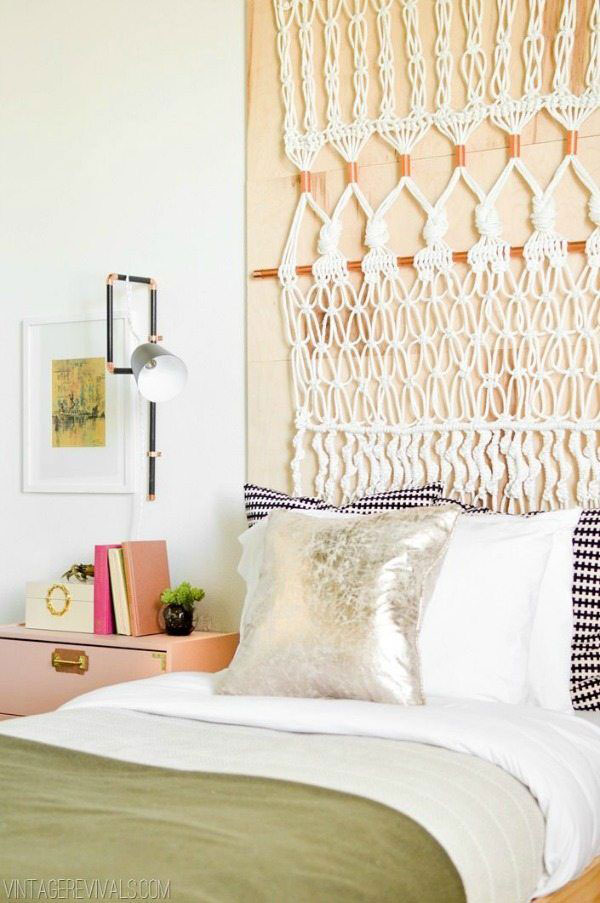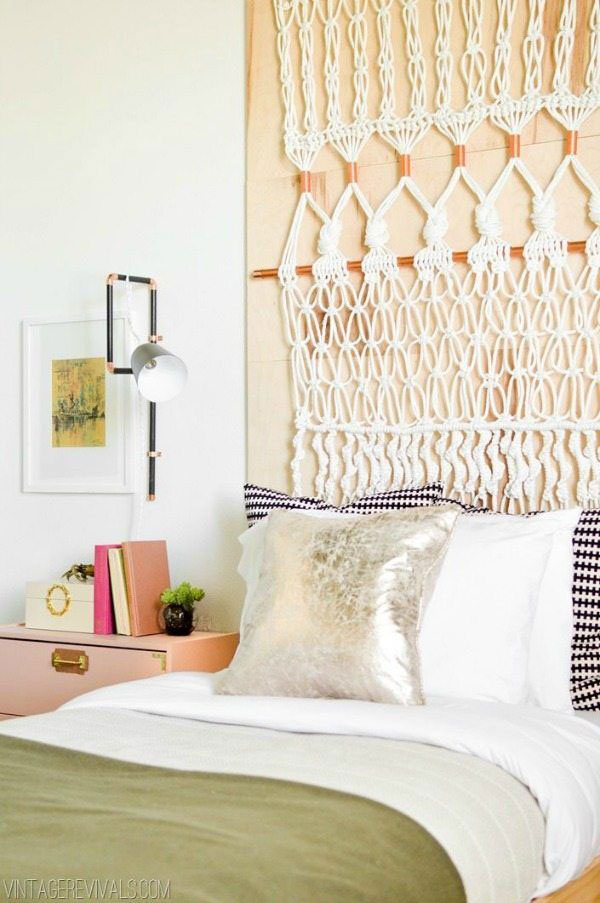 Grandmothers' handicrafts have once again found their way into the decoration of today's bedroom.  Of course, with the shape and image in new places of home like the picture.
9. Professional headboard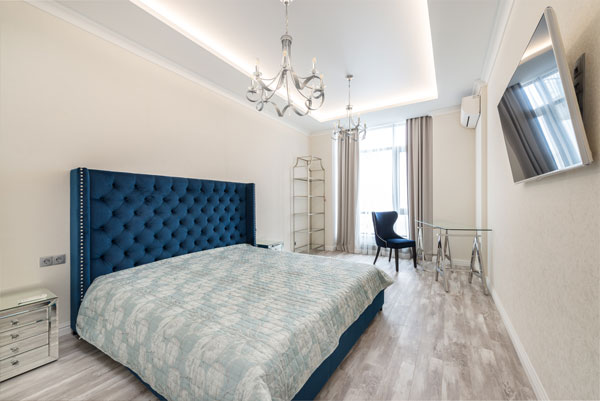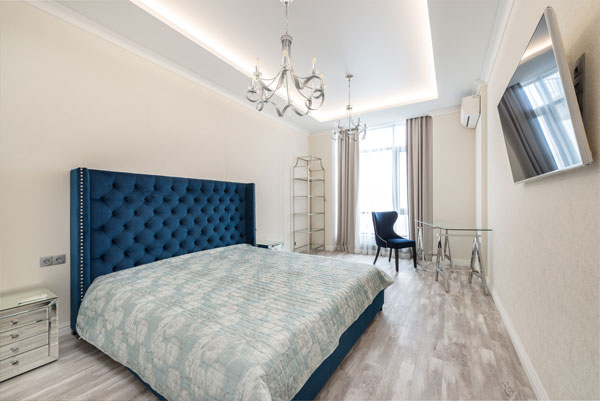 You may not believe it, but to make this DIY headboard, which is very stylish and classic, four meters of fabric, 28 buttons, about 250 brass nails and three-layer boards used a little expensive and laborious, which of course is worth the result.
10. Coloring instead of everything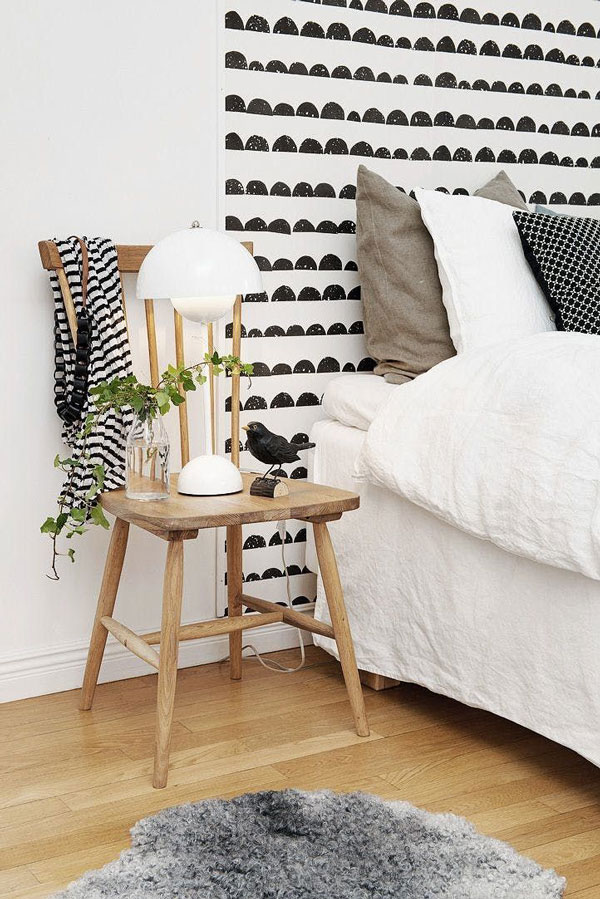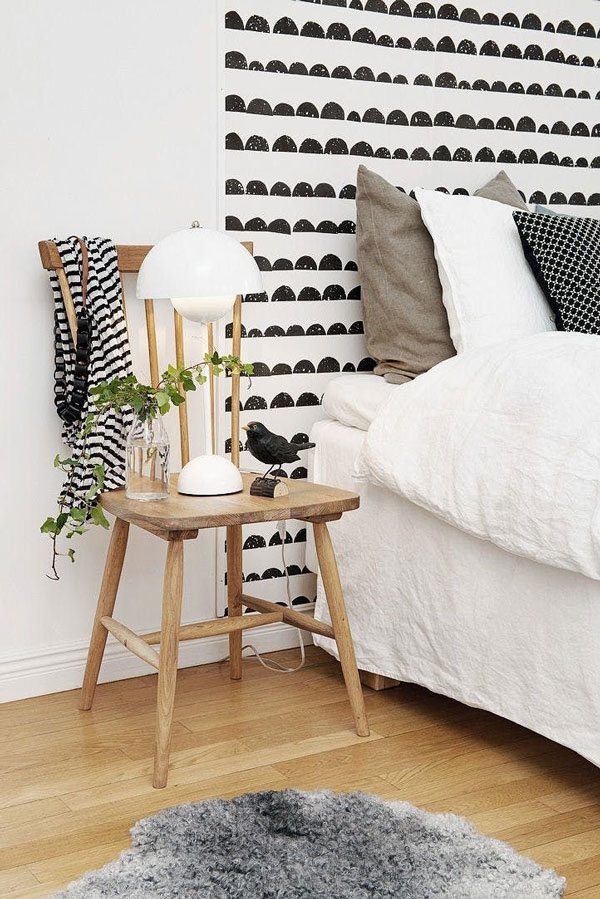 It takes less than an hour to prepare an ordinary DIY headboard, just like the picture with paper and paint. You can use any material to create a rectangular surface.  Then painting and coloring.
11. Plywood for minimalists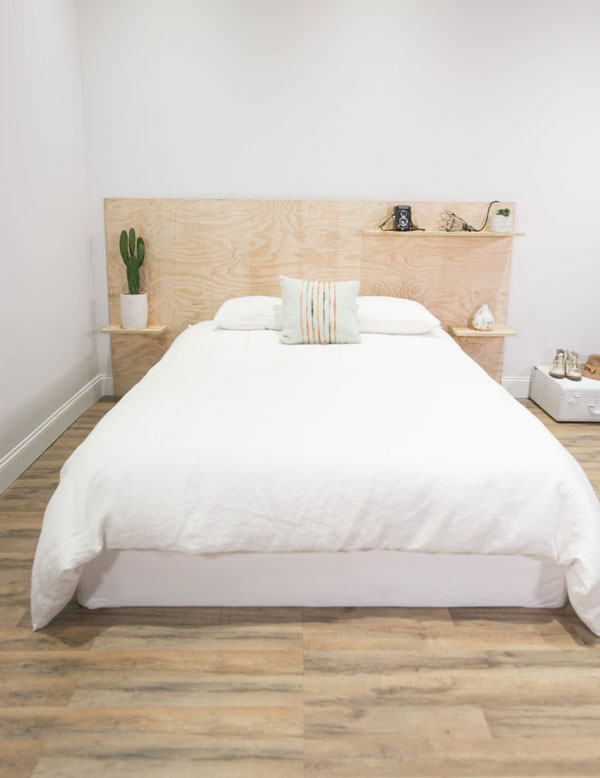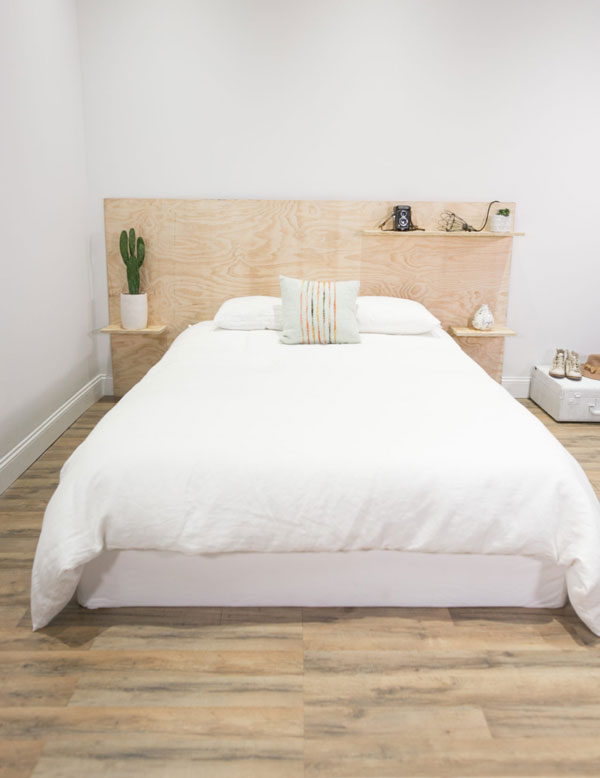 Minimalists and fans of Scandinavian decor love this simple plywood DIY headboard because of its natural beauty.  Do not have enough skills and facilities for carpentry?  No worries, there are always pre-cut wooden boards to do your work.  Buy one and do the rest yourself.
12. DIY Headboards With Shelves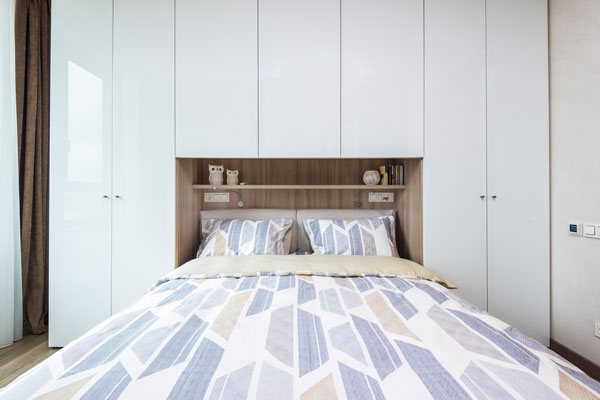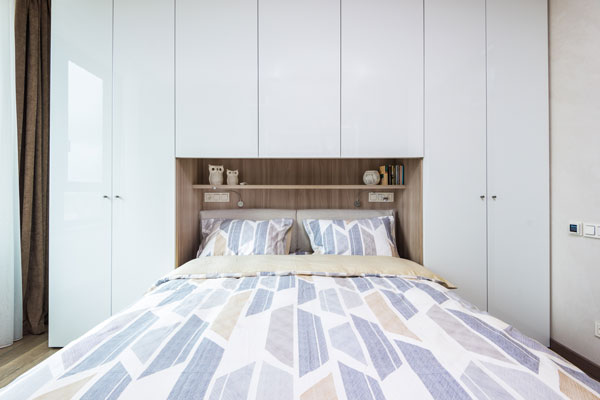 You can make your bed headboard with a shelf, it can be a place for your stuff and it gives a lot of beauty to the bed.
13. Royal headboard with canopy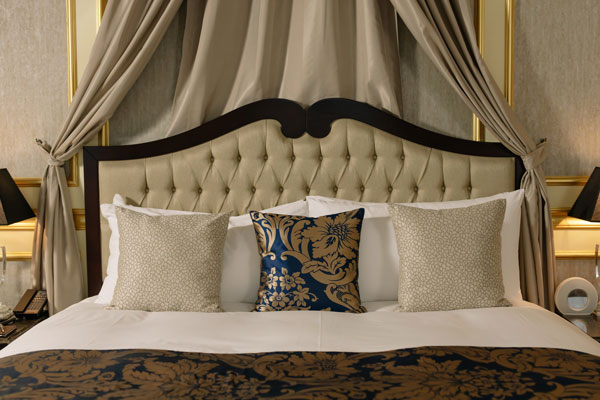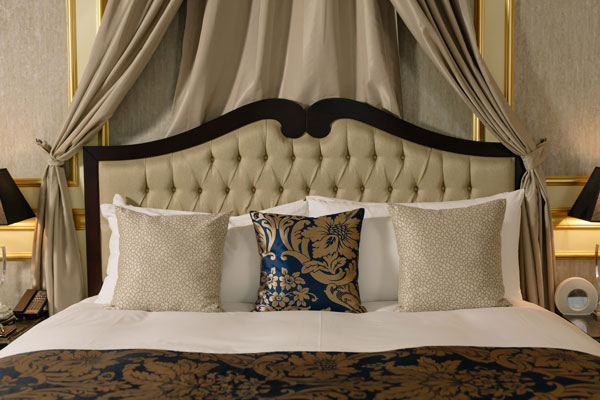 And a royal throne, which is the most impressive instruments in the bedroom.  The gray headboard of this bed decorates with golden and delicate details.  A beautiful and magnificent canopy that is the same color as the headboard also adorns the top of the bed.
14. Wicker Cane DIY headboard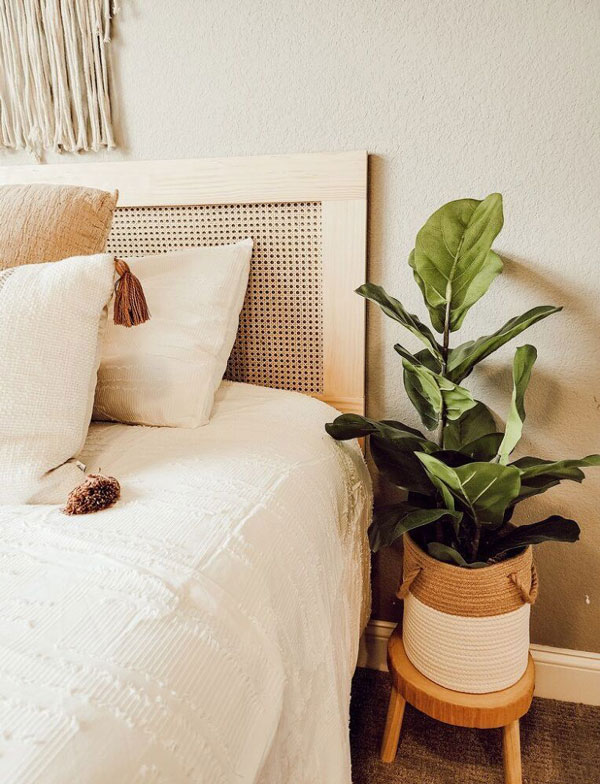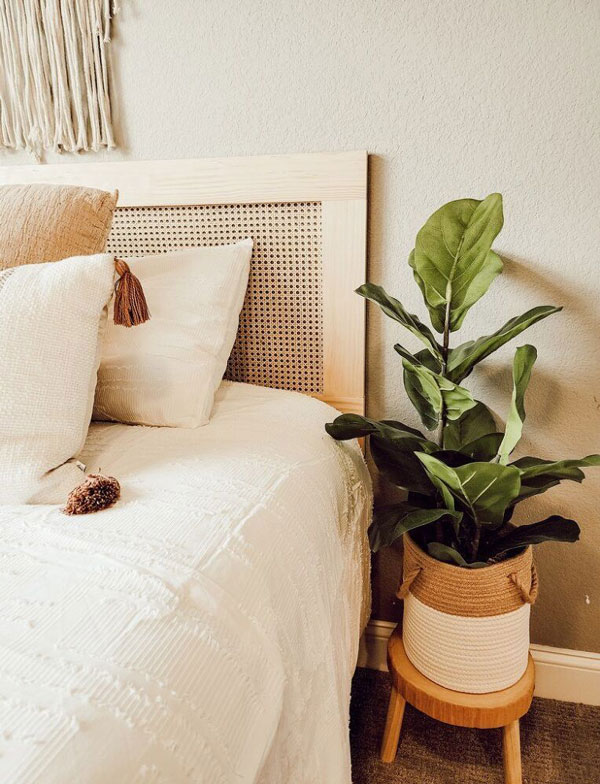 Almost any new designer can create this beautiful DIY headboard taken from natural elements.
Stick a few circular pieces of wicker knitting on the wall behind the bed and in the background.
15. Geometric wooden DIY headboard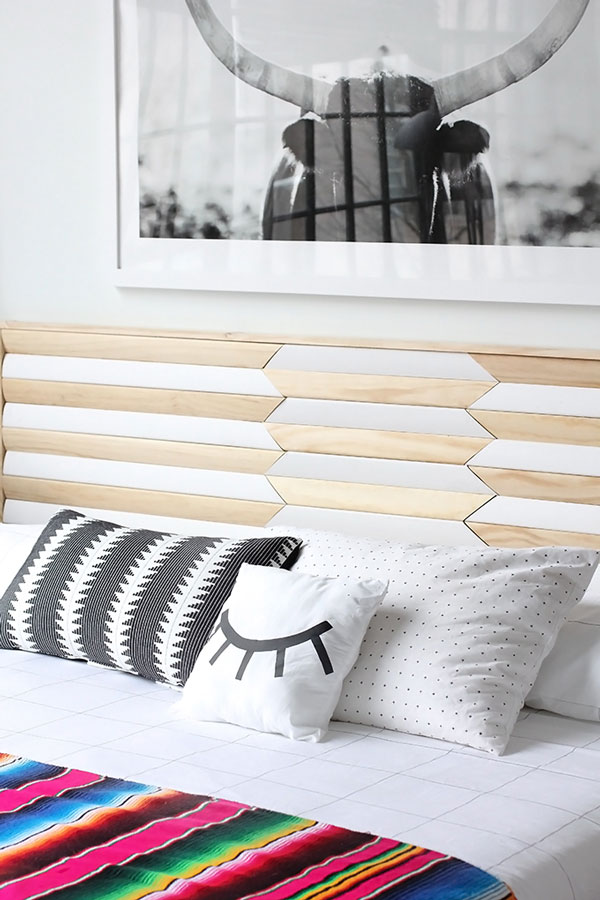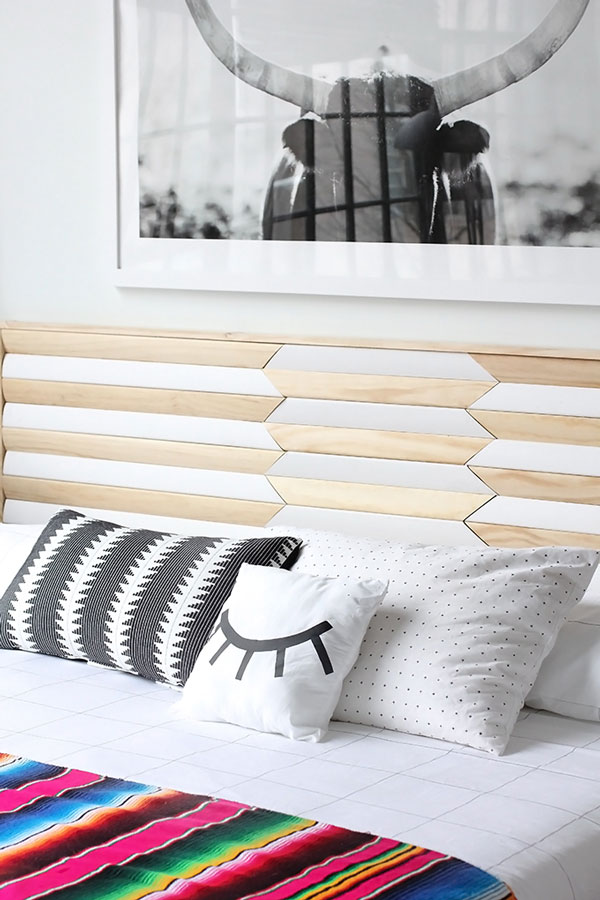 You can cut thin pieces of wood into different shapes and stick them on the headboard in various geometric shapes.  Assembly is straightforward, and once the glue dries, you will have a stunning headboard in the bedroom.
16. Luxurious fluffy headboards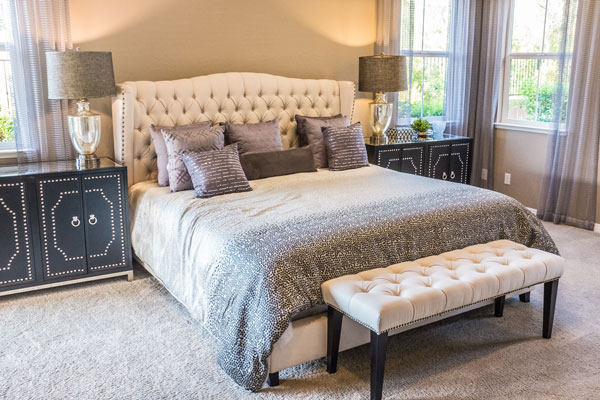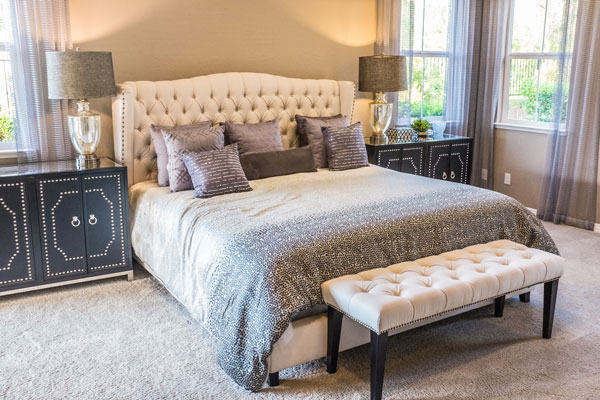 Crocheted and fluffy headboards are also trendy.  These headboards can be luxurious. They have a comfortable and cozy appearance.  If the light shines on them from the right angle, they will be very showy and proud.
17. Brass DIY headboard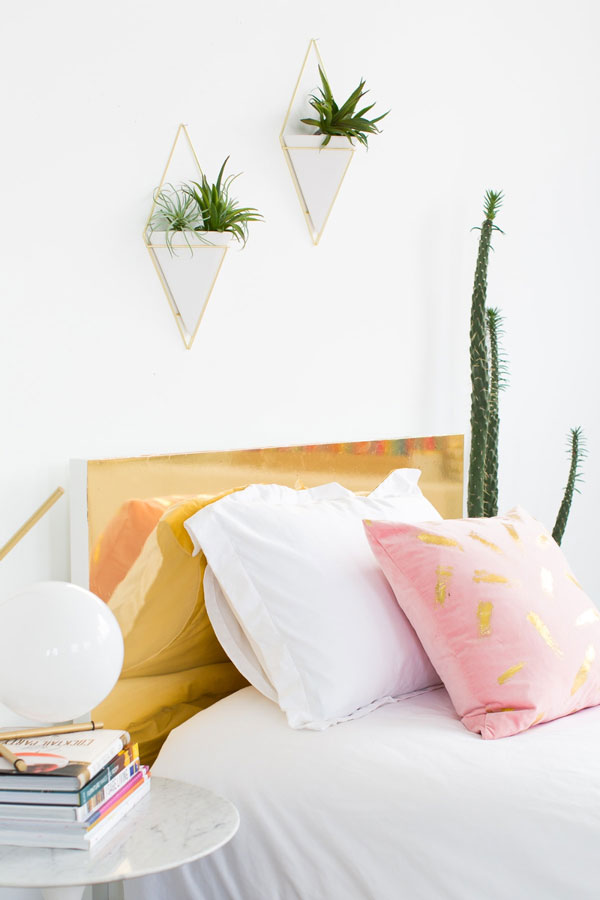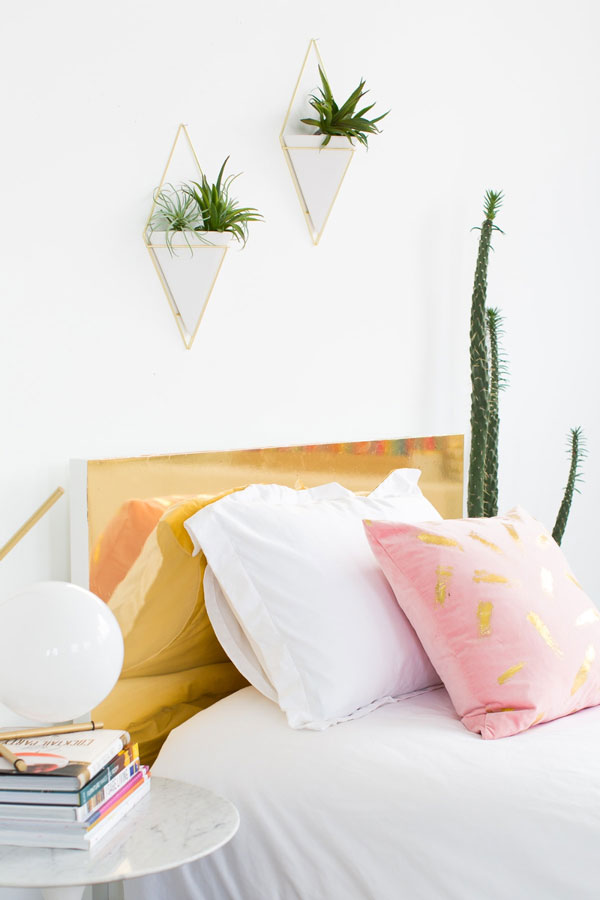 A dream bed can turn into a dull and yawning bedroom Into a stylish haven.  Thanks to the ideas you have in mind, you do not have to go for expensive examples of decoration design.  Every personal and simple idea can wake up the tired atmosphere of the bedroom.
Some projects like this one take less than an hour to build.  You can cover a simple throne with colored fabric or brass sheet and stylize the space. It would help if you had a metal vinyl roll to prevent the work surface from cracking. also with headboards you can make diy dog house .
---
The inexpensive headboards and the bed box are not essential for every bedroom, but if you use them, in addition to their function, your bedroom will be eye-catching and also make the bed attractive.
All the examples of bedside wall design that we have shown you so far have been for inspiration.  You can get ideas from any of the models and use them when designing the cheap DIY headboard ideas and cheap headboards.  But that does not mean that you can not use your thoughts and create an entirely personal style.