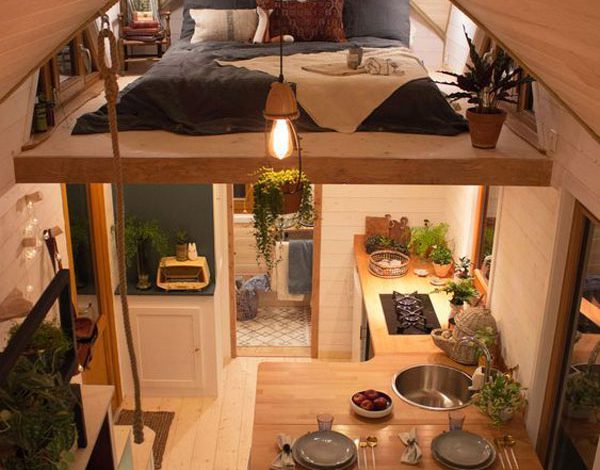 Tiny house lighting – Showing large of a small space is challenging. In Tiny house, Lighting is one of the solutions that you can use to meet this challenge.  It makes a big difference in a small room, so proper lighting is effective in the house's beauty.
If most of your time is spent arranging things, remember that lighting in Tiny house lighting can completely change the space, not only by illuminating dark corners but also by affecting your emotions.
You can make your small spaces look spacious with a few smart choices and with DIY lighting methods.  Choosing the right furniture, materials, and colors, as well as the proper lighting, can be magical. In this article on DIY724, you will have some exciting ideas for Tiny house lighting. also if you want to decorate your bedroom check DIY bedroom decor article.
No matter how well-designed your home is, poor lighting can ruin your mood.
---
How do you light a tiny house?
You can light a small home with lots of windows, Natural light. Other ways are simple hanger, pendant lamp, liner lights,  Portable wall lamps, and And many other creative ways.
First Let's watch together some videos of DIY lighting methods for Tiny house lighting, the tools that can be made and make the house lighter.
this video show you 10 simple ideas that will brighten your small and tiny home. found on Homedit channel.
this video show you 11 Beautiful DIY Lamps To Light Up small Rooms. found on BuzzFeed Nifty.
this video show you DIY CRYSTAL FLOOR LAMP| DIY LIGHTING IDEAS. found on yoduvh Essentials.
---
Tiny House Lighting Tips and Ideas
When living in a tiny house, saving money is often easy. But you may face the challenge of lighting in a small home.
Here are a few ideas and practical tips for Tiny house lighting, which make the house look bigger and brighter. See and get inspire to light your tiny house or small space more carefully: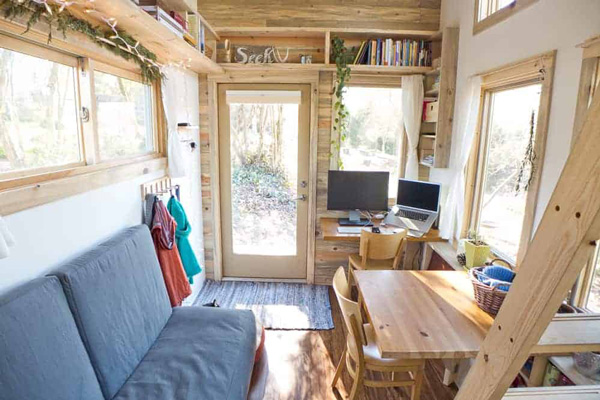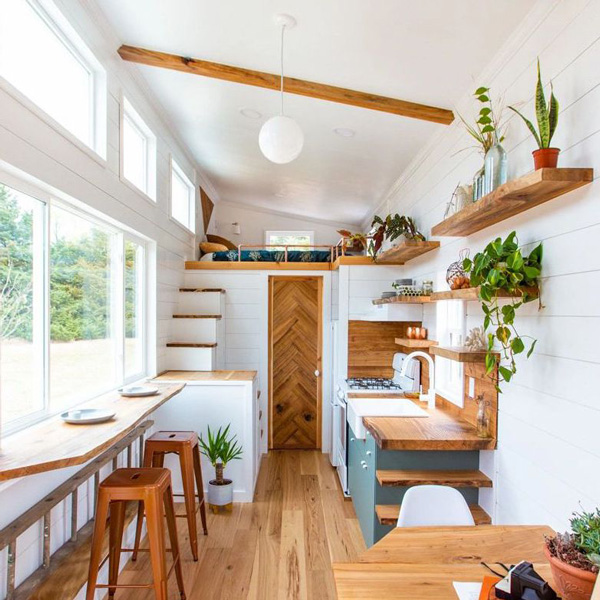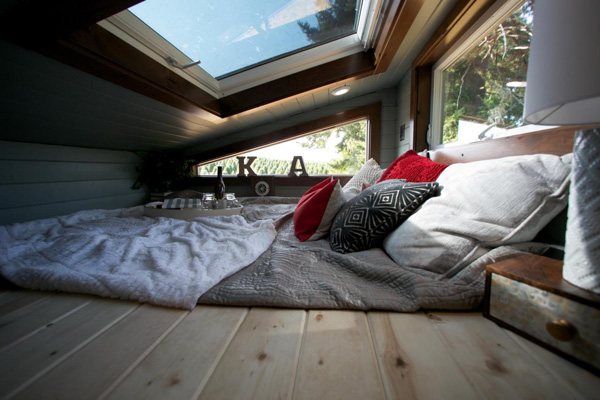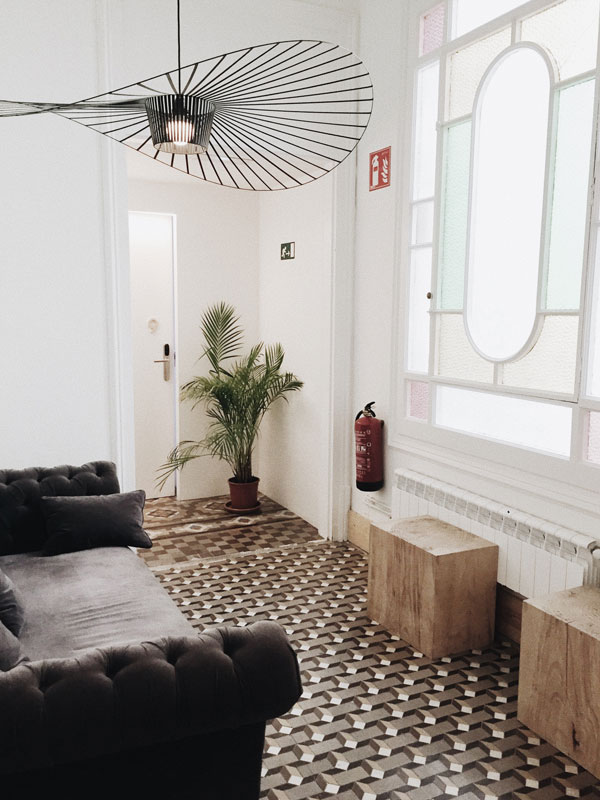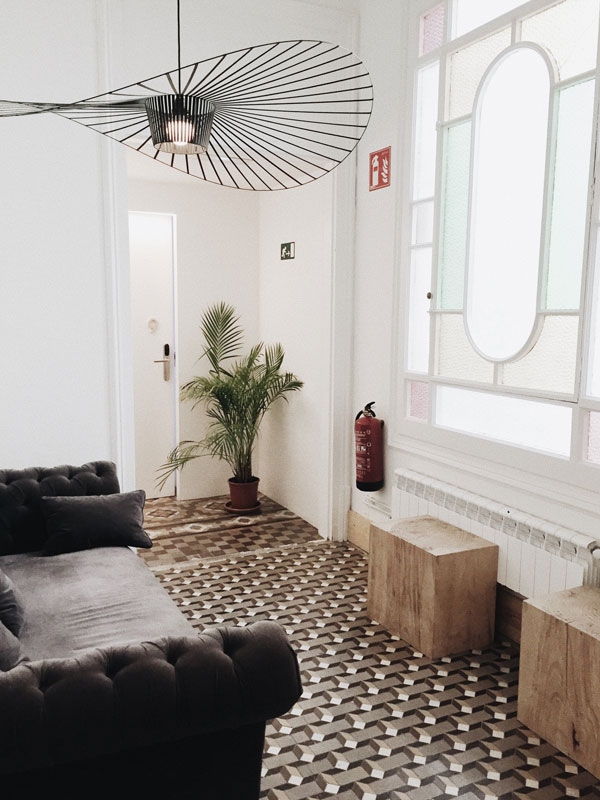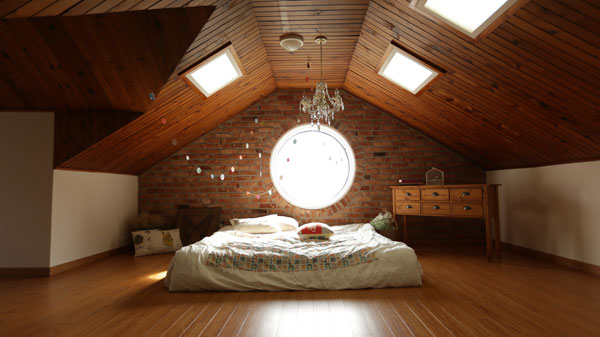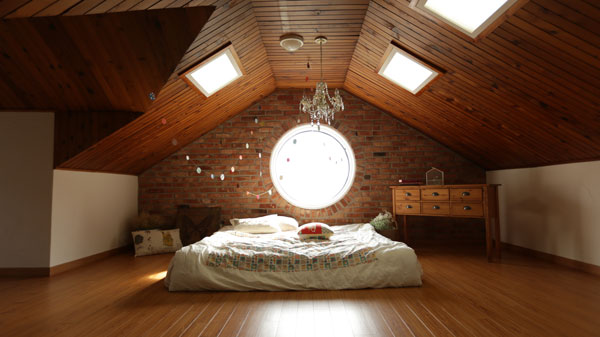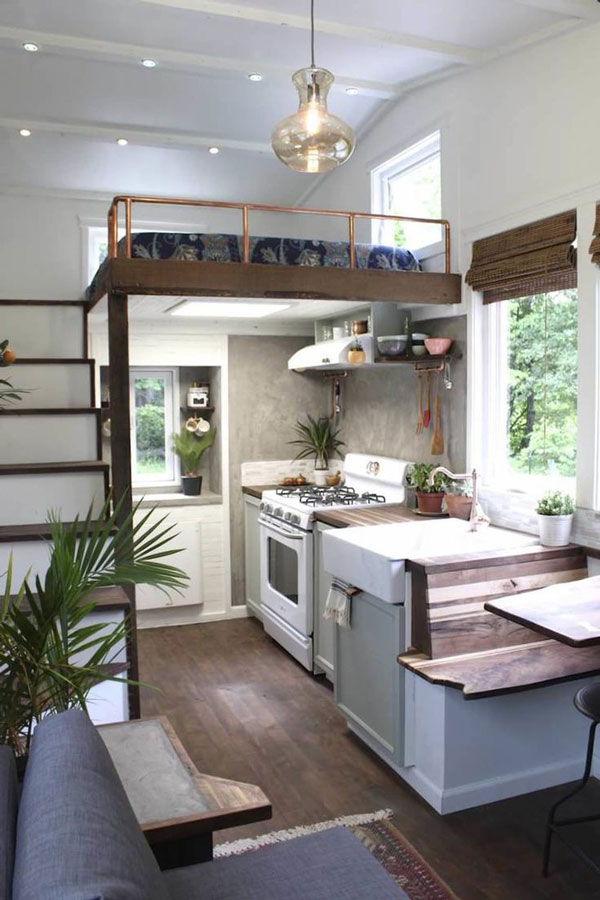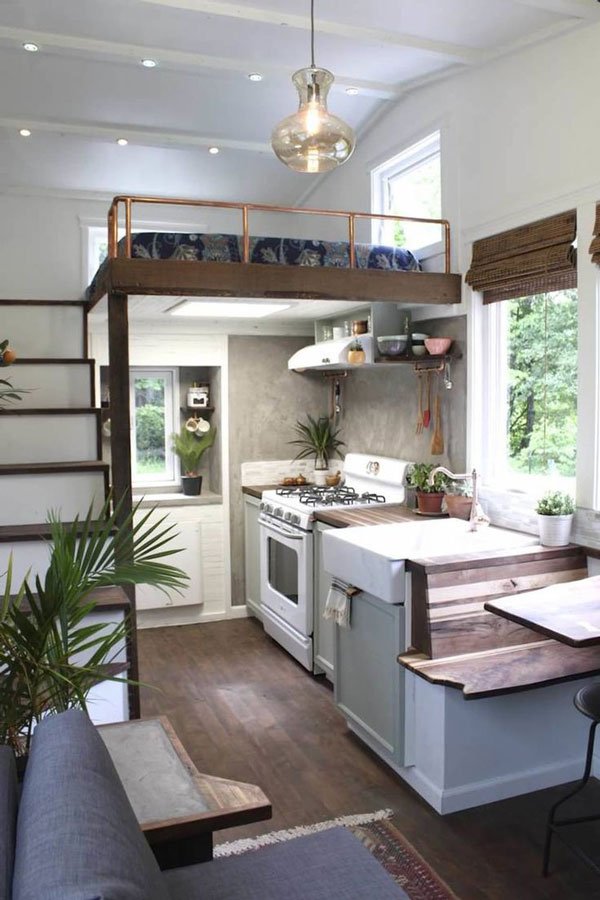 It is better not to block the path of light by removing unnecessary surfaces such as partition walls.  Natural sunlight can provide enough light to illuminate the space in the house and create Tiny house lighting, especially in small areas.  You can easily have the desired lighting in your space in the morning and the afternoon.
The fewer shadows, the smaller the room, the bigger, brighter, and broader it looks.  It is better to maximize the use of large windows in Tiny house lighting.  Also, curtains should be carefully selected to be as thin as possible so that light can easily penetrate the room from behind.  Mirrors can always work wonders in combination with natural light.  Mirrors can be placed facing the windows to reflect natural light throughout the space.
 Simple hanger for high ceilings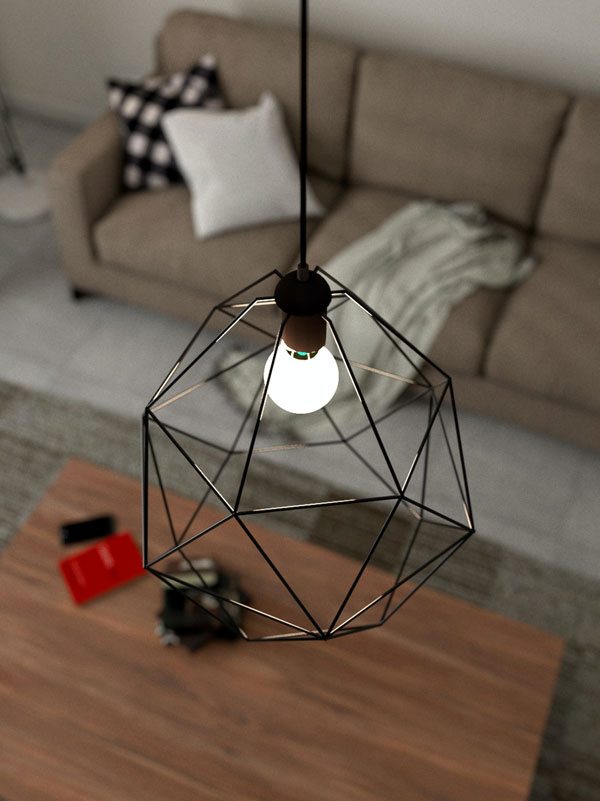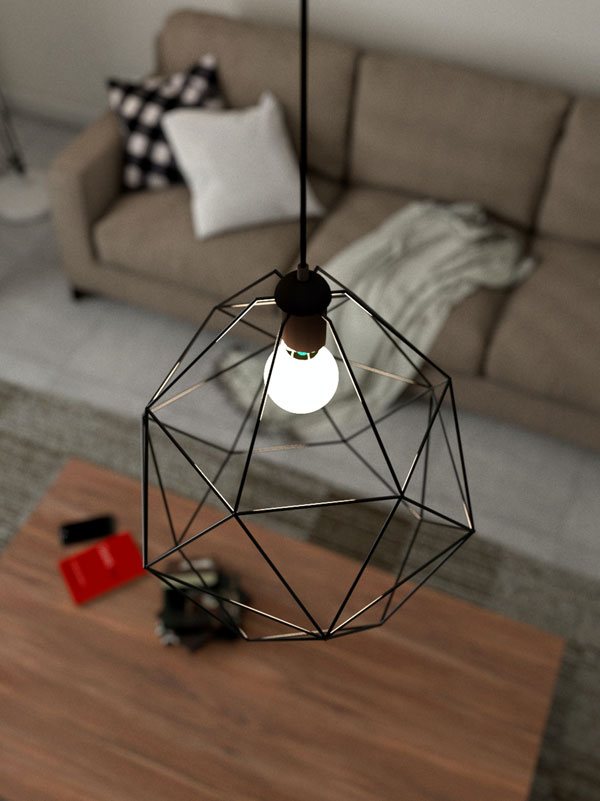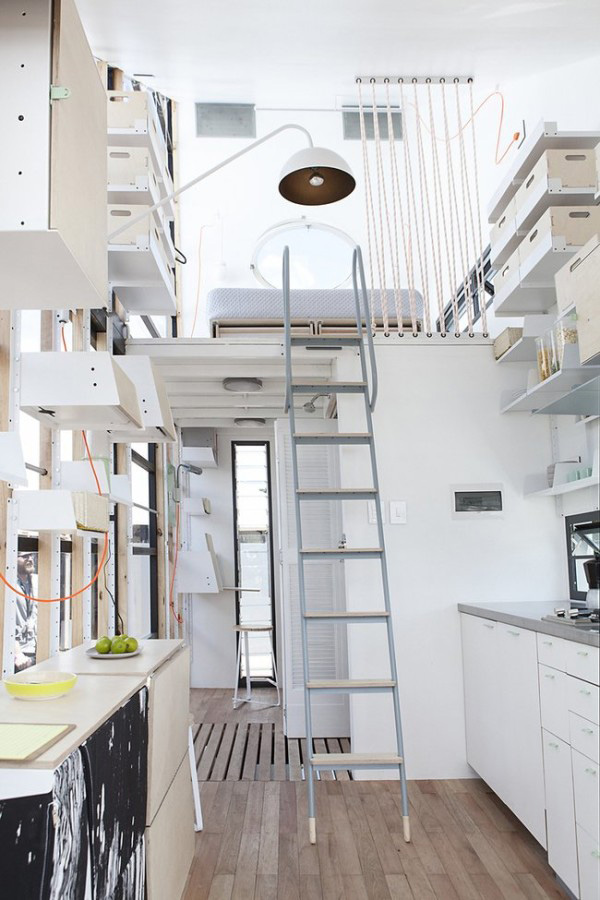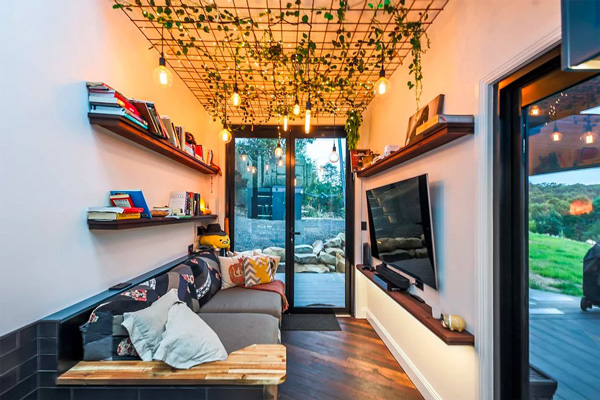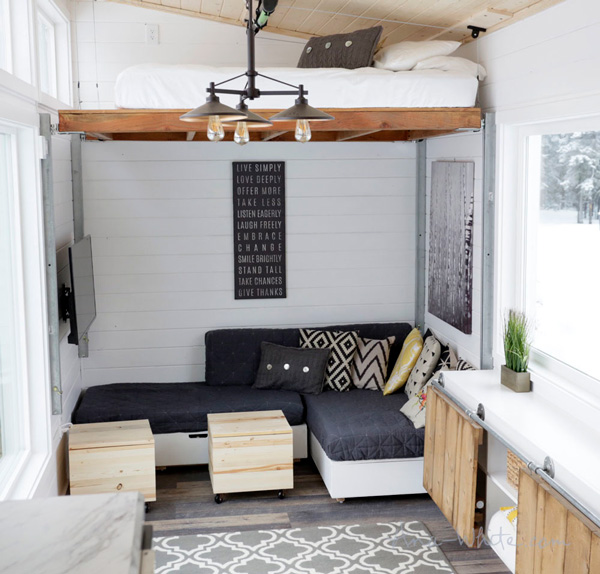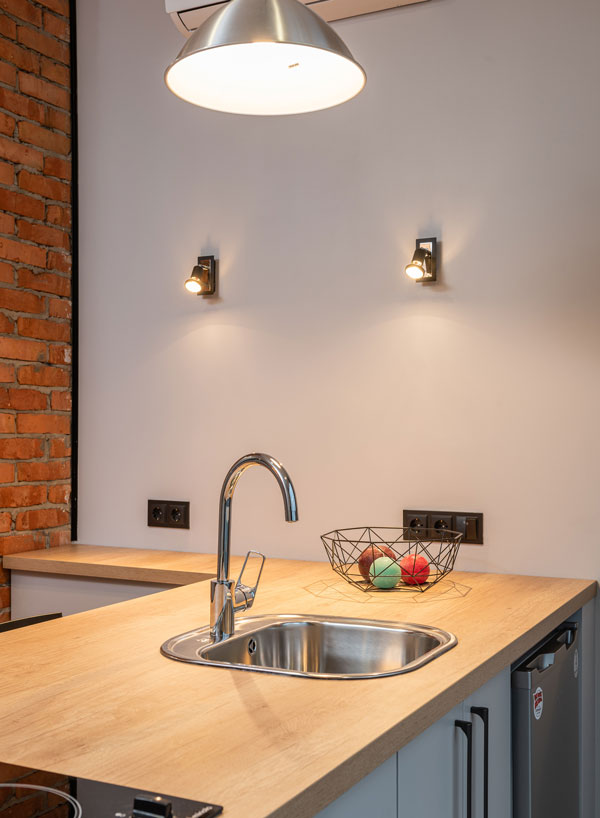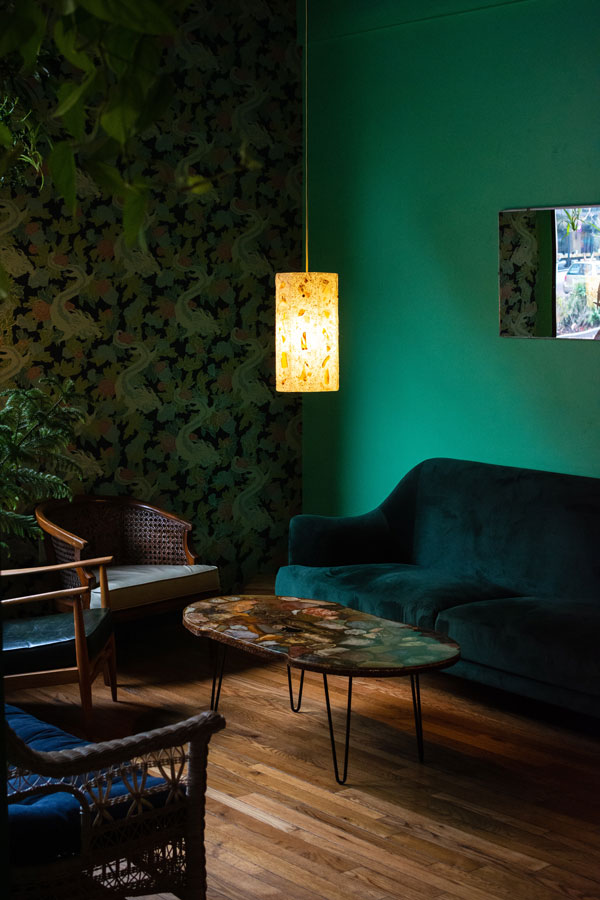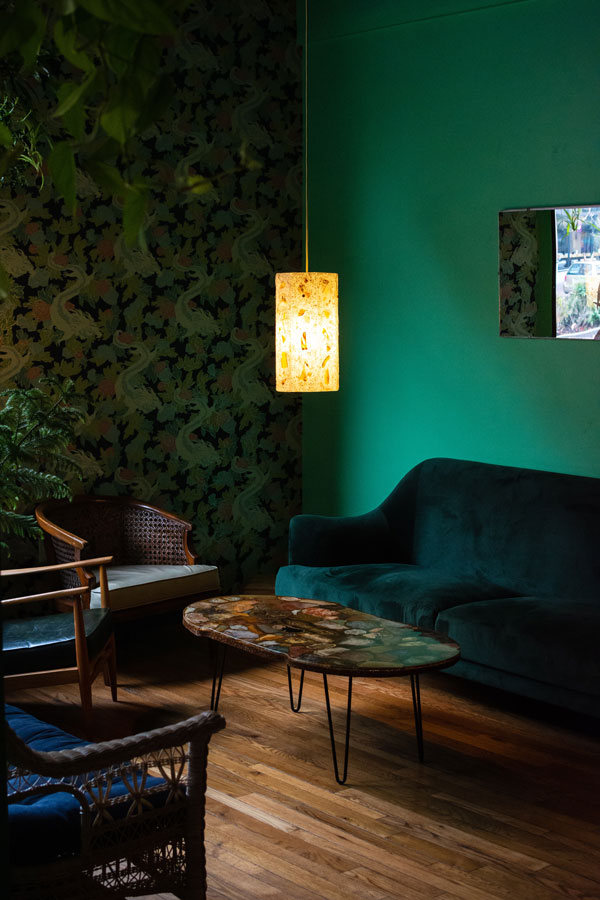 Some tiny houses have high ceilings.  The high ceiling attracts the attention of every eye and makes the room look bigger. You can select several types of pendant lights from a variety of options.  But we suggest you use a simple pendant lamp. Glass pendant lights are the best choice for Tiny house lighting.  Transparency can give any space of a house a minimalist look.
Choose the right bubble for the pendant lamp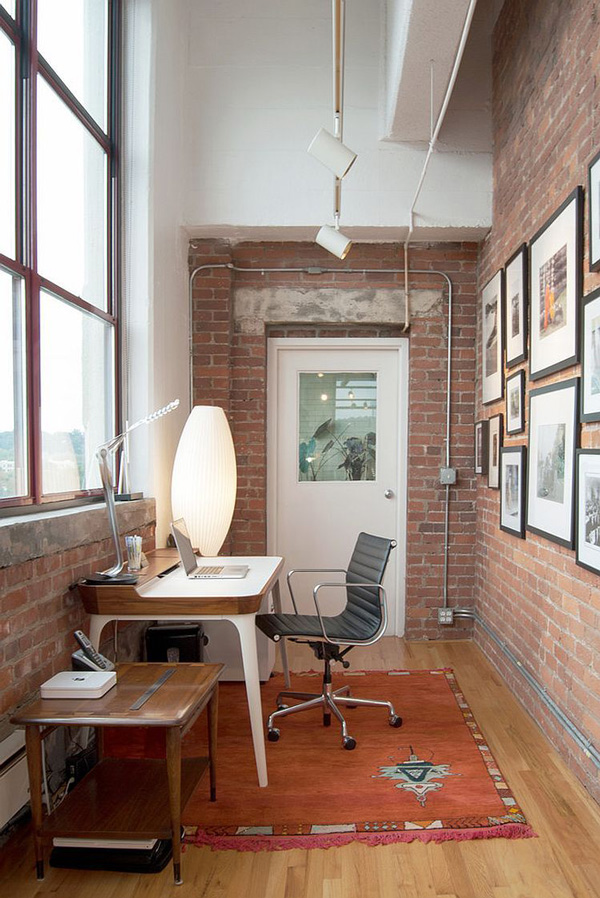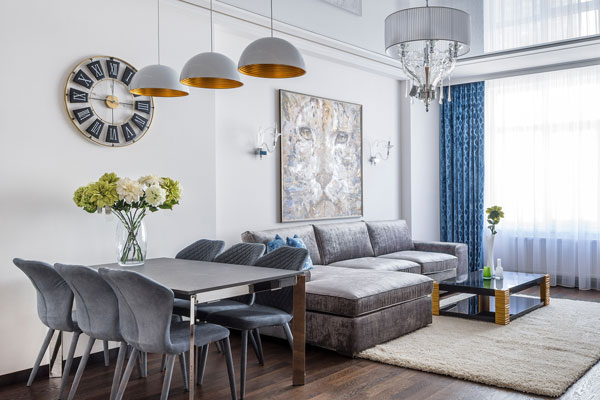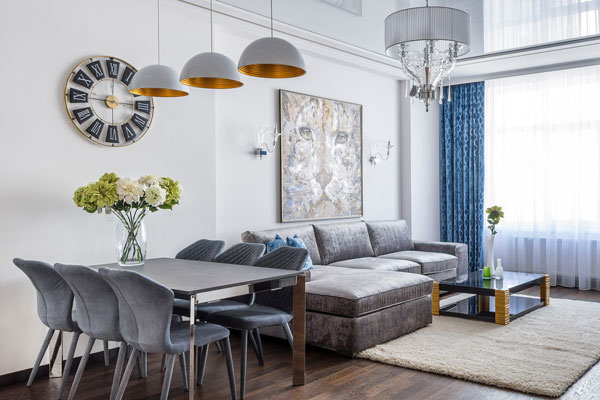 Choosing the right bubble in Tiny house lighting, can create the illusion of ample space in the audience and breathe life into space.  White or cream bubbles can be an excellent option to spread more light and brighten the space.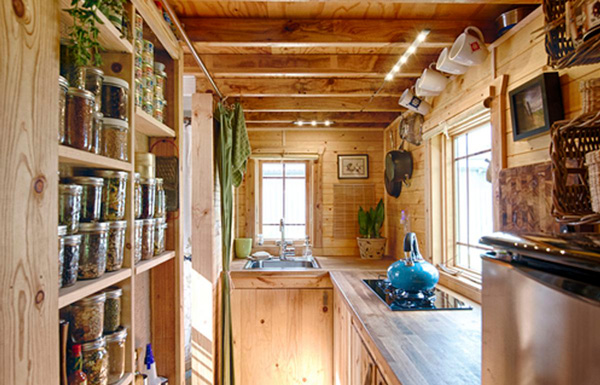 One of the methods in Tiny house lighting is linear lights. In these pendant lights, several lamps are next to each other connected to a source of electricity.  This type of popular lighting idea is very suitable for small spaces.  With this method, you can illuminate a particular part of the space, which needs the most light.
It is most commonly used on a kitchen island or dining table. You can Adjust the height of the lamp hanger according to your needs, shorter and narrower or closer and farther to space.  Linear lights are available in different sizes and shapes, and you can choose them according to your interior design style and give your design artistic value.
Do not use large pendant lights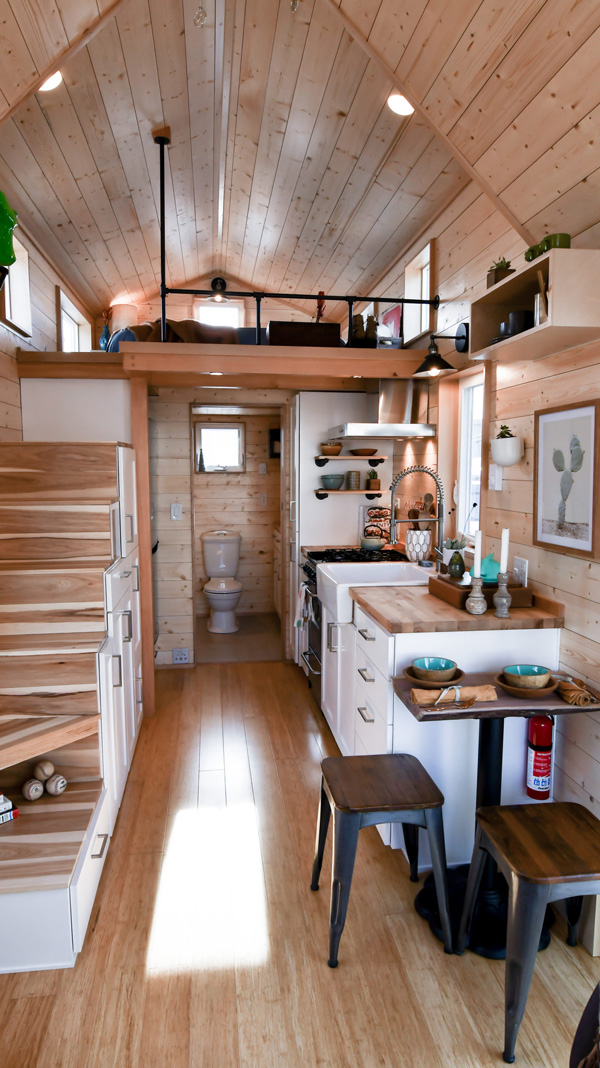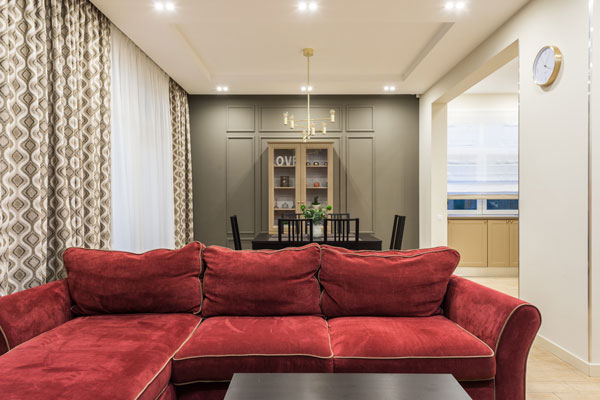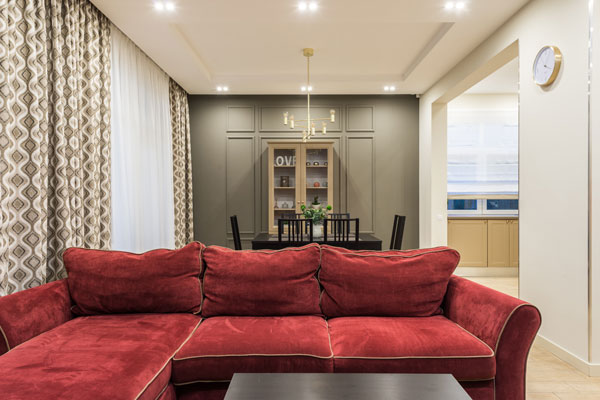 One of the clever tricks in Tiny house lighting is to use small lighting fixtures.  A large pendant lamp makes the room look small, complete, and crowded. Crystal or traditional pendant lights are not at all suitable for a house with little room. Instead, the small size can add more space without compromising lighting performance.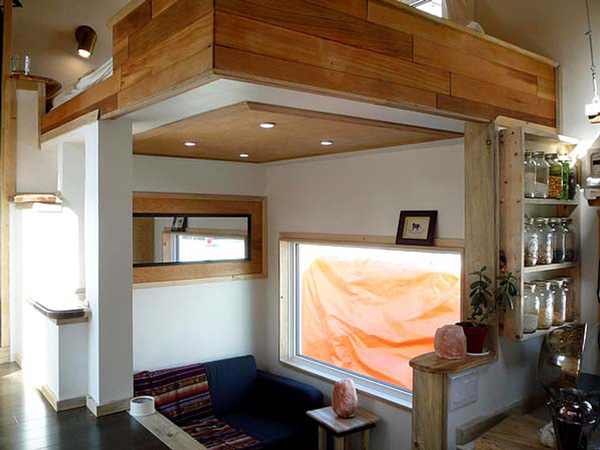 Another lighting method is the use of ceiling halogens that This is the best option for compact spaces with short ceilings, takes up little space, and fully illuminates the area.  In this method, the lamp is installed on the ceiling and uses the ceiling as a light source.
This type of light is entirely modern and up-to-date and is especially popular among designers.  Using ceiling halogens and creating a visual effect is to increase the good mood in Tiny house.  To achieve this, combine it with decorative pendant lights and table lampshades to make the room more balanced and pleasant.  This method can work wonders in the design of modern spaces, where more ceiling halogens are used.  In Tiny house lighting, because the light shines vertically into the room, it creates a beautiful feeling of lighting.
 Combining a variety of lighting fixtures
Most designers agree that you need more than one light source in Tiny house lighting.  It is also an excellent option to avoid any fatigue caused by using a fixed device.  Place your lighting fixtures in a space that illuminates the entire area and leaves no dark corners.  You can combine ceiling, wall, and floor lights in your design.
Try to use any light that suits your needs and function.  Ceiling lights can visually add a special effect to space.  Wall light enlarges the area of the room because it can scatter the light in the room.  Choosing the proper lighting for the floor will create more light.  It can be considered as the focal point of the room, but at the same time, it functions as direct light to a specific area.
Lighting inside shelves and library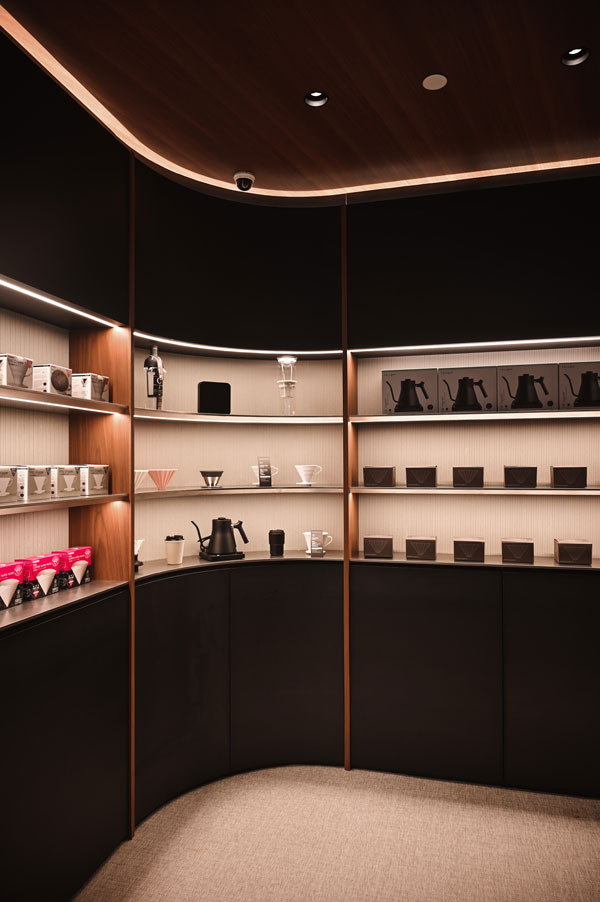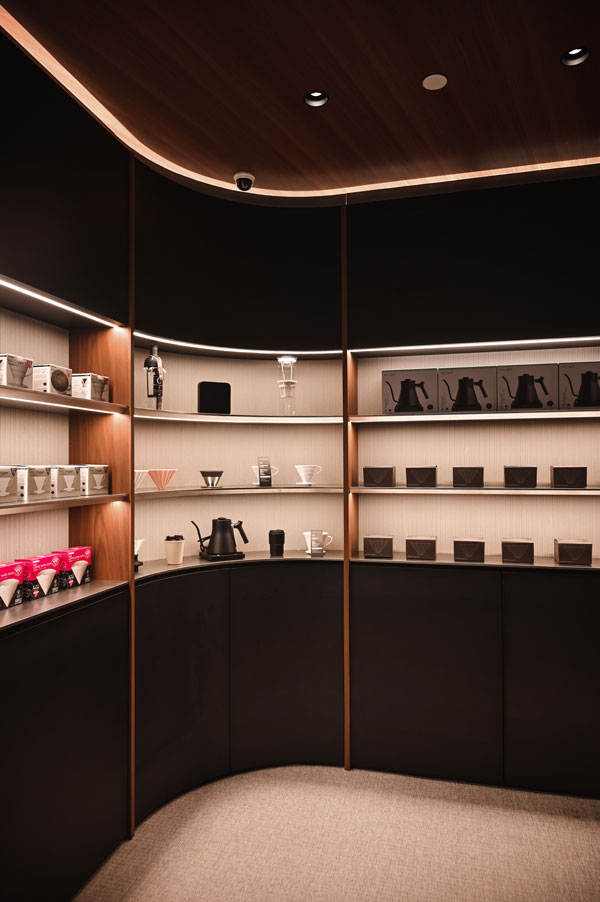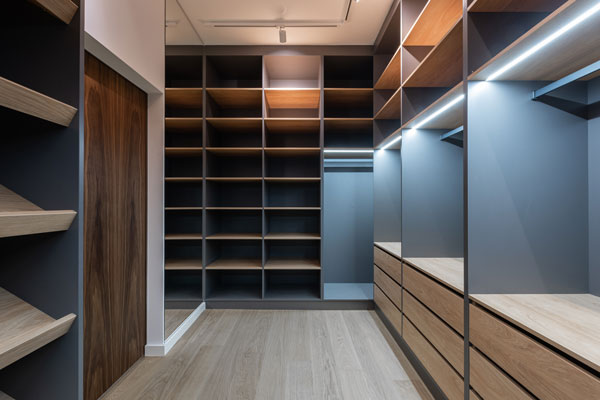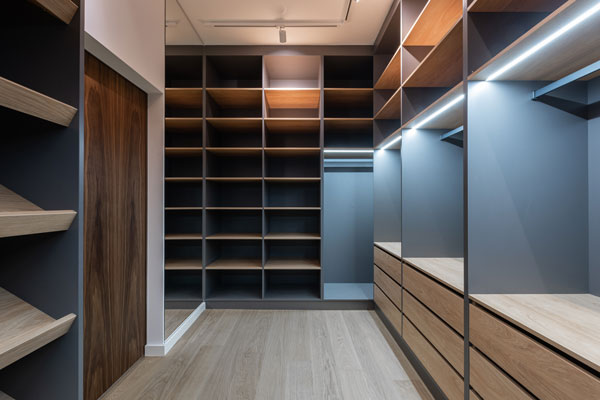 Dark corners are not just found at the intersection of walls.  Inside, the bookshelves and the niches sunk into the wall are also considered these spaces.  Therefore, you can use LED lamps to illuminate these dark corners by adjusting the angles of light and creating a narrow path of light.  Remember!  You need to brighten up the details or decor that you want to show more. It can quickly implement a spotlight and draw your attention to a specific point in the room.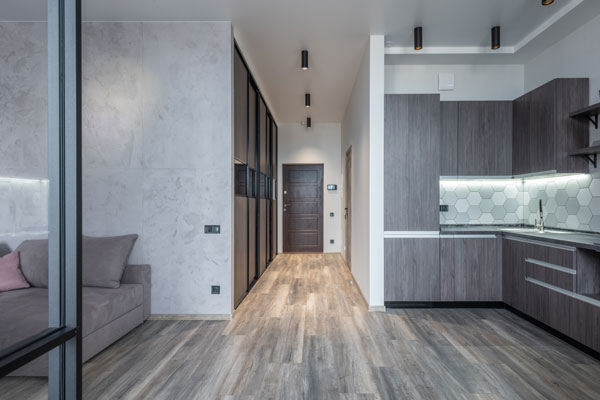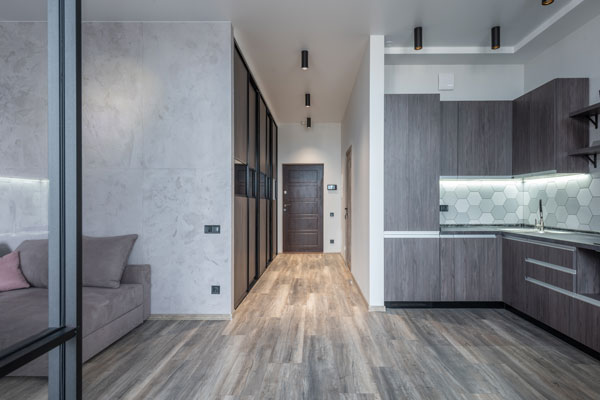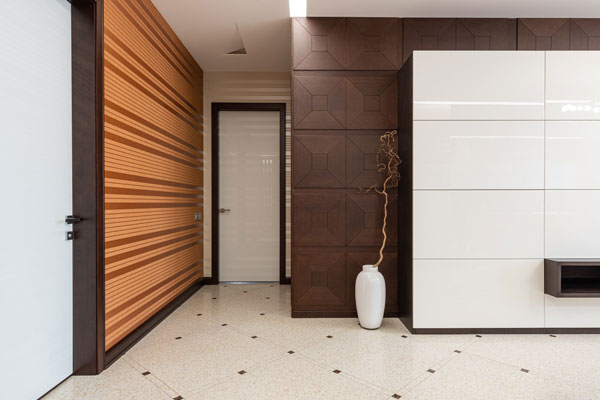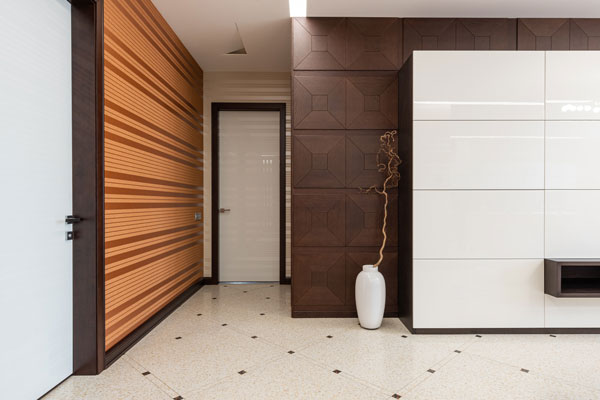 In Tiny house lighting, If your entrance is small, you can easily create pleasant lighting at the house entrance with a pendant lamp, two wall sconces, or even two table lamps on the side console.
How do you light a small living room?
Ceiling lights
Portable wall lamps
Desktop lamps
High power lamps for walls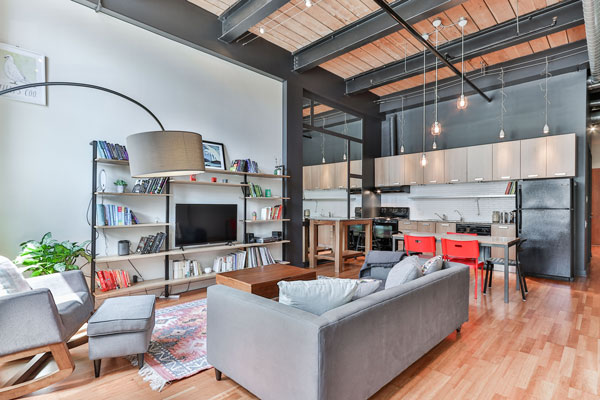 What is the best lighting for a small bedroom?
For a small bedroom, flush and semi-flush ceiling lights are the best choices. Glossy wall lights. Bedside lamps, whether desktop or portable are another choices of Tiny house lighting for bedroom.
you can diy your lighting elements with wood and other material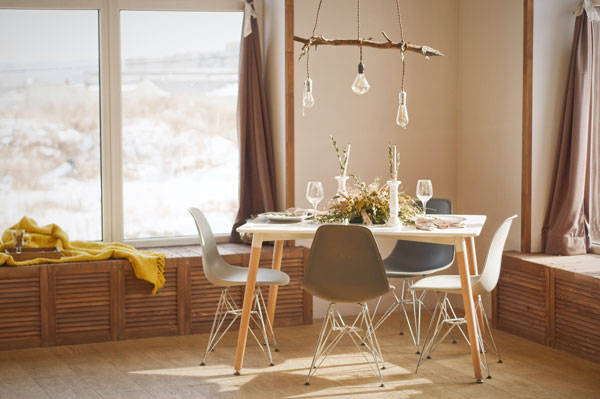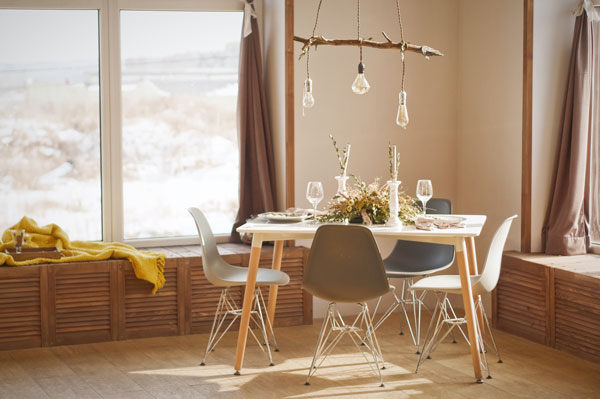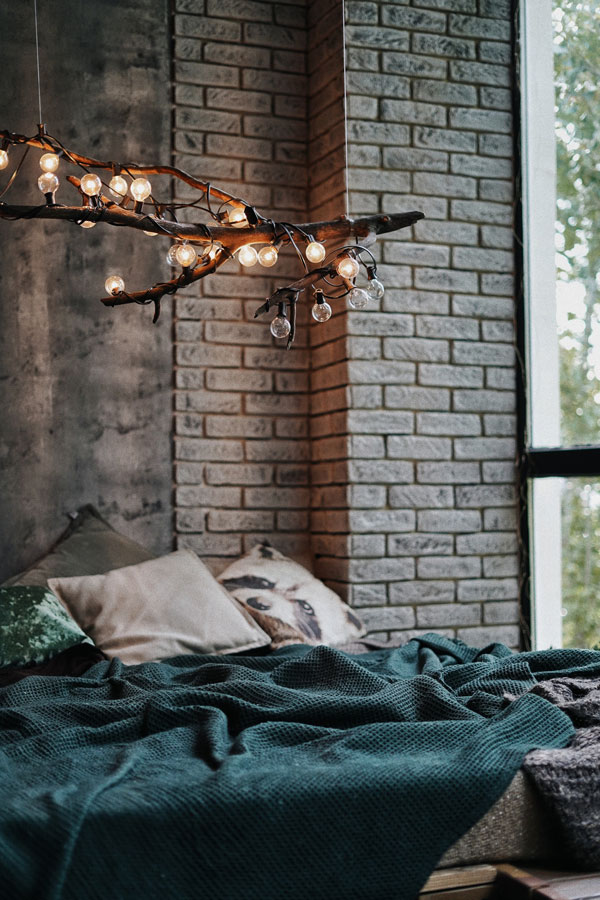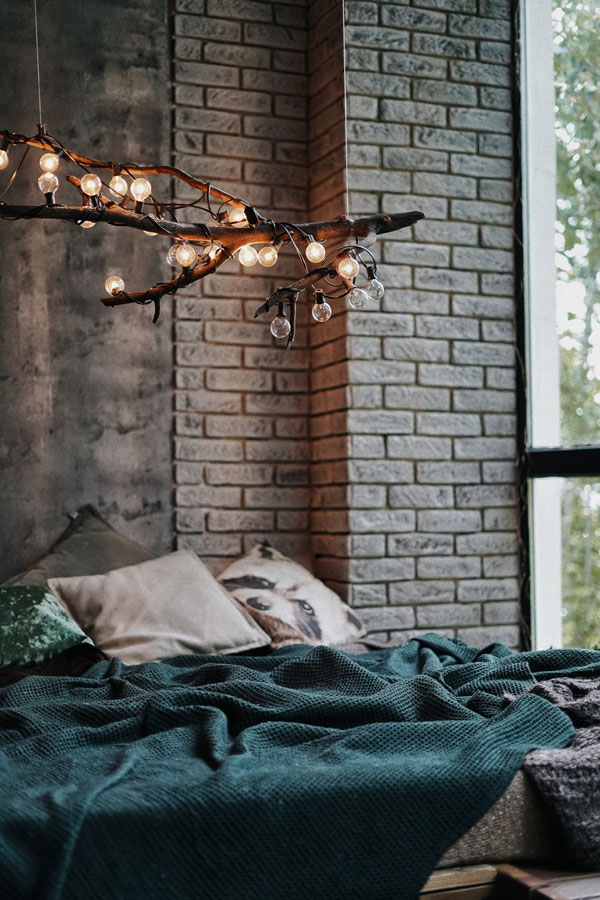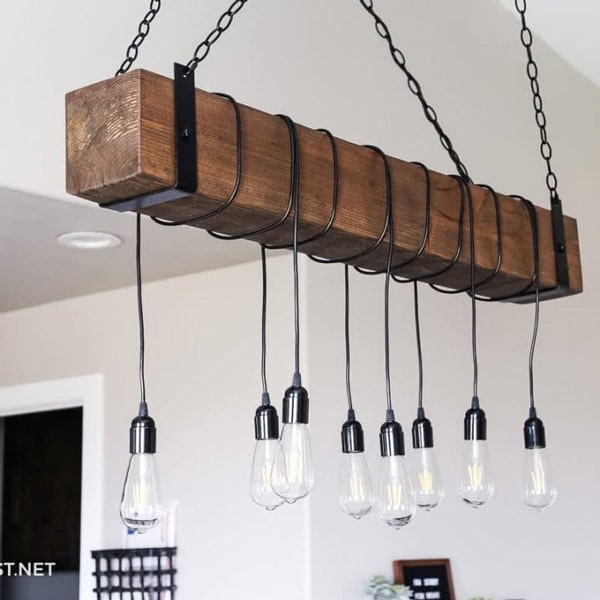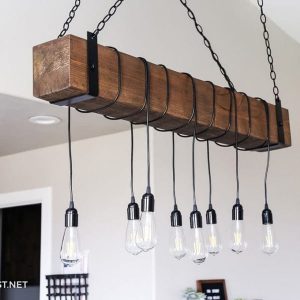 You can find an amazing tutorial on how to create a diy wood beam on  twofeetfirst.
Do's and Don'ts of Tiny house lighting
For small house lighting ideas, Depending on what you will use your room for and what kind of furniture it will fit in, some furniture will need special lighting.
Use the light adjustment system in your design. The lighting system improves the lighting conditions.
Consider the connection between the rooms in the lighting design of the small home decoration. Drastic changes from light to dark can cause the loss of correct orientation and eye strain.
Install wall lamps on shorter walls that balance the room and diverts attention from taller walls.
Notice the lines created by the bubbles, the thickness and color of these lines affect the light emitted.
Think carefully about the power consumption of light bulbs. 70-65 watt bulbs are very bright for space-changing lighting. 40-watt bulbs are more suitable.
To Tiny house lighting permanently hides the bare lamp with a bulb.
---
You can get inspired by ideas of Tiny house lighting, the ones that are more compatible with your home.  With just a few small changes in your lighting, you will see what happens in your home. if you have a tiny living room and you want to diy living room décor check the link. We hope this information of small house lighting ideas to figure out the best ways to light up a tiny house unlike "normal" homes. If you have other ideas, leave us a comment.